Russia Using 'Meat Waves' to Expose Ukraine's Military Positions: Captain
The Wagner Group and the Russian military have been using a tactic referred to a "meat waves" to expose the position of Ukrainian forces, according to a Ukrainian military official.
Captain Viktor Tregubov, a journalist/activist and a member of the Armed Forces of Ukraine (AFU), described the strategy in an interview published Wednesday in the Kyiv Post.
"They [Russian forces] push prisoners forward and try to deplete our defense forces so that we run out of ammunition and they can see our firing positions," Tregubov said.
The Wagner Group is a shadowy organization composed of mercenaries, and its leader—Yevgeny Prigozhin—has been described as being a close ally of Russian President Vladimir Putin.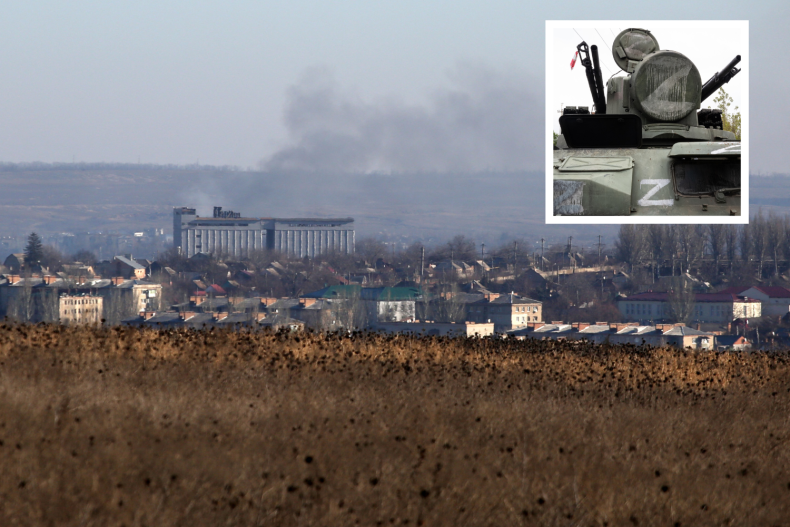 However, the Institute for the Study of War (ISW) reported Putin has been distancing himself from Wagner because of its clashes with his professional military leaders and government officials.
In September, a video emerged that allegedly showed Prigozhin recruiting soldiers from Russia's penitentiary system, and Russian human rights activist Vladimir Osechkin recently told Newsweek that as many as 30,000 prisoners have been recruited from Russian jails and sent to fight in Ukraine, where the war began 11 months ago when Russia invaded.
Tregubov said the "meat waves" tactic was being used by the Wagner Group in Bakhmut, a town in Ukraine's Donetsk region where Russia has recently claimed battlefield success.
He said that the formal Russian military uses the same strategy, but rather than prisoners, they mobilize people from Ukrainian territories that Russia has illegitimately claimed as part of its nation.
Similar to the prisoners, when these mobilized troops are "killed on the battlefield, the Russians see where the shelling is coming from and can, for example, attack our firing points," Tregubov said.
The captain speculated one reason for the use of this tactic is that Russia could be running low on munitions.
"Instead of 'artillery waves,' they are launching 'meat waves,'" Tregubov said. "When there is no need to bring ammunition from far away, you can even walk, so the tactic of 'meat waves' on this part of the frontline is justified."
Elsewhere in the interview conducted by the Kyiv Post's Aleksandra Klitina, Tregubov was asked why Putin continues waging the war when "Russia has obviously lost in terms of its global strategic plan."
"The Russian leadership can't capitulate because this would severely undermine their power position in Russia, even to the point of physical survival, so they don't want to give up," Tregubov answered.
Newsweek reached out to the Russian Ministry of Foreign Affairs for comment.