The Wagner Group—an elite paramilitary force that has been linked to Russian President Vladimir Putin—is now being sent to Eastern Ukraine, according to an intelligence update by the British Ministry of Defense on Monday.
"Russian forces are continuing to consolidate and reorganise as they refocus their offensive into the Donbas region in the east of Ukraine," the update said.
"Russian troops, including mercenaries from the Russia state-linked Wagner private military company, are being moved into the area."
The elite private army—which is also known as Liga—was formed in 2014, during the war in Donbas in Eastern Ukraine and Russia's annexation of Crimea.
The shadowy paramilitary group rose to prominence when it helped separatist forces in the self-declared Donetsk and Luhansk People's Republics between 2014 and 2015. Those areas are part of Ukraine, but on February 21 Putin signed a decree recognising them as independent regions.
The group is named after the nom de guerre of its leader Dmitry Utkin, a retired Russian military officer, who chose "Wagner" to honor the classical music composer, who was reportedly a favourite of Nazi leader Adolf Hitler, the New York Times reported, and who seemingly has multiple tattoos featuring Nazi imagery.
However, the Wagner Group does not exist as a single corporate entity under that name—rather, it is a larger network of companies and groups that operate together.
Authorities in the United States said the Wagner Group is funded by Yevgeny Prigozhin, a businessman closely linked to Putin.
Prigozhin has always denied any connection with Wagner.
The Kremlin also says it is not involved in the group, and denies it exists as private military companies are illegal in Russia.
Western governments and activists have accused the group of human rights abuses in Africa, as well as involvement in the Libyan and Syrian wars. Wagner has also been deployed in Mali, Mozambique and Sudan, exerting Russian influence in proxy wars and sometimes seizing oil fields and other strategic interests.
The Intercept reported on March 31 that Wagner mercenaries have been recruiting more fighters in other countries where they operate, including in Syria.
On March 29, Newsweek reported that Wagner group was sending 1,000 mercenaries to eastern Ukraine. Earlier in March, the Ukrainian military reported clashes near Kyiv with members of the private military group.
Jeremy Fleming, the head of U.K. intelligence agency GCHQ, said the group of mercenaries are likely to be used as "cannon fodder" to limit official Russian military losses. The group's presence in Ukraine also allows Russia to downplay military losses and distance itself from human rights violations committed by Wagner fighters.
Jamie Williamson, executive director of the International Code of Conduct Association, said Wagner was staffed by ex-Russian army and serves as "a military contract group."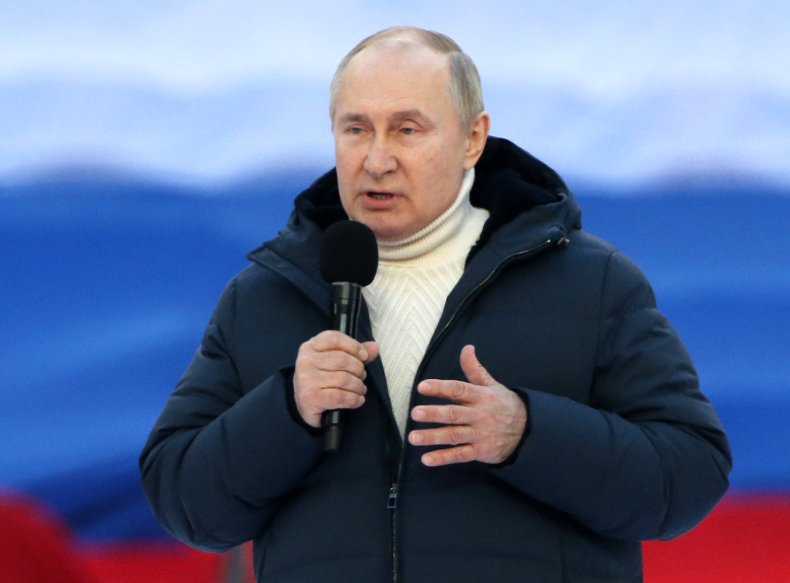 "There are clear connections to the Kremlin in terms of ownership and where the money lies," Williamson told Newsweek. "But the Russian government does not recognise them as a way of plausible deniability, and a lack of attribution.
"But they are seen as a military contracting outfit, verging on mercenary type entities similar to what we had in the early Cold War eras, involving some companies in southern Africa and eastern and western Africa."
Newsweek has contacted Sorcha MacLeod, the chair of the United Nations Working Group on the use of mercenaries, as well as Human Rights Watch, to comment on Wagner.
Russia's military operation in Ukraine has stalled as Ukrainians have put up a defiant fight. Thousands have been killed, including Ukrainian civilians, and millions have been displaced.
On March 29, Russia re-positioned its troops away from Kyiv, despite the capital being one of its main targets from the start of the invasion on February 24.