Russia Warns U.S. Against Starting War in Venezuela to Distract From Federal Shutdown
The Russian embassy in Washington, D.C., has suggested U.S. involvement in Venezuela's political chaos was designed to distract Americans from the ongoing partial government shutdown, while Moscow has warned American leaders against military action in the embattled South American nation.
The embassy sent a series of tweets on Thursday night criticizing President Donald Trump's administration, which earlier this week came out in opposition to Nicolás Maduro and in support of Juan Guaido, the leader of the country's opposition-led National Assembly who declared himself interim president on Wednesday.
Trump quickly recognized Guaido as the official president, and was followed by a host of nations including Canada, the U.K., Brazil, Argentina and Colombia. The pro-Guaido coalition called on Maduro to step down as president and praised the Venezuelans who took to the streets to protest the beleaguered authoritarian regime.
But other nations, including Russia, China, Mexico and Turkey, are backing Maduro, who has thus far refused to step down. Maduro, who succeeded leftist revolutionary Hugo Chavez as president in 2013, has often accused the U.S. of plotting to depose him and impose American imperialism on the oil-rich nation.
The infographic below—created by Statista—shows the global split of nations either supporting Maduro or backing Guaido. It also shows that many states have not picked a side and are instead urging peaceful dialogue to end the crisis.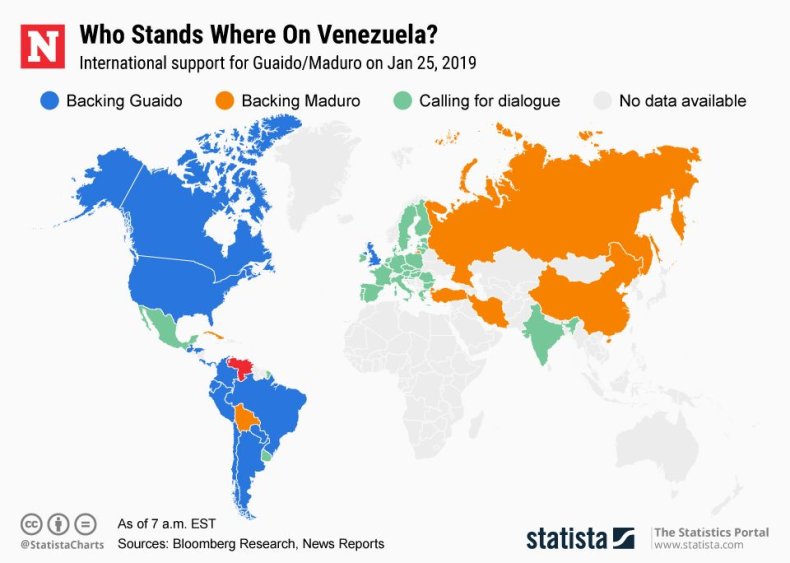 But the Russian embassy in Washington suggested America's intervention in Venezuela was a tactic to distract from legislative chaos at home, where a partial government shutdown is entering its 35th day and leaving some 800,000 federal employees either furloughed or working without pay.
The Russian embassy wrote on Twitter, "The only thing left is to hope that the U.S. Administration will not pursuit [sic] foreign ventures, for instance, in Syria or Venezuela in attempt to shift public opinion from the aftermath of the shutdown."
"We wish our colleagues in the U.S. Department of State resilience and hope to continue our dialogue on the most pressing issues of bilateral and global agenda, on which international security and strategic stability depend. We are ready for such work," the embassy continued.
On Thursday, Russian President Vladimir Putin told Maduro that "destructive interference from outside grossly violates the fundamental norms of international law," according to Russian state news agency Tass.
Russian Deputy Foreign Minister Sergei Ryabkov also told the country's International Affairs magazine that U.S. military intervention in Venezuela "would be a catastrophic scenario that would shake the foundations of the development model we see in the Latin American region."
Anti-Maduro protests are continuing in Venezuela. Vladimir Padrino Lopez, the country's defense minister who controls Venezuela's powerful military, said Thursday that Maduro was the "legitimate president."
The military has remained loyal to Maduro through years of economic crises and anti-government actions, but rogue military elements have launched periodic uprisings and presidential assassination attempts nonetheless. Indeed, this week's spiraling series of events began with a failed uprising by 27 members of the National Guard in Caracas on Monday.
Guaido offered Maduro amnesty if he agreed to peacefully step aside. The self-declared interim president also said he was reaching out to all sectors of Venezuelan politics and society to achieve a peaceful solution.
Several people were killed by government forces dispersing anti-Maduro protests. Early Friday, there were unconfirmed reports of more demonstrators shot dead by pro-Maduro forces. Gunfire was also reported close to the U.S. embassy in Caracas.
After Trump announced U.S. support for Guaido, Maduro ordered all Americans to leave the country within 72 hours. Secretary of State Mike Pompeo dismissed the order as irrelevant, but all non-emergency U.S. government staff were still ordered to leave the country, and all American citizens were urged to "strongly consider" doing the same.
This article has been updated to include an infographic.