Will U.S. Invade Venezuela? Here Are the Countries Warning Donald Trump Not to Overthrow Nicolás Maduro
President Donald Trump has recognized a Venezuelan opposition leader as the country's legitimate leader, refusing to rule out military action as the socialist-led South American nation is consumed by unrest and a number of countries warned the United States not to step in.
Trump announced via Twitter on Wednesday that he "officially recognized the President of the Venezuelan National Assembly, Juan Guaido, as the Interim President of Venezuela," thus severing already strained ties with Venezuelan President Nicolás Maduro days after he was sworn into his second term. Maduro officially cut ties with Washington in response, but Secretary of State Mike Pompeo said Thursday in a statement that the U.S. "does not consider former president Maduro to have the legal authority to break diplomatic relations."
The U.S. position has stoked further protests against the Venezuelan government, which has been widely accused of mishandling the country's economy, leading to historic hyperinflation, essential goods shortages and a mass exodus of refugees. Back in August 2017, Trump warned that the U.S. had "many options for Venezuela, including a possible military option if necessary," and his administration has publicly discussed the prospects of regime change.
The U.S. was joined by Latin American allies Argentina, Brazil, Chile and longtime Venezuelan rival Colombia in backing Guaido. But a number of nations around the world, including major powers Russia and China, have denounced the move and said they would oppose a U.S. military invasion in Venezuela.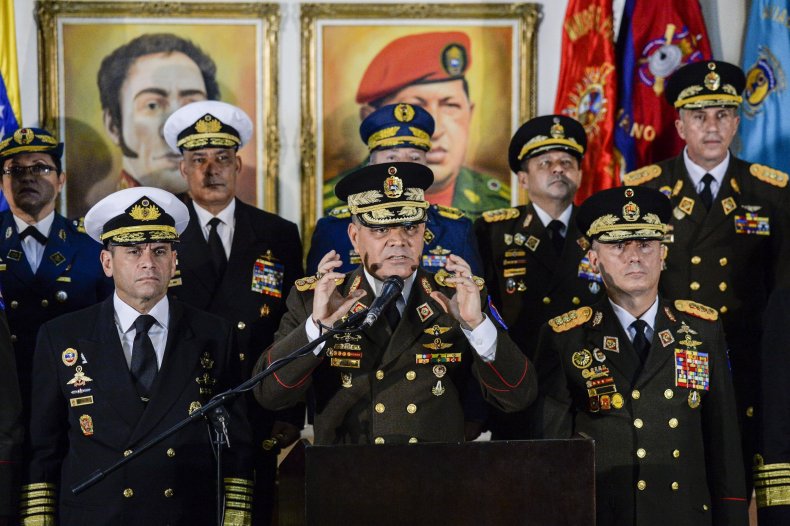 Russia, the top U.S. military rival, had just last month sent an air force delegation, including two nuclear-capable Tupolev Tu-160 bombers to train alongside Venezuela in the Caribbean. The show of mutual support came amid Maduro's accusations that the U.S. was plotting a coup against him and, as the crisis deepened, the Russian Foreign Ministry warned Thursday that the U.S. decision "can only deepen the social divide in Venezuela, aggravate street protests, dramatically destabilize the Venezuelan political community and further escalate the conflict."
"We regard Washington's unceremonious actions as yet another demonstration of its total disregard for the norms and principles of international law and an attempt to pose as the self-imposed master of another nation's future. The United States is clearly trying to apply a tried and tested regime change scenario in Venezuela," the ministry said.
"We are especially alarmed by the signals we have received from some capitals on the possibility of foreign military interference. We warn that such opportunism can have catastrophic consequences," the Russian Foreign Ministry added, noting that Moscow was "ready to cooperate with all countries that share" its views.
China was one such nation. At a press conference in Beijing, Chinese Foreign Ministry spokesperson Hua Chunying called "upon all relevant parties to stay rational and cool-headed and seek a political solution to the issue of Venezuela through peaceful dialogue within the framework of the Venezuelan Constitution." She said that "China supports efforts made by the Venezuelan government to protect the country's sovereignty, independence and stability."
"China always upholds the principle of non-interference in other countries' internal affairs and opposes foreign interference in Venezuela's affairs," Hua added. "We hope that the international community can jointly create favorable conditions for that."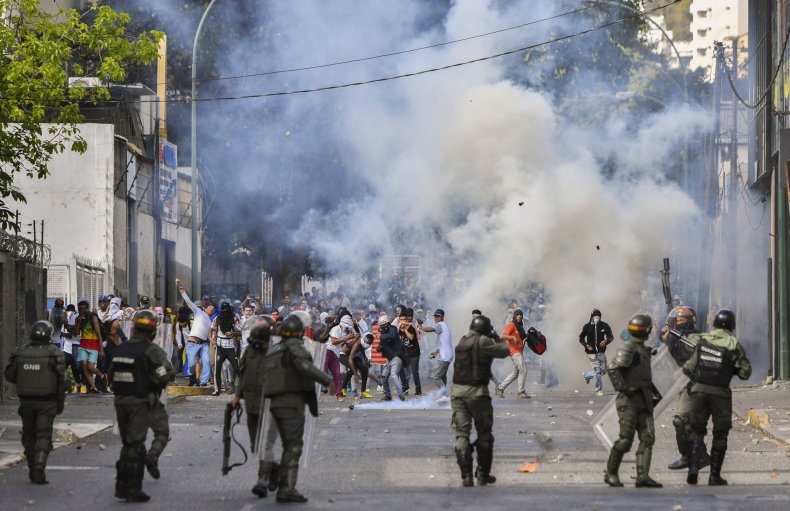 Like Venezuela, Iran has been a top target of the Trump administration's foreign policy. The Republican leader abandoned a landmark 2015 nuclear deal, accusing Tehran of using sanctions relief funds to develop ballistic missiles and support revolutionary Shiite Muslim movements across the Middle East. Iran has stood defiant in the face of new U.S. sanctions and just last month announced plans to send a naval delegation to Venezuela, with which it has expressed solidarity in the face of U.S. hostilities.
"The Islamic Republic of Iran supports the Venezuelan government and nation in the face of foreign interventions in Venezuela's internal affairs and any illegitimate and illegal move such as trying to [stage] a coup or anti-people moves," Iranian Foreign Ministry spokesperson Bahram Qasemi said Thursday in a statement. "We hope that as soon as possible any political difference and problem in Venezuela is solved by the people and government of the country using legal and peaceful methods."
Iran and Russia have previously joined forces against U.S. intervention abroad. The two nations are the main foreign backers of Syrian President Bashar al-Assad, who faced U.S.-sponsored opposition fighters in the wake of a 2011 rebel and jihadi uprising. The Syrian government has since retaken much of the country and on Thursday condemned what it considered to be a similar plot in Venezuela.
"The subversive policies of the American administration in various parts of the world and their disregard for international legitimacy are the root cause of the tensions and instability in our world," the Syrian Foreign Ministry said in a statement, adding that this "necessitates a new order that respects international legitimacy and respects the sovereignty and independence of states and their national choices as the aggressive tendencies of the U.S. administration erode."
"The Syrian Arab Republic reaffirms its unequivocal rejection of the blatant American interference and reiterates its full solidarity with the leadership and people of the Bolivarian Republic of Venezuela in preserving the country's sovereignty and thwarting the aggressive plans of the American administration," it added. "The Venezuelan people, who have resisted the tendencies of American hegemony and arrogance, are more capable today of thwarting this renewed conspiracy and bringing it down, as well as preserving the sovereignty and independence of the country and returning stability to its territory."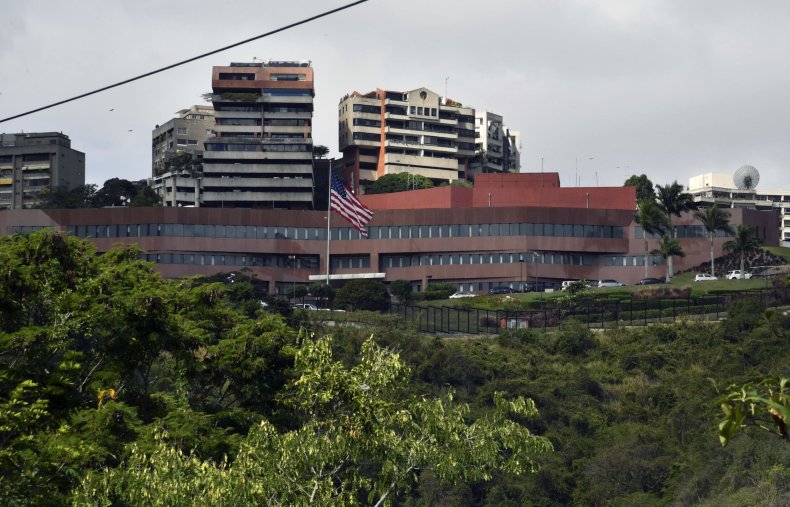 While Turkey may have joined the U.S., a fellow NATO member, in supporting Syrian insurgents, it has come out against the Pentagon's more recent assistance to Syrian Kurdish fighters, whom it considered linked to banned separatist fighters at home. Turkish President Recep Tayyip Erdogan has worked closely with Russia and Iran in attempting to establish a political solution for Syria and expel U.S. forces there.
On Thursday, Turkish presidential spokesperson Ibrahim Kalin said on Twitter that Erdogan, who himself faced a coup attempt in 2016, called Maduro "to express Turkey's support" for the Venezuelan government. Kalin cited Erdogan as saying: "Brother Maduro, stand tall, Turkey stands with you" and commented that "With President Erdogan's leadership, Turkey will maintain its principled stance against all coup attempts."
More support for Maduro came across fellow leftist-led states in Latin America, where the U.S. has a long history of working to suppress socialist movements. Cuba, still bound by a six-decade U.S. economic embargo due to its communist leadership, is one of Venezuela's closest allies. Cuban President Miguel Díaz-Canel has sent a volley of tweets in a show of "support and solidarity to President Nicolas Maduro in the face of imperialist attempts to discredit and destabilize the Bolivarian Revolution."
"We condemn and strongly reject the attempt to impose, through a coup d'état, a government subservient to those in the #US in the Bolivarian Republic of Venezuela," Díaz-Canel tweeted Thursday. "We ratify our unchanging solidarity with the constitutional government of President Nicolás Maduro."
Nicaragua, which joined Cuba and Venezuela in White House national security adviser John Bolton's so-called "troika of tyranny," has also expressed solidarity with Maduro's government in recent weeks. Nicaraguan President Daniel Ortega, a former revolutionary whose Sandinista National Liberation Front (FSLN) overthrew U.S.-backed right-wing government in 1979 and fought CIA-sponsored "contra" militias in the 1980s, has also been accused of human rights abuses by the Trump administration and threatened with sanctions.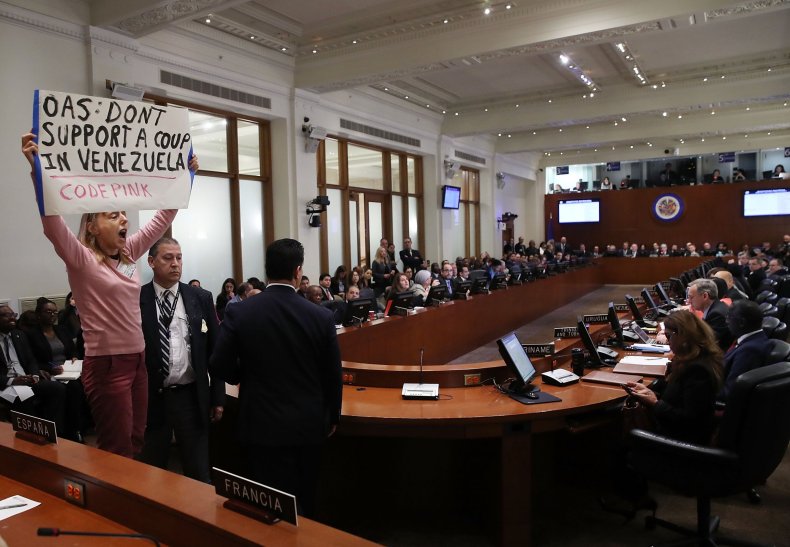 Other international actors have anxiously followed the events in Venezuela. Stephane Dujarric, a spokesperson for United Nations Secretary-General António Guterres, said the leader "is concerned over reports of casualties in the context of demonstrations and unrest in Venezuela and calls for a transparent and independent investigation of these incidents." He "urges all actors to lower tensions and pursue every effort to prevent violence and avoid any escalation."
Addressing the Organization of American States, however, Pompeo said Thursday that "the time for debate is done" and branded Maduro's government "illegitimate" as well "morally bankrupt, economically incompetent and profoundly corrupt." The U.S. is seeking support from the regional group to oppose Venezuela.
South African U.N. Ambassador Jerry Matjila told reporters at U.N. headquarters in New York that Pompeo has asked to address the issue of Venezuela in closed discussions of the U.N. Security Council this Saturday, according to Reuters.
Meanwhile, back in Caracas, Maduro rallied his supporters, instructing them to not "trust the gringos," in reference to his North American foes because "they don't have friends or loyalties," only "interests, guts and the ambition to take Venezuela's oil, gas and gold." Rival demonstrations have continued to rock the capital, leaving at least 16 dead as foreign friends and foes alike await the next steps of both the U.S. and Venezuela.