Vladimir Putin Says Russia Black Sea Exercises Were Rejected to Avoid Escalation With NATO
President Vladimir Putin has spoken of his concern about "unplanned" NATO exercises in the Black Sea after Russia's defense ministry complained of a spike in activity by the U.S-led alliance in the region.
In a television interview, Putin said that Russia had refrained from holding its own exercises in the area Moscow considers to be its backyard because he did not want to "further escalate the situation there."
On Friday, the defense ministry in Moscow said six flights were intercepted as the "intensity of aerial reconnaissance of NATO countries near the borders of the Russian Federation in the Black Sea continues to grow," news agency RIA reported.
The previous day, the ministry said it scrambled a Su-30 jet to intercept a British RC-135 reconnaissance aircraft after it approached Crimea, which Moscow annexed from Ukraine in 2014 and claims as its own, although this is not recognized internationally.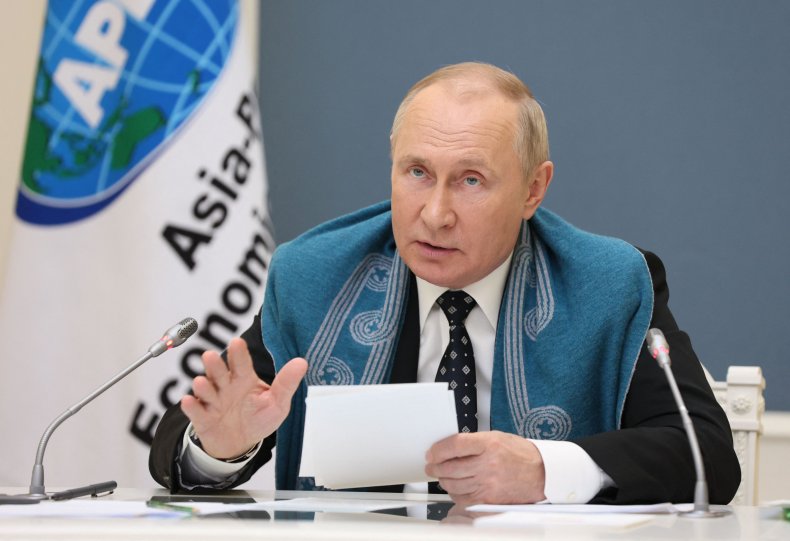 "The United States and its NATO allies are conducting unplanned, I want to emphasize, unplanned exercises in the Black Sea," Putin told Russia's Channel 1.
"Not only a fairly powerful ship group has been formed, but aviation is also used in these exercises, including strategic aviation.
"The B-51s being used are rather old aircraft," he said in the interview also available on the Kremlin website and reported by agencies, "but the point is that they have strategic military weapons on board. This is a serious challenge for us."
He said that his defense ministry "had also proposed holding its own unplanned exercises" in the area but "I believe that this is impractical and there is no need to further escalate the situation there."
"Therefore, the Russian Ministry of Defense limited itself only to escorting aircraft and ships," he added. Newsweek has contacted NATO for comment.
NATO exercises in the Black Sea over the last four months, Moscow's closure of its NATO office, and another Russian troop buildup by Ukraine's borders have added to tensions between Moscow and the alliance.
Russia's defense ministry said on Friday that the "true purpose of the U.S. actions in the Black Sea region" was to study "the theater of military operations in the event of a military solution by Kiev to the conflict in the southeast," Tass reported.
This week, Secretary of State Antony Blinken warned Russia against making another "serious mistake" amid growing international concerns over Russian activities near Ukraine, where Moscow-backed separatists control territory in a seven-year conflict.
Meanwhile, Britain's most senior military officer, General Nick Carter, said that there is a greater risk of an accidental war breaking out between the West and Russia than at any time since the Cold War.
He told Times Radio "we have to be careful that people don't end up allowing the bellicose nature of some of our politics to end up in a position where escalation leads to miscalculation."