Vladimir Putin Says Trump 'Is Not going to Depart From the Political Life'
In his annual media conference, Vladimir Putin said he did not expect President Donald Trump to leave the political stage and denied that Russian hackers had ever meddled in U.S. elections.
Due to the coronavirus pandemic, the Russian president conducted the stage-managed marathon event via video conference, during which he fielded a wide range of pre-chosen questions from socially distanced journalists and members of the public.
Putin was asked about the U.S. election result and what future role Trump might play in politics. Putin said that "almost 50 percent of the population voted for him.
"He has a fairly large base of support within the United States, and, as far as I understand, he is not going to depart from the political life of his country."
With relations between the U.S. and Russia deteriorating under Trump due to sanctions, Putin was asked about whether he felt he was responsible for a new "Cold War" with the west.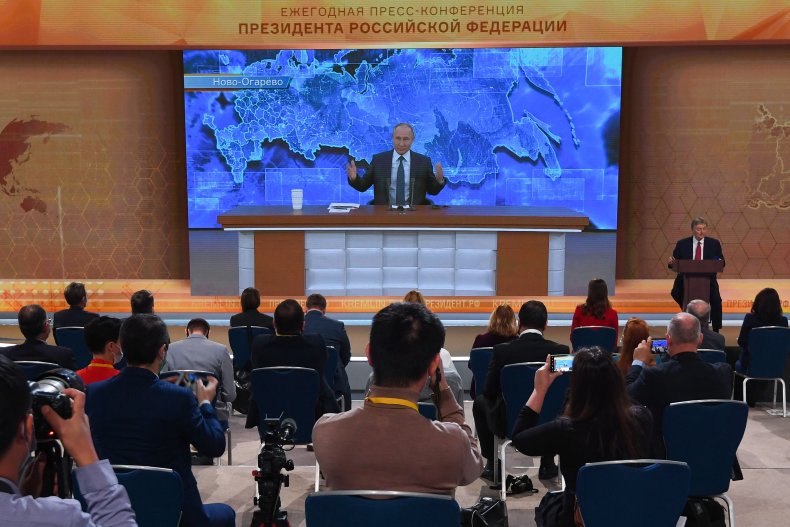 "We are more white and fluffy than you," Putin replied, "NATO's military infrastructure is approaching our borders," he added, saying that despite this Moscow had not withdrawn from the agreements like the Anti-Ballistic Missile (ABM) Treaty.
"You are smart people. Why do you think we are idiots? Now there is a threat of the end of the START treaty," Putin said, referring to the arms reduction agreement that expires in February.
Putin bragged about Russia's military capabilities, saying that although the U.S. has high-precision weapons "they don't have hypersonic ones."
When asked why Russian hackers did not help Trump get re-elected, Putin said claims of Moscow's interference in the U.S. electoral process were "used to make relations between our two nations worse, to delegitimize the presidency of the outgoing U.S. president."
"And in this way, U.S.-Russian relations are all hostage to American domestic affairs. I think this is worse for Americans themselves," Putin added, although he did not address the report this week of a Russian-backed hacking attack on federal institutions.
The Russian president also countered by accusing the U.S. of interfering in Russia's domestic affairs, referring to a probe into the financial activities of his family. A report last week said that Putin's former son-in-law, Kirill Shamalov, had netted $380 million worth of shares in Russia's biggest petrochemicals company for just $100.
"That's the State Department and U.S. security services; they are the real authors," Putin said, without giving evidence.
The annual session went on for more than four and a half hours, during which Putin also dismissed the findings of investigative website Bellingcat alleging a concerted state campaign to kill the Kremlin critic, Alexei Navalny.
"This patient enjoys the support of the Western special services," Putin said of the opposition figure the Kremlin never mentions by name and whom an international probe concluded was the victim of poisoning by the nerve agent, Novichok.
"If they wanted to, they would have finished the job," Putin added, although he lent credence to the geolocation evidence presented in the report by saying Russian intelligence knew that their phone conversations were being tapped.
"Of course we know that we were being followed. But the fact that the patient is being supported by western secret services is interesting in itself. Who needs him?"
The graphic below by Statista outlines the length of time Vladimir Putin has been in power.