Vladimir Putin: Russia Has No Problem With 'LGBT Persons' but Kids 'Playing 5 or 6 Gender Roles' is 'Excessive'
Russian President Vladimir Putin has said his country is tolerant of the homosexual, bisexual and trans communities but drew a line at children identifying with several gender roles.
Speaking to the Financial Times on the sidelines of the G20 summit in the Japanese city of Osaka, Putin defended Russia's record against accusations that the country has marginalized the LGBTQ community. At the same time, he emphasized the importance of what he felt were the feelings of the base of his constituency.
"I am not trying to insult anyone because we have been condemned for our alleged homophobia. But we have no problem with LGBT persons. God forbid, let them live as they wish," Putin told the Financial Times. "But some things do appear excessive to us. They claim now that children can play five or six gender roles."
"Let everyone be happy, we have no problem with that," he added. "But this must not be allowed to overshadow the culture, traditions and traditional family values of millions of people making up the core population."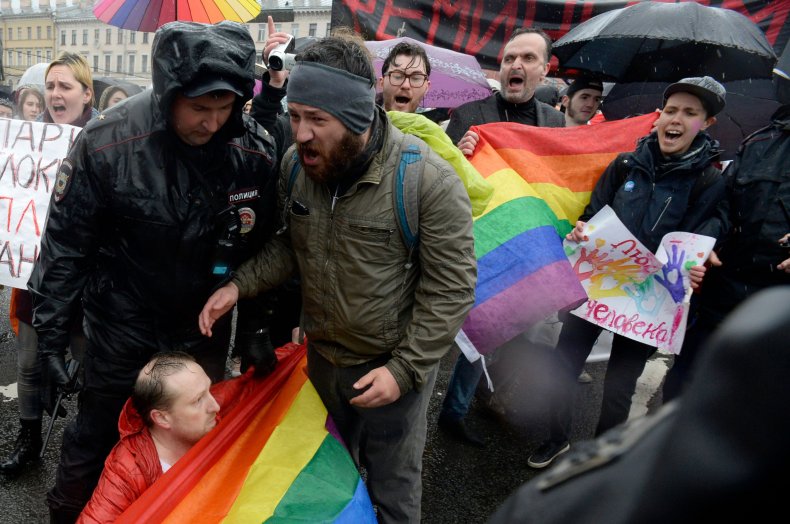 The International Lesbian, Gay, Bisexual, Trans and Intersex Association ranked Russia at 46 among European nations, above only Armenia, Turkey and Azerbaijan. As part of its annual Gay Travel Index, the Spartacus International Gay Guide gave Russia a dismal ranking of 159 out of 197 countries and separately scored the country's region of Chechnya last, below even Iran, Saudi Arabia and Somalia.
The Chechen Republic has been called out by various international watchdogs for allegedly violently repressing members of the LGBTQ community. A 2017 Human Rights Watch detailed arbitrary detainment, torture and even execution affecting those deemed to have homosexual tendencies.
A poll published last year by the Levada Center found that some 83 percent of Russians, in general, felt gay sex was "always reprehensible" or "almost always reprehensible." While Russia decriminalized homosexuality after the fall of the Soviet Union, it has never put into place any protections against discriminating against the LGBTQ community.
In fact, Moscow's parliament passed a bill in 2013 "for the Purpose of Protecting Children from Information Advocating for a Denial of Traditional Family Values" that banned the distribution of "propaganda of non-traditional sexual relationships" among minors. Putin signed it into law, supported by at least six conservative groups in the U.S.—the Catholic Family and Human Rights Institute, GrassTopsUSA, His Servants, Linda Harvey's Mission America, Population Research Institute, and the World Congress of Families.
While the U.S. was among only 28 nations in the world to legalize same-sex marriage, members of the LGBTQ community there too have suffered. The Spartacus International Gay Guide ranked the U.S. at 47, noting that both there and in Brazil "right-wing conservative governments have introduced initiatives to revoke LGBT rights achieved in the past," leading "to an increase in homophobic and transphobic violence."
A 2003 U.S. Supreme Court ruling deemed laws against sodomy unconstitutional, but up to 16 states have refused to repeal laws banning such sexual activity.