Shirtless Russian President Vladimir Putin Plunges Into Icy Waters to Cleanse His Soul
Update | In a show of both religious piety and bare-chested machismo, Russian President Vladimir Putin stripped down to a bathing suit and stepped into a frigid lake on Friday, surrounded by monks and television cameras.
The Russian leader followed a custom observed by many Orthodox Christians on the feast of Epiphany: a half-naked submersion in cold water that mirrors the baptism of Jesus of Nazareth in the river Jordan. In Russia and other Orthodox countries, the 12th day after Christmas marks the Biblical revelation of Jesus as the son of God to the three wise men.
Related: Topless Russian Students Sparked an Outrage With Their Viral Video Parody
Every year, priests in big towns and cities bless a pool of water, sometimes natural and sometimes artificial, for local Christians to re-create their baptism in an act that is said to purify the believer's spirit. Russians mark Christmas on January 7, according to the old Julian calendar, meaning Epiphany usually falls in the latter half of the month.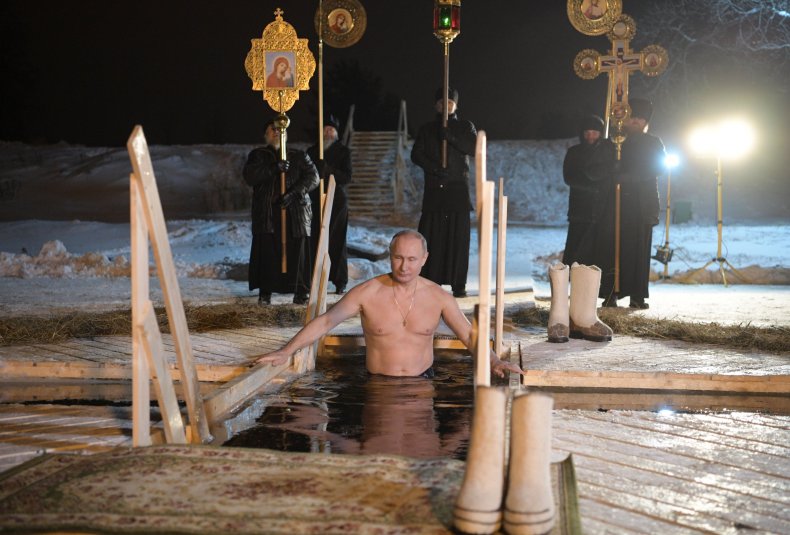 Putin chose the waters of the frozen Lake Seliger, by the Nilo-Stolobenskaya Monastery, about 250 miles north of Moscow, for his plunge. Wearing a sheepskin coat and felt boots, he marched onto a wooden platform set up for worshippers, footage by state news agency RIA Novosti showed. The president swiftly disrobed and dunked himself completely in the pool of water, covering his head, and emerged on the other side in what his spokesman, Dmitry Peskov, said was a chill of around -6 degrees Celsius (21 Fahrenheit).
Hundreds of thousands of Russians observe the practice on Epiphany, according to state-run Channel One, with each region blessing a different body of water for the ritual, ranging from covered natural pools in freezing Yakutia to the Black Sea in the southern port city of Sochi.
Other Orthodox countries such as Ukraine and Belarus mark Epiphany in similar ways, while in Bulgaria the holiday incorporates a competitive element: Not only are each town's most able-bodied churchgoers sent into freezing waters, but they all go in at the same time, racing to find a crucifix that had been blessed and hurled in by the local bishop beforehand.
After his icy soak, Putin attended service at the monastery church to wrap up a practice Peskov said the president attends every year. Following the broadcast of Putin's visit to the monastery the name of the lake where he took a dip started trending on Twitter in Russia, as some users praised his devotion, while others ridiculed him for using the holiday to curry favor with potential voters ahead of March's presidential election. His dunk last year was not publicized and coincided with the inauguration of U.S. President Donald Trump, which a spokesman said Putin did not watch.
In recent years the Russian leader has been more pronounced with his religiosity in public statements and appearances, while also emboldening the Russian Orthodox Church's conservative social views.
In a religious documentary broadcast last weekend, Putin made an appearance, sharing his thoughts on the similarities between two once-conflicting factions in Russia's history. Comparing Soviet leader Vladimir Lenin's mausoleum to the tributes for saints, the president concluded that Communism and Christianity were "very similar."
This story has been updated to include relevant video footage and with additional information on the social media response to the event.