Media in Russia have been speculating about whether a journalist was forced to resign because she asked Vladimir Putin a surprise question at his annual televised news conference and later posted on social media her thoughts about whether the president used botox.
During the marathon news conference last Thursday, Alisa Yarovskaya from the state-run Yamal Region television channel took the microphone and asked Putin about what he could do to speed up the construction of a bridge over the River Ob connecting two local cities, Salekhard and Labytnangi, in the Yamalo-Nenets autonomous region in north-west Siberia.
She said: "Our governor Dmitry Artyukhov is doing everything possible to ensure that the project takes place but we hear less and less about it," she said, asking if it was possible to make it part of Russia's federal rather than local infrastructure plan.
Putin replied that to take the project out of local hands would not be "expedient" adding that the bridge is "certainly one of the most important infrastructure projects," according to a transcript of his comments on the Kremlin website.
Yarovskaya also posted on social media during the news conference, writing in Russian next to an image of Putin: "I don't see botox or filler. He looks his age."
A screenshot of the message, which is no longer available on her Facebook page, appeared on the website Znak.ru. It likely refers to rumors which first emerged in 2011 that the 67-year-old president has had cosmetic surgery.
In the days that followed a number of Russian media outlets reported that Yarovskaya had been fired. She told The Moscow News that she had resigned her post of her own accord.
Putin's annual press conference is tightly choreographed and local authorities also appeared unhappy that Yarovskaya had asked a question that had not been vetted, The Moscow Times reported.
The news site Ura.ru reported that the authorities in Yamalo-Nenets, which owns the channel where Yarovskaya worked, did not like her personal take on the abilities of the regional governor in her question.
One source told the publication that following the press conference, "the decision was taken to stop working with her." a local government source said, "The Yamal government does not welcome flattery towards the governor personally."
In a statement to Ura, Yarovskaya said: "I wrote my resignation letter of my own accord." Newsweek has contacted Yarovskaya for comment.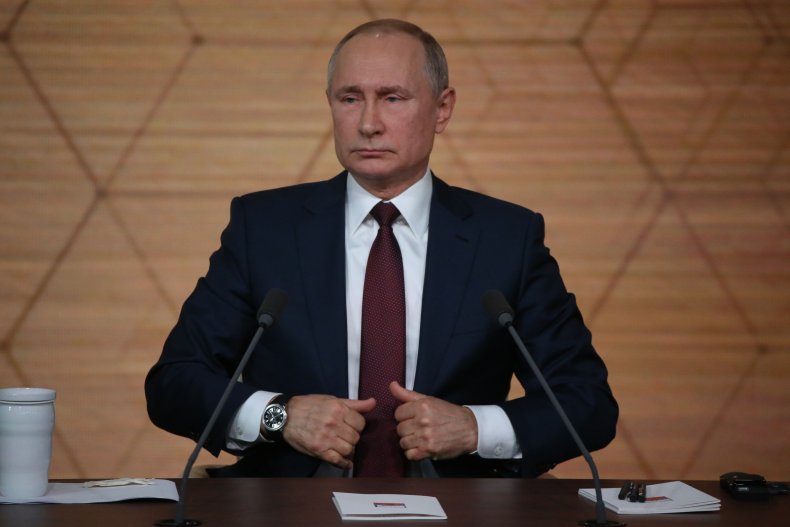 Putin was given trickier questions during the conference, such as from BBC Moscow correspondent Steve Rosenberg, who asked him what he thought of the newly elected British Prime Minister Boris Johnson, given that he had once called the president a "ruthless tyrant" and like "Dobby from Harry Potter."
Putin replied he was not concerned about foreign leaders' attitudes towards him, adding, "I know where my country's interests lie. And whatever anyone says about me, this means absolutely nothing compared to the fundamental issues Russia is looking to solve."