Volgograd Opposes Stalingrad Name Change as Putin Comes to Town
Road signs reading Stalingrad may have been temporarily erected on the outskirts of Volgograd, but local residents have overwhelmingly rejected the prospect of the Soviet-era name becoming a permanent fixture.
The signs were put in place to mark the 80th anniversary of the Battle of Stalingrad on Thursday when Vladimir Putin laid flowers by the eternal flame on Mamayev Kurgan, the location of much of the fighting as well as the iconic statue "The Motherland Calls."
But polling by the state-run Russian Public Opinion Research Center (VTsIOM) found that two-thirds of respondents (67 percent) did not support the city reverting to its pre-1961 name which was in honor of Soviet dictator Joseph Stalin.
Although there are no official plans for such a move, the poll published on Tuesday said that the issue had been "actively discussed" recently. In 2014, Putin said he would respect the choice of the people of Volgograd if they wanted the city's name changed.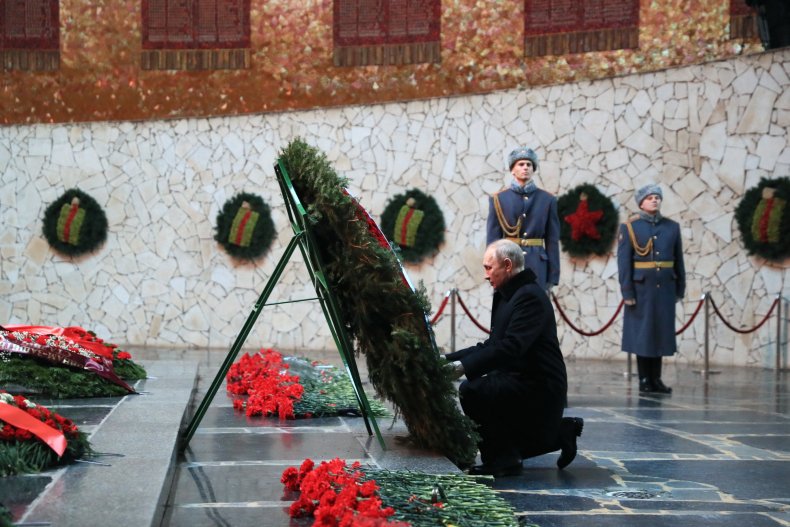 The survey of 600 people with a 4 percent margin of error showed that only a quarter (26 percent) of respondents did back the idea. Just over a fifth (21 percent) said such a move would cost too much while 11 percent agreed that "there is no need to live in the past."
Newsweek reached out to the Kremlin for comment.
Russian politicians had been urged ahead of Thursday's commemorations to compare the deadliest battle of what Russia calls the Great Patriotic War, with the present-day invasion of Ukraine.
One of Putin's justifications for his invasion is the "denazification" of Ukraine, a reason which has been dismissed as nonsense by Kyiv and the international community.
The Soviet effort in World War II has provided the context for Putin's present-day military aims. Sarah Ashbridge, research fellow in military sciences at the Royal United Services Institute (RUSI) said that Stalingrad in particular has shaped Russian concepts of glory but was not comparable to the war in Ukraine.
"It is not always clear who Russia sees as the Zhukov of this war—the meticulous coordinator of combined forces who leads with fearless lethality, but is still respected by soldiers for valuing their lives enough not to waste them frivolously," she told Newsweek.
Marshal of the Soviet Union Georgy Zhukov oversaw some of the Red Army's most decisive victories.
Ashbridge said that while Russia's sense of modern identity was tied to its past, "this war in Ukraine shows a misplaced confidence," adding that "Russia is not the defeater of Nazis as it once was."
During Thursday's ceremony, Putin condemned Western military aid to Ukraine, warning, "we have a way to respond, and it will not just end with the use of armored vehicles."