Russia Compares Ukraine War to Battle of Stalingrad on 80th Anniversary
Members of Russia's ruling party have reportedly been advised to compare Moscow's invasion of Ukraine with the World War II battle of Stalingrad, the 80th anniversary of which is being marked on Thursday.
The daily newspaper Kommersant said that the United Russia deputies party in the country's parliament, or Duma, has been urged to "draw parallels" between the bloody battle which ended with Germany's surrender on February 2, 1943, with the Kremlin's campaign in Ukraine.
The politicians are given weekly recommendations on topics to communicate with their constituents, according to the paper, which includes social media posts.
For the week ending February 5, deputies were told to push a narrative about the battle for the southern Russian city that bore the name of Soviet leader Josef Stalin and forced Adolf Hitler's Nazi forces to their first surrender.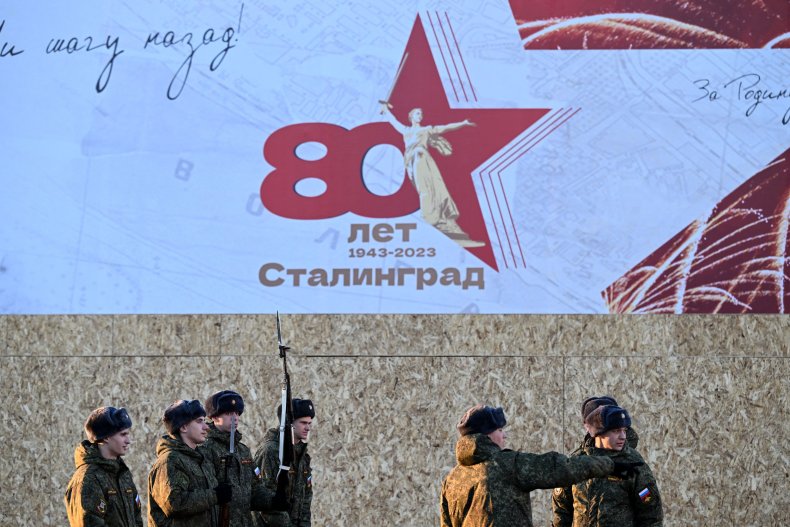 "Like the Battle of Stalingrad 80 years ago, [the war in Ukraine] is the frontier we can't step back from," the paper reported that deputies have been told. Stalin famously issued a decree to his troops of "not a step back."
"Stalingrad was defended for eight months, Donbas for eight years," was among the messages deputies were told to push in reference to the 2014 outbreak of a separatist war between Kyiv's forces and pro-Russian rebels in eastern Ukraine.
"Today's events, in terms of the scale of consequences, will mean the same for Russia as during the Great Patriotic War—the enemy will flee, and we will begin our path to victory," the recommendations reportedly say.
Newsweek reached out to the Duma for comment.
One of the justifications for the war that Vladimir Putin started has been the "denazification" of Ukraine, a claim which has been roundly rejected by Kyiv and the international community.
But what Russians call the Great Patriotic War has loomed large over the "special operation" in Ukraine now as Vladimir Putin frames the huge Soviet sacrifice as the context for his present-day military aims.
Road signs at the entrance to what is now known as Volgograd have been replaced with "Stalingrad" ahead of President Vladimir Putin's expected visit there.
The Battle of Stalingrad, which started on August 23, 1942, was the deadliest of the Second World War with an estimated two million total casualties, and is a prime example of urban warfare.
Sarah Ashbridge, research fellow in military sciences at the Royal United Services Institute (RUSI) in London told Newsweek that the battle was one of many wars that have contributed to the shaping of Russian concepts of glory and public memories of war.
"The war in Ukraine has shown us that Russia has not moved on from a mindset of casualty acceptance, as seen in historical wars," she said. "Putin and his generals are still willing to accept the deaths of tens or hundreds of thousands of soldiers in pursuit of a military aim."
Ashbridge said that the war in Ukraine "is not like Stalingrad," as Russian troops "have not benefited from an intimate knowledge of cities they have trampled through."
"There are of course some parallels between Stalin's forces and Putin's, such as the heavy dependence on artillery," she said, but failures to modernize artillery equipment or get enough of it for a sustained war "has left many Russian soldiers equipped with historical rifles, exposing either a lack of logistical planning for resupply or a lack of industrial capacity to support a sustained war."
"Though Russia's sense of contemporary identity has always been firmly tied into its past, this war in Ukraine shows a misplaced confidence," Ashbridge said.