Ukraine Official Sets Deadline for Capturing Crimea
A top Ukrainian official indicated in an interview that he has a rough deadline for when he wants his country's military to take back control of Crimea from Russia.
Major General Kyrylo Budanov, chief of the defense intelligence of Ukraine, told The Washington Post in a Tuesday story that Ukraine's military "must do everything to ensure that Crimea returns home by summer."
Russian President Vladimir Putin ordered the invasion of the Crimean Peninsula in 2014 and annexed the territory illegally weeks later. In recent months, Crimea has become a major talking point in the current war, and Ukrainian President Volodymyr Zelensky has said multiple times that having the area recognized once again as part of his nation is one of his main conditions for a peace deal with Putin.
Budanov also stressed the importance of the peninsula to Ukraine when speaking to the Post, saying, "Crimea will be returned to us." He added, "I'll tell you more: It all started in Crimea in 2014, and it will all end there."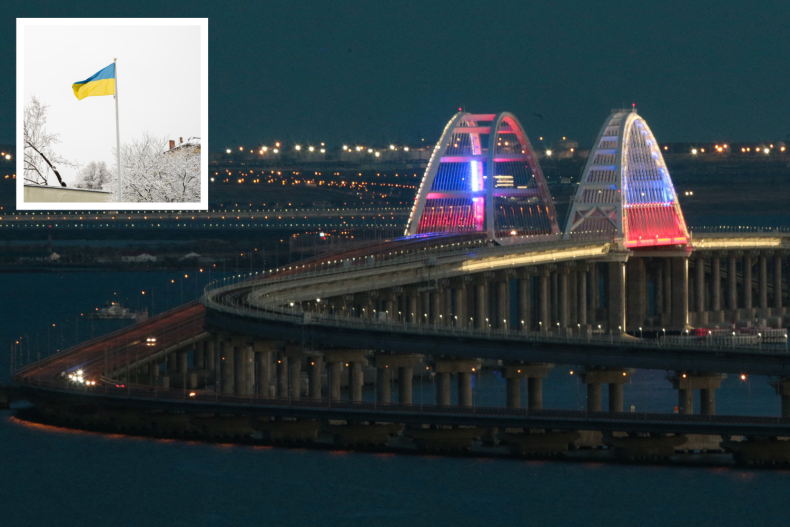 This past September, Putin said he was prepared to use nuclear weapons to defend Russia's "territorial integrity." Max Bergmann, the director of the Europe Program at the Center for Strategic and International Studies, told Newsweek in October that he believes if Ukraine gained a significant advantage in seizing Crimea, a scenario would be created "where you could perhaps see Russia get very serious about making nuclear threats."
However, Budanov told the Post that he doesn't believe Putin would resort to using nuclear weapons in Crimea.
"It's a scare tactic," he said. "Russia is a country that you can expect a lot from but not outright idiocy. Sorry, but it's not going to happen. Carrying out a nuclear strike will result in not just a military defeat for Russia but the collapse of Russia. And they know this very well."
In an interview with ABC News that aired in early January, Budanov gave a different timeline for the war against Russia.
He said he expected the "hottest" fighting between Ukraine and Russia to occur in March before his country's military makes a major push in the spring that would lead to the war's eventual end.
"This is [when we will see more] liberation of territories and dealing the final defeats to the Russian Federation," Budanov told ABC News' Britt Clennett. "This will happen throughout Ukraine, from Crimea to the Donbas."
In his interview with the Post, Budanov's predictions for the war ahead included his belief that Russian forces will attempt to seize control of more territory in the eastern Donetsk and Luhansk regions.
Budanov also reiterated a critical prediction: "Ukraine's victory," he said. "I'm not saying anything new."
Newsweek reached out to Russia's Foreign Affairs Ministry for comment.