Putin Cements Rule over Russia until 2036, Early Ballot Results Show
Early results show that the majority of Russians have voted for constitutional changes that could allow President Vladimir Putin to tighten his grip on power.
Russia's Central Election Commission (CEC) released a preliminary tally that said nearly 70 percent of those who voted, supported the amendments to the constitution, as of 5 p.m. Moscow time on Wednesday, the day when the week-long vote ends.
Opponents of the plebiscite say it is an unmitigated grab to keep power in the hands of Putin, who issued a patriotic plea on Tuesday during the unveiling of a World War Two monument in the Tver region for people to vote for "the country we want our children to live in."
The constitutional changes would reset Putin's presidential term to zero when his current tenure ends in 2024, allowing him to run for two more six-year terms. The constitution, updated from 1993, also promotes a patriotic education, mentions God, and would enshrine so-called family values, in effect banning gay marriage.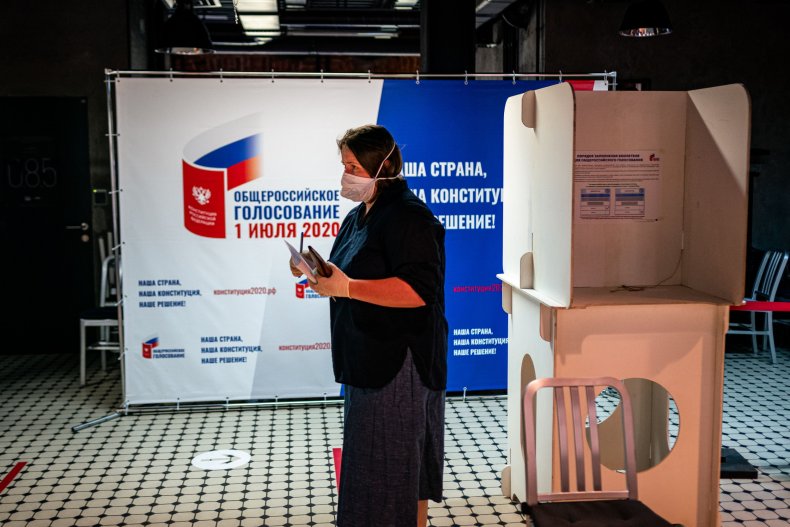 Authorities incentivized turnout, which as of Wednesday afternoon was around 60 percent, by running the vote over seven days and offering prizes which included cars and apartments.
As if to exemplify opposition criticism that the vote's outcome was already a fait accompli, many shared on social media images of copies of the constitution which were available in Moscow bookshops from June, well before people even went to the polls.
Kremlin spokesman Dmitry Peskov justified their availability saying, according to RBC, "we need to publish what people will be voting for."
Among those casting their ballot, was Russian cosmonaut Anatoly Ivanishin who voted from the International Space Station on Tuesday. The Russian Space Agency Roscosmos announced that he "has become the first man to have voted online from orbit."
However there have been reports of irregularities at ballot boxes, such as in the city of Saransk, where viewers of local television noticed that during a June 29 news segment that was posted on Russian social media shows a blue-gloved hand stuffing ballots into a sealed ballot box.
Meanwhile, a couple turned up to a voting station in Moscow only to be told that records showed that they and their children had already cast their ballots. Their demand to a local official they be allowed to vote was refused, in an incident filmed and shared by by supporters of opposition figure Aleksei Navalny, Radio Free Europe reported.
In another incident, Russian news outlet Mediazona said that one of its reporters was attacked by a police officer at a polling station in St. Petersburg on Tuesday.