Russian soldiers fighting for control of Bakhmut have seen their "lowest rates" of offensive actions in recent days amid a "depletion" of troops' power in the Ukrainian city, according to British intelligence.
Bakhmut has become the site of some of the most intense combat in the Russia-Ukraine war as Moscow seeks to deliver a rare battlefield victory following months of stagnation. Russian President Vladimir Putin launched his "special military operation" on Ukraine on February 24, 2022, aiming for a quick and decisive victory. However, Ukraine's spirited defense effort has blunted its military gains.
Both Ukraine and Russia have put up a fierce fight to control the city, as experts say Russia taking the city would offer its troops more of a symbolic than strategic victory. Moscow, fighting alongside the paramilitary unit Wagner Group, has touted its gains in the city to counter reports that its military has struggled throughout the war.
However, the United Kingdom's Ministry of Defense on Saturday reported that its intelligence has found a lower rate of offensive action among Russian troops in its daily intelligence update.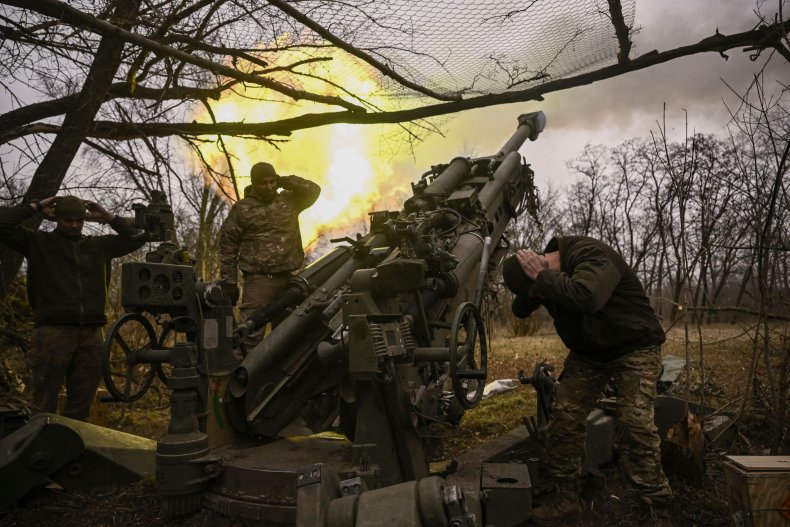 "Russia is conducting some of the lowest rates of local offensive action that has been seen since at least January 2023," the update reads. "This is most likely because Russian forces have temporarily depleted the deployed formations' combat power to such an extent that even local offensive actions are not currently sustainable."
Moscow will likely try to "regenerate the offensive potential of the force" when personnel and munition stocks are replenished, meaning Russian commanders will be forced to make key decisions about how to move forward in the city in the coming days, according to the update.
"In the meantime, commanders will likely be forced to choose between carrying out offensive operations and conducting a credible defense of the full line," the ministry wrote.
Still, the update found that Russia has still made some gains in Bakhmut. Specifically, its troops "obtained footholds" west of the Bakhmutka River, which flows through the center of the city.
Bakhmut Latest Updates: Think Tank Warns Russia 'Nearing Culmination'
The British intelligence update is only the latest sign that Russia could be facing setbacks in Bakhmut. For months, Russia appeared to be making progress against Ukraine, last week claiming to have "advantageous positions" against Ukraine.
Last week, the Institute for the Study of War (ISW), a U.S.-based think tank, said Russia was taking a "tactical pause" in the months-long campaign to capture the city.
On Thursday, the ISW wrote that Russian troops in Bakhmut appeared to be "nearing culmination," a military term referring to the point in which a unit is too stretched or exhausted to continue its advance. The group pointed to a lower number of Russian attacks throughout the week.
Newsweek reached out to the Russian Ministry of Defense via email for comment.