Wagner Forces Taking 'Tactical Pause' in Bakhmut—ISW
Fighters hired by Russian businessman Yevgeny Prigozhin for his paramilitary outfit, the Wagner Group, appear to be taking a "tactical pause" in their months-long offensive to capture the city of Bakhmut in eastern Ukraine, according to an assessment by a U.S.-based think tank.
The Wagner Group's offensive operation in eastern Bakhmut "appears to have entered a temporary tactical pause" and "it remains unclear if Wagner fighters will retain their operational preponderance in future Russian offensives in the city," the Institute for the Study of War (ISW), based in Washington, noted in its daily assessment of the conflict on Thursday.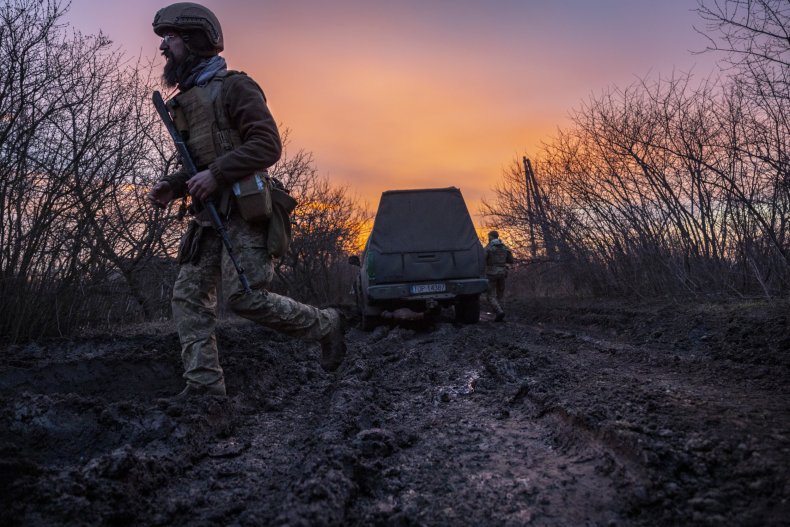 Prigozhin founded the once-shadowy paramilitary outfit, which provides fighters for hire, in 2014. But he has been sidelined by the Kremlin in recent weeks, with the Wagner Group now seeming to play a less prominent role in operations around Bakhmut.
Prigozhin has been ramping up his criticism of Russia's Defense Ministry in recent weeks, as the battle for Bakhmut intensifies. He has published several audio clips making a desperate plea for more ammunition for his forces, saying government officials are intentionally withholding the ammunition needed to secure victory in Bakhmut.
Bakhmut, a small industrial city in Ukraine's eastern Donetsk region, has been the scene of some of the most intense fighting since Russia launched its full-scale invasion just over a year ago.
Clashes between Russian and Ukrainian forces around Bakhmut have been increasing in ferocity as Moscow seeks to secure its first major battlefield victory since the summer of 2022. After days of speculation that Ukraine could pull its troops from the city, Ukrainian President Volodymyr Zelensky said Monday his top commanders told him "not to withdraw" and suggested instead strengthening the city's defenses.
Prigozhin said in a statement Wednesday that Russia currently controls the entire eastern part of Bakhmut.
The ISW observed that here have been no reports of Wagner fighters conducting offensive operations from eastern Bakhmut into central parts of the city since Russian forces captured all of eastern Bakhmut located east of the Bakhmutka River on Tuesday.
"Wagner fighters have been conducting highly attritional frontal assaults on eastern Bakhmut for nine months and are likely not prepared to conduct a crossing of the Bakhmutka River to the Bakhmut city center at this time," the think tank assessed.
The think tank said its frontal offensive on eastern Bakhmut likely consumed a significant amount of the paramilitary outfit's personnel and resources.
"It is not yet evident whether this effort has caused Wagner's offensive within Bakhmut itself to culminate," the ISW said, using a military term meaning the point where a unit is too stretched or exhausted to continue its advance.
Ukrainian Eastern Grouping of Forces spokesperson Serhiy Cherevaty said Thursday that an increasing number of unspecified Russian airborne and mechanized reinforcements have recently arrived at Bakhmut.
"The arrival of an increased number of conventional Russian forces to the area may suggest that Russian forces intend to offset the possible culmination of Wagner's offensive operations in Bakhmut with new conventional troops.
"Wagner Group fighters may also be conducting a temporary tactical pause to wait for these conventional Russian reinforcements and replenish themselves in preparation for costly operations within central Bakhmut," the ISW concluded.
On Thursday, Prigozhin published an audio clip on the press service of Concord, which he owns, suggesting that he has been cut off from Russia's Defense Ministry.
"In order for me to stop asking for ammunition, all special telephones were turned off for me in all offices, in all departments, etc. Another important thing they have done is blocked all passes to all the agencies that have to make decisions."
Newsweek has contacted Russia's foreign and defense ministries by email for comment.
Do you have a tip on a world news story that Newsweek should be covering? Do you have a question about the Russia-Ukraine war? Let us know via worldnews@newsweek.com.