Russian Defense Minister Sergei Shoigu has for the first time explained why the country has been pouring its troops for months into the industrial city of Bakhmut in Ukraine's eastern Donetsk region in an attempt to capture it.
Shoigu was cited by the Russian news outlet Pravda as saying that the Russian Armed Forces will be able to advance deep inside Ukraine should Bakhmut fall.
Bakhmut has been the scene of some of the most intense fighting since Russia launched its full-scale invasion of Ukraine last February. Clashes between Russian and Ukrainian forces around the city are increasing in ferocity as Moscow seeks to secure its first major battlefield victory since the summer of 2022.
The Wagner Group, a paramilitary outfit founded by Vladimir Putin ally Yevgeny Prigozhin, has been heavily involved in Russia's Bakhmut offensive, alongside conventional Russian troops.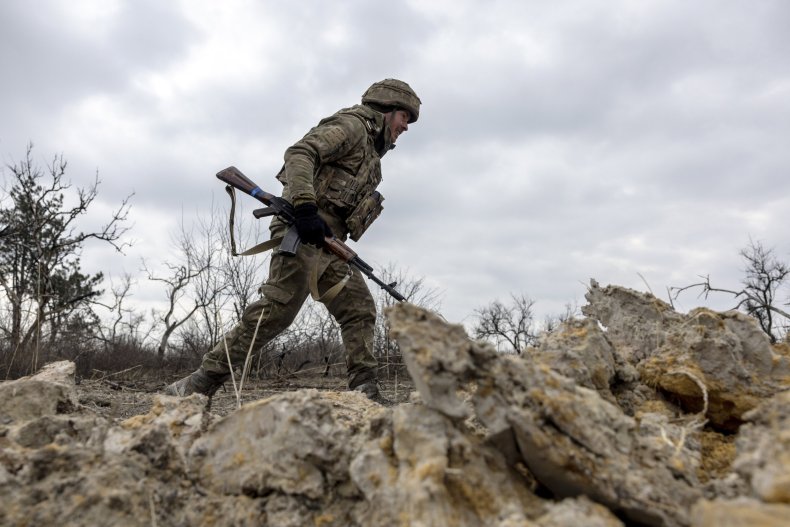 The defense minister said Bakhmut is an important defense hub of the Armed Forces of Ukraine in the Donbas region. The city serves as a regional hub with highways that lead to strategic cities in the Donbas, such as Kramatorsk and Slovyansk.
"Taking it under control will allow further offensive actions deep into defense of the Armed Forces of Ukraine," Shoigu said.
Ukraine Holds On
His comments come after Ukrainian President Volodymyr Zelensky announced his troops would not withdraw from the city.
Zelensky said in his nightly address Monday that his top commanders told him "not to withdraw" and suggested instead strengthening the city's defenses.
"The command unanimously supported this position. There were no other positions. I told the commander-in-chief to find the appropriate forces to help our guys in Bakhmut," Zelensky said.
Anton Gerashchenko, an adviser to Ukraine's minister of internal affairs, has also outlined the importance of Bakhmut remaining under Ukrainian control.
He told Newsweek on February 17 that Bakhmut is "a live wall that allows us to prepare our troops for de-occupation"—implying that a successful defense of the city could put the Ukrainians in a position to launch a counteroffensive.
"[The] Russian Army has lost a colossal amount of people and equipment in this direction. They have been trying to capture Bakhmut for months now without any result," he said.
Bakhmut holds "huge symbolic value" for Russia, Gerashchenko added. "The situation there is the most complicated at the moment, but our defenders stand strong and carry out their combat missions."
Many analysts say that while Bakhmut holds little value itself in strategic terms, Russia will use the city as a stepping stone toward its goal of capturing the entire Donbas region—one of Putin's stated war aims when he launched his invasion last February.
Bakhmut 'Fortress'
A Russian envoy has said Bakhmut's capture will determine the course of the war.
Dmitry Polyanskiy, Russia's first deputy permanent representative to the United Nations, told Newsweek that it will be impossible for his country to achieve Putin's war aims in Ukraine unless Bakhmut is captured.
"I know that there is no way to liberate Donbas without capturing Bakhmut and I know that liberation of Donbas is one of the tasks of our military operation," Polyanskiy said on Tuesday, describing the war-ravaged city as a "fortress" that is "part of a heavily fortified line of defense."
"It's not just a simple city. It's a city that has long underground tunnels and fortifications," he said. "That's why it's so difficult to capture this fortress, but I'm sure that we will do it."
Zelensky told CNN in an interview published Tuesday that the fall of Bakhmut would allow Russia to reach other settlements in the Donetsk region.
"We understand that after Bakhmut they could go further. They could go to Kramatorsk, they could go to Sloviansk, it would be open road for the Russians after Bakhmut to other towns in Ukraine, in the Donetsk direction," he said. "That's why our guys are standing there."
Prigozhin said in a statement Wednesday that Russia currently controls the entire eastern part of Bakhmut.
A day earlier, Yan Gagin, an advisor and spokesperson for the acting head of the so-called Donetsk People's Republic, was cited by Russian state-run news agency RIA Novosti as saying that Moscow's forces currently control nearly half of Bakhmut.
Do you have a tip on a world news story that Newsweek should be covering? Do you have a question about the Russia-Ukraine war? Let us know via worldnews@newsweek.com.