Russia: Trump Scandal Is Great TV But We Want No Part in It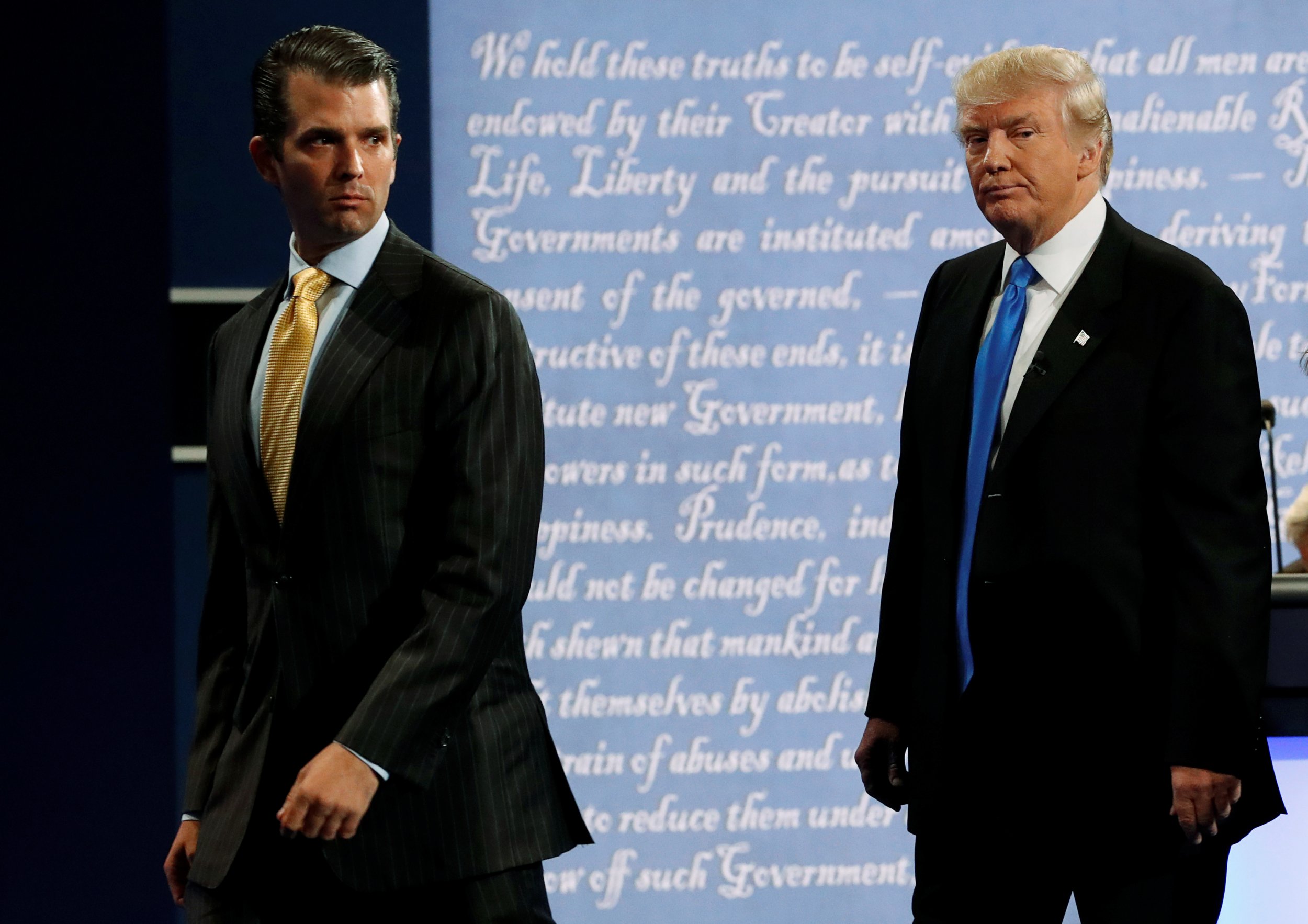 While Donald Trump Jr. is inadvertently raising public concern about his father's 2016 presidential campaign, Russia is insisting the scandal feels like a top TV show but wants no part in it.
The U.S. first son's admission that he met a Russian attorney, introduced to him as a "Russian government lawyer" to acquire compromising information about his father's opponent Hillary Clinton, has provoked ridicule from an already exasperated portion of the U.S. public.
Read More: Azerbaijani businessman at center of Trump Jr. scandal denied knowing him at all
U.S. Congress and the Department of Justice are both investigating Russian tempering in the 2016 presidential election—something Russia has denied. Hacks on Trump's opponents and emerging evidence about Trump campaign officials holding undisclosed contacts with Russian government figures have already tarred the administration's image, much to the chagrin of Trump who has repeatedly described the story as a fabrication.
The topic that Russian President Vladimir Putin once laughed off appears to be an increasing irritant to the Kremlin, since Moscow declared Wednesday that the allegations relating to Trump Jr.'s contacts with Russian government contacts were "inappropriate and absurd."
"All of this is just another chapter which has explicably appeared after the bilateral meeting," Putin's spokesman Dmitry Peskov said Wednesday, linking the timing of Trump Jr.'s scandal with the first meeting between his father and Putin last week.
"As a whole, this resembles a long, winding television series, capable of competing with some of the most successful series that are shown in the U.S. but there is no need to rope us into this program in any way," Peskov told state news agency Itar-Tass. "We are not participating and we will not participate in such a series."
Peskov was cagey on the scandal around Trump's eldest son, saying Russia was "absolutely out of the loop with this entire story." The Kremlin, he said, has never been in touch with Natalia Veselnitskaya, the lawyer Trump Jr. met, "which is why we have nothing to say on this story. It has not even the slightest relation to us."
Despite her introduction to Trump Jr. as a "government lawyer," Peskov said the Russian government had "nothing to investigate" about Veselnitskaya.
Russia's Foreign Minister Sergey Lavrov spoke in Trump Jr. and Veselnitskaya's defense, telling the Interfax news agency there was nothing improper about the pair's meeting, the purpose of which Trump Jr. and Veselnitskaya disagree on. While he claims the music producer of an Azerbaijani tycoon put him in touch with Veselnitskaya, who had dirt on Clinton from the Russian prosecution, Veselnitskaya said she never had any intention of giving such information.
"I learned with amazement that a female Russian attorney and Trump's son are accused of communicating," Lavrov, a famous practitioner of sarcasm said, while addressing journalists when receiving a delegation from Belgium. "When anyone speaks to a lawyer, what problem can there be."
Earlier this week Jack Barsky, a former sleeper agent for the KGB, tasked to infiltrate the U.S. during the Cold War, said Putin would consider the Trump scandal to be turning out "beautifully" for Russia.