Trump Jr.: Azerbaijan Businessman Says Russia Claims About Him Are 'Made Up'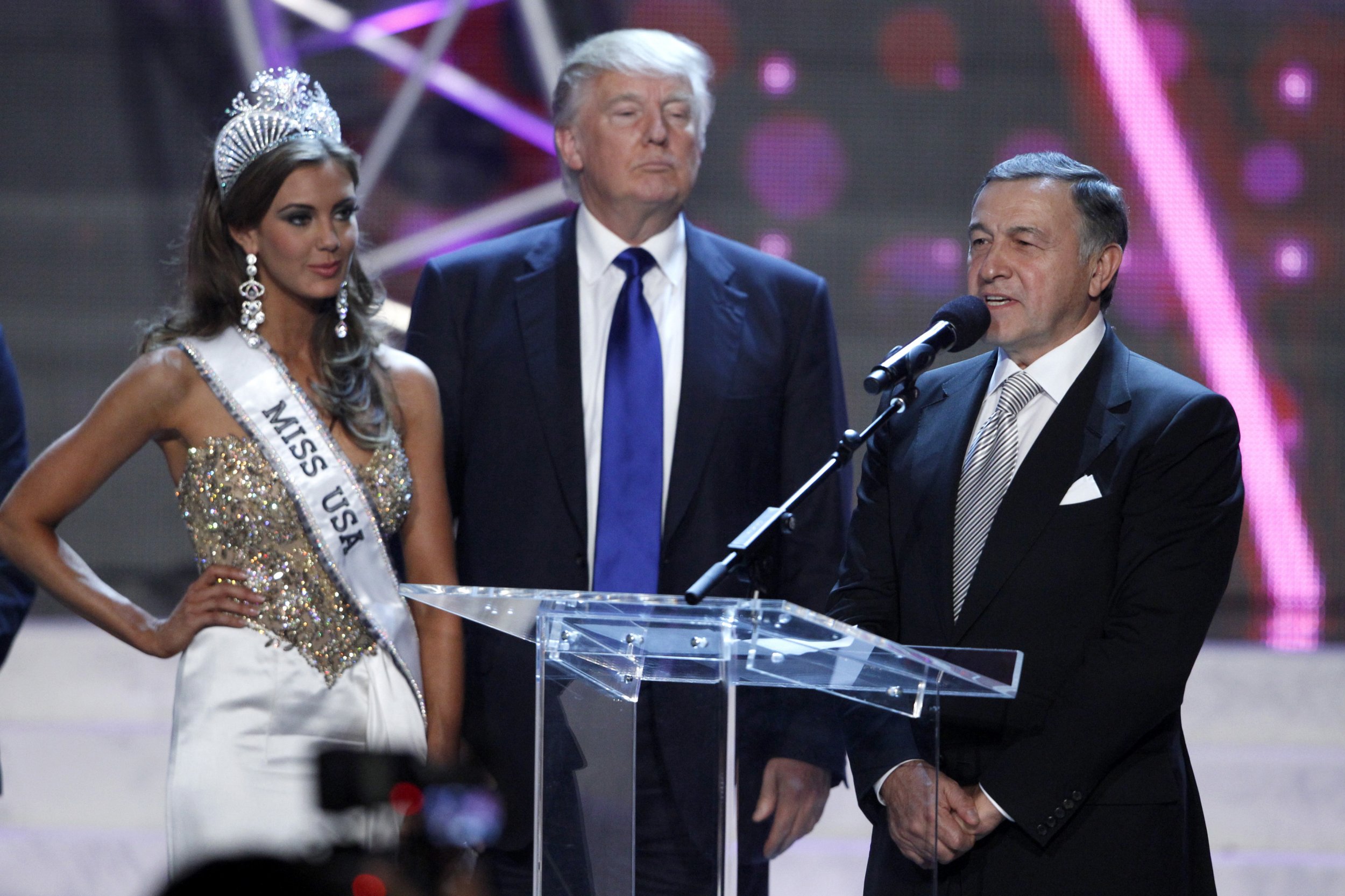 As the U.S.'s first son, Donald Trump Jr., is on the defensive about trying to acquire dirt on the opposition from Russia and one of the central figures in his story has denied any knowledge of the claims he is making.
Aras Agalarov, the Azeri businessman whose son cast Donald Trump senior in his music video once, said the claims made about him in Trump Jr.'s letter correspondence are "made up." According to Trump Jr., Agalarov's son's publicist Rob Goldstone told Trump Jr. that Agalarov had compromising materials on Trump's election opponent Hillary Clinton, acquired from a meeting of the "Crown prosecutor of Russia."
Agalarov met with Trump in 2013, when the two of them brought the Miss Universe pageant to Moscow. The offer of new information on Clinton subsequently attracted Trump Jr.'s interest and according to his email correspondence, Goldstone last year introduced him to "a Russian government attourney" who he said would speak about this—Natalia Veselnitskaya.
Read More: Trump's team are "fundamentally unable to tie their own shoelaces," ex-Kremlin sleeper agent says.
"I don't know who is making it up," Agalarov told Russian radio station Business FM Wednesday morning, but asked what knowledge about Clinton had anything to do with his own business. He denied having anything to do with Trump Jr. on the matter personally.
"Emin knows him," he said, referring to his son. "I do not know him [Trump Jr.]. We held Miss Universe and that is where some contacts were made." Asked what his son and Trump Jr. spoke about, if not about damaging information—which he denies having—about Clinton, Agalarov said he did not know. "They're about the same age," Agalarov noted, suggesting the two could have found common ground there.
"I don't know Rob Goldstone either," Agalarov said. "He worked with Emin for some time, probably as a manager and he promoted something in America. I don't know. In general, he worked. They spoke to each other."
Trump Jr.'s admissions have raised further suspicion about alleged ties between the Trump campaign and Russian officials. The story has not been corroborated fully on the Russian or, in Agalarov's case, the Azerbaijani side.
The Kremlin has dismissed any links to Veselnitskaya. Veselnitskaya, in turn, has denied working on behalf of the state and told NBC she "never had any damaging or sensitive information about Hillary Clinton."
"It was never my intention to have that," she said, taking a swipe at the Trump camp, as though they convinced themselves she had sought-after information. "It is quite possible that maybe they were longing for such an information. They wanted it so badly that they could only hear the thought that they wanted."
President Trump's administration is caught in a wider Russia-related scandal over alleged improper contact between campaign officials with Russian state representatives.
Russian interference, both through alleged improper communication with Trump's camp and interference in Clinton's campaign through cyberattacks, is the subject of investigations by both Congress and the Department of Justice.