Russian War Recruiters Break Into Homes to Summon Conscripts, MP Says
In the wake of last week's call from Russian President Vladimir Putin to partially mobilize Russia's population to support the war in Ukraine, there are claims that officials from one Moscow district are breaking down doors to round up recruits.
Evgeny Stupin, a Communist Party MP for the Moscow City Duma and a human rights lawyer, posted on social media that employees from the local authority of Moscow's Kosino-Ukhtomsky district reportedly arrived at a residence with police officers to deliver conscription notices to residents.
Officers "broke open the vestibule doors on the landings of residential buildings to hand over summonses to residents to go to the military enlistment office," Stupin wrote.
"Some residents have already received threats [that] electrical wires from the apartment would be cut if men do not open the door for a summons," he added.
Stupin posted images of broken door locks and screen grabs of messages he said were from concerned local residents describing how they were visited by officials without warning and without documents. One person said that council officials were even walking around their property.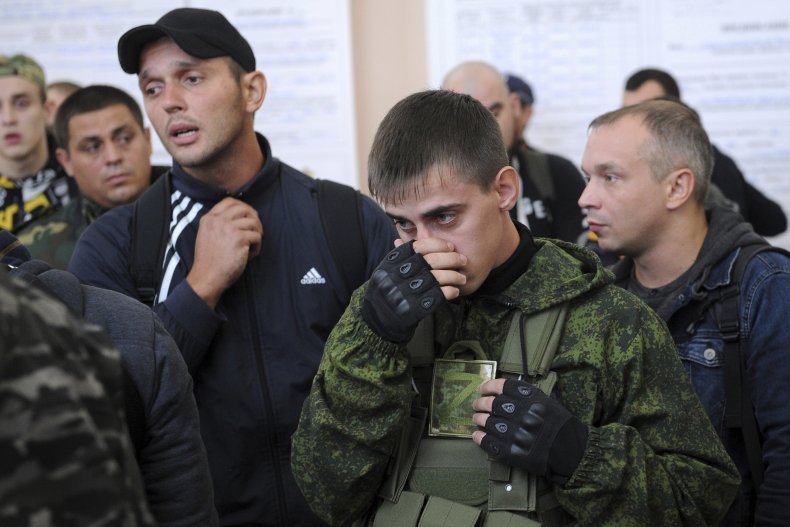 There have been chaotic scenes like this across the country since Putin announced the partial mobilization with the stated goal of calling up 300,000 Russians to fight in Ukraine.
Videos of drunken recruits and growing reports of mobilization "violations," in which people in their 50s and 60s, as well as students, are being compelled to serve.
With criticism growing even in state media outlets, the Kremlin has tried to pin the blame for the mobilization failures onto local bureaucratic institutions.
Meanwhile, regional activists have said that a disproportionate amount of the men being drafted come from Russia's ethnic minorities, with large numbers from the North Caucasus republic of Dagestan and the Siberian republic of Buryatia, The Moscow Times reported, citing regional activists.
Police have arrested more than 2,300 people protesting the move while tens of thousands of Russians are trying to leave the country to avoid the draft.
Michael Kofman, a military analyst with the Virginia-based CNA think tank, said that although many people have pointed to mistakes in recruitment, it was too early to be dismissive of the Kremlin's ability to mobilize.
"We really haven't seen Russia conduct this kind of mobilization since World War II," he told the War on the Rocks podcast on Monday, "We're very much in uncharted waters regarding the implications."
"It obviously looks like a hot mess," he said, "but they are also pulling in quite large numbers of men."
He believed it would be a matter of weeks before he could judge the effectiveness of the mobilization but however many were called up, Russia had "limitations in terms of what they can sustain logistically, and in terms of command and control."
"What it can certainly do is dramatically extend Russia's ability to sustain this war—and that does matter."
Newsweek has reached out to the Russian Ministry of Defense for comment.