Russia Issues Warning to U.S. After Nord Stream Sabotage Allegations
Russia has issued a stark warning to the U.S. after the White House on Wednesday pushed back against a report from an American investigative journalist that Washington was responsible for explosions last year on Russia's Nord Stream gas pipelines.
In an interview with Russia's state-run news agency RIA Novosti on Thursday, Russia's Deputy Foreign Minister Sergei Ryabkov blamed the Biden administration for explosions that damaged the gas transportation network in September, vowing there would be "consequences."
He was referring to a report, published by U.S. investigative journalist Seymour Hersh on his Substack, which alleged that an attack was carried out on the Nord Stream gas pipelines at the direction of President Joe Biden. The White House has dismissed the claims, calling them "utterly false and complete fiction."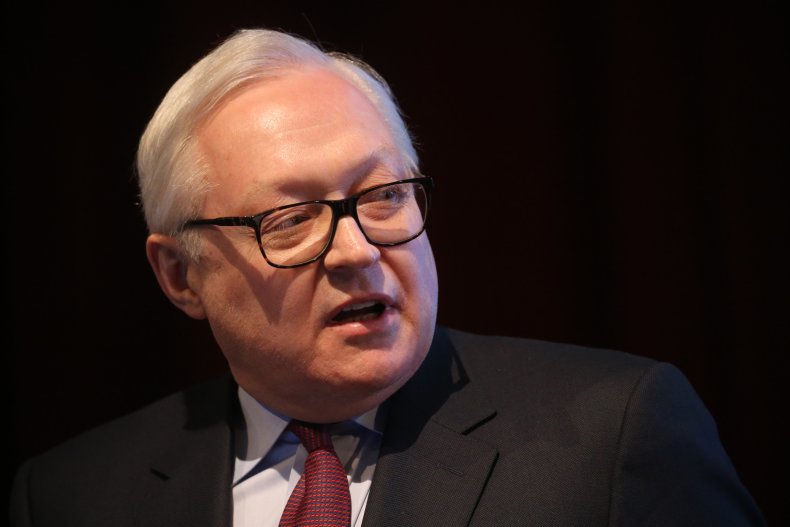 "By and large, yesterday's publication confirmed a conclusion we made for ourselves—the official representative of the foreign ministry said yesterday that we never had any doubts that the United States, possibly other NATO countries, were involved in this outrageous sabotage," Ryabkov said.
He separately told reporters in Moscow on Thursday that Russia's "assumption was that the U.S. and several NATO allies were involved in this disgusting crime."
Ryabkov threatened "consequences" for the United States, without elaborating.
Last week, Russian Foreign Minister Sergei Lavrov accused the U.S. of being involved in the explosions that damaged the Nord Stream gas pipelines under the Baltic Sea last September.
In an interview on state TV on February 2, Lavrov said remarks made by the U.S. Under Secretary of State for Political Affairs Victoria Nuland at a Senate hearing on January 26 was evidence that Washington was behind the blasts.
After leaks occurred on the two Nord Stream natural gas pipelines linking Russia and Germany last September, a Swedish investigation found evidence of detonations, pointing to sabotage. Biden called the leaks a "deliberate act of sabotage" at the time, though he did not directly accuse Moscow of being responsible.
Lavrov last week seized on recent comments by Nuland to suggest they point to U.S. involvement in the blasts.
At the January 26 Senate hearing, Nuland became involved in a discussion with Senator Ted Cruz, a Texas Republican, about whether the Russian invasion of Ukraine could have been prevented if the U.S. had passed sanctions against the new Nord Stream 2 pipeline, carrying natural gas from Russia to Germany, in January of last year.
"Senator Cruz, like you, I am, and I think the administration is, very gratified to know that Nord Stream 2 is now, as you like to say, a hunk of metal at the bottom of the sea," she said at one point.
Her comment seemed to imply that the Biden administration was pleased that the $11 billion Russian-owned pipeline—which the U.S. had opposed for years on the grounds that it increased European reliance on Russian energy—is not being used. Germany halted the recently finished project just before the invasion last February after Russia formally recognized two breakaway regions in eastern Ukraine.
Lavrov said, however, that her remarks to the Senate proved the United States was directly involved. Nuland effectively made a "confession," he said.
A State Department spokesman told Newsweek at the time that Lavrov's allegations are "preposterous" and are "just another desperate attempt to deflect from Russia's brutal war against Ukraine with blatant disinformation and lies."
"We can say categorically that the United States was not involved in any way and we continue to work with Allies and partners to get to the bottom of what happened," the spokesman said.
He added: "These pipelines weren't pumping natural gas into Europe at the time. Nord Stream 2 was never operational. Nord Stream 1 had been shut down for weeks because of Russia's weaponization of energy."
Newsweek has contacted the U.S. State Department for additional comment.
Do you have a tip on a world news story that Newsweek should be covering? Do you have a question about the Russia-Ukraine war? Let us know via worldnews@newsweek.com.