U.S. Peace Talks Offer in Ukraine 'Unacceptable,' Russian Lawmaker Says
An influential Russian politician dismissed a suggestion from a leading State Department official that the U.S. would be prepared to ease sanctions on Moscow if its troops were withdrawn from Ukrainian territory and the Kremlin committed to serious peace talks.
U.S. Under Secretary of State for Political Affairs Victoria Nuland said on Thursday during a Senate hearing: "In the context of Russia's decision to negotiate seriously and withdraw its troops from Ukraine and return territories, I would certainly support that," referring to the potential easing of sanctions on Russia.
Nuland added that she believed Secretary of State Antony Blinken would also support such a step.
But Leonid Slutsky, the chairman of the Russian parliament's foreign affairs committee, quickly rejected the idea, vowing that all occupied Ukrainian territory would remain under Moscow's control.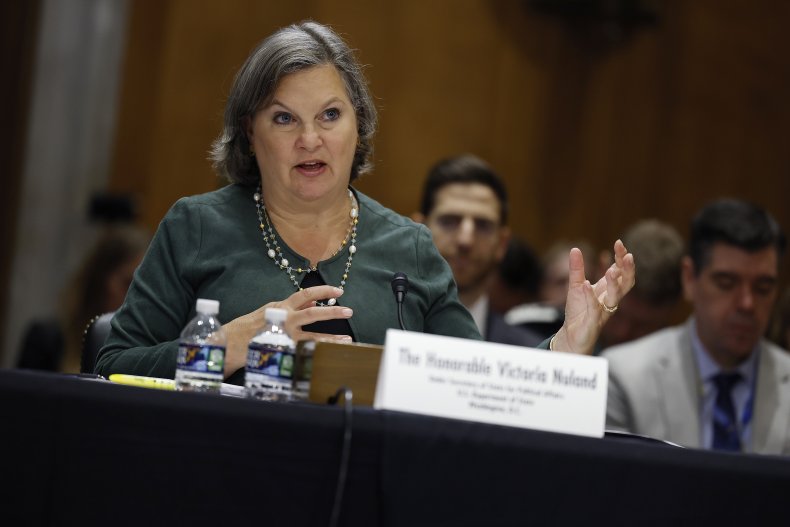 Nuland's suggestion "is unacceptable," Slutsky wrote on his official Telegram channel. The lawmaker—known for his bellicose and nationalistic rhetoric—added that "historical decisions" could not be reversed on the basis of "promises to revise thoughtless sanctions."
Russian President Vladimir Putin claimed in September to have annexed four partially occupied Ukrainian regions—Kherson, Zaporizhzhia, Donetsk and Luhansk—following widely condemned sham referendums. The Kremlin has said it won't consider any peace deal that involves relinquishing control of these areas, which it now considers Russia.
The occupied regions, Slutsky said, "are now with Russia forever." He added: "We do not abandon our own. And we do not refuse the goals of the [special military operation] for the de-militarization and de-Nazification of Ukraine."
"But this can hardly be understood in Washington, where the 'surrender' of yesterday's allies is the norm," Slutsky wrote.
There is no indication that Russo-Ukrainian peace talks will be revived any time soon, with both sides reportedly preparing for late winter and spring offensives they hope will seize the momentum and end the conflict in their favor.
The Kremlin has repeatedly accused Kyiv and its Western partners of not being prepared to negotiate in good faith, while simultaneously refusing to downgrade its war goals of regime change in Kyiv, the annexation of swathes of Ukrainian territory, and vague demands about the "demilitarization" and "de-Nazification" of the country.
Ukraine has said no talks can take place until all Russian troops have returned to their pre-February 24 positions. In any subsequent deal, Kyiv has made clear it intends to take back all Ukrainian territory occupied by Russia since 2014—including the Crimean peninsula and parts of the eastern Donbas region.