Russia in 'World War' With Western Nations, Putin Ally Says
Russia is in a "world war" with Western nations amid Vladimir Putin's invasion of Ukraine, Serbian President Aleksandar Vucic said on Wednesday.
"We should understand that amid the world war, all the talks that it's is a regional or a local war must be dropped," Vucic, an ally of Putin, told independent Serbian TV channel Pink in an interview.
"The entire Western world is fighting against Russia via Ukrainians. It is a global conflict," he said, according to Russia's state-run news agency TASS.
Serbia, which has strong ties with Russia politically, economically, and culturally, has so far refused to side with the West in imposing sanctions over Putin's war against Ukraine, which began in late February. The country is almost entirely dependent on Russian gas.
However, in March Serbia did vote in favor of a UN resolution demanding that Russia end the invasion and pull its troops out of Ukraine.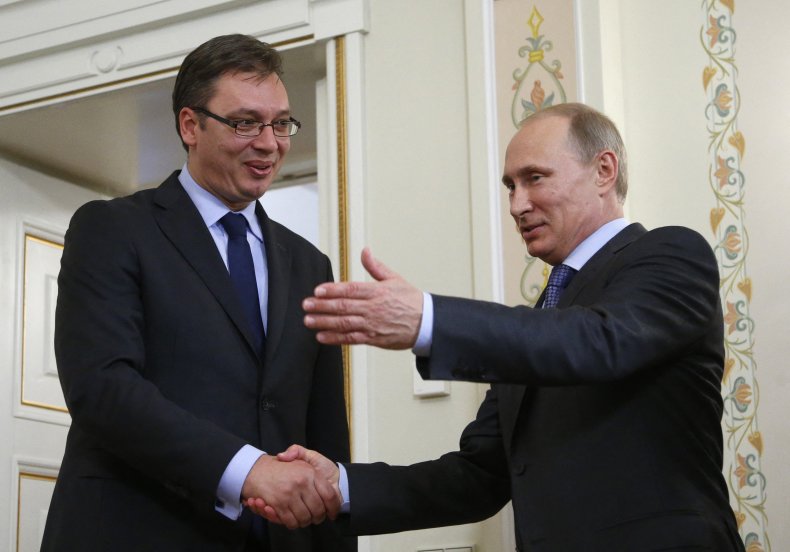 During a press conference last month, Vucic also claimed that many European Union states are in "a direct war" with Russia, according to the Russian state-owned television network RT.
The Serbian president said the country, which is a candidate for EU membership, is now in a difficult position due to the pressure to join the West in slapping sanctions on Moscow. Vucic said he is aware of "how angry many of them [EU members] are" over the issue.
"Many EU countries are in a direct war against Russia. They send howitzers, planes, S-300s to Ukraine, and how do you think they will treat us? They are not in our shoes as we are not in theirs, and that is why our position is extremely difficult. Will it be easier? Well, it won't," Vucic said.
Last month, a Russian state TV host and guests also alluded to the Ukraine conflict being a world war, saying that World War III has started, and that Ukraine could be just the beginning of a potentially larger conflict with the West
"Russia's special operation in Ukraine has ended in a sense that a real war had started: WWIII," host Olga Skabeeva said, according to a segment shared by The Daily Beast's Julia Davis on June 1.
"We're forced to conduct the demilitarization not only of Ukraine but of the entire NATO alliance."
Alexei Fenenko, associate professor of world politics at Moscow State University, said he believed a larger conflict with the West was possible in the future.
"For us, the war in Ukraine is a rehearsal," he said. "Rehearsal for a possible bigger conflict in the future. We'll test and compare NATO weapons to our own. We'll find out on the battlefield, how much stronger our weapons are than theirs. This may be a learning experience for our future conflict, it's a scary experiment."
And on May 24, Billionaire financier George Soros said Putin's invasion of Ukraine may have been the start of World War III.
"The invasion may have been the beginning of the third world war and our civilization may not survive it," Soros, 91, said, according to his office. "The best and perhaps only way to preserve our civilization is to defeat Putin as soon as possible. That's the bottom line."
Newsweek reached out to Russia's Ministry of Foreign Affairs for comment.