Russia Slams Move That Forced Sergei Lavrov to Cancel Serbia Trip
Russia on Monday criticized the joint move by three other countries that forced its foreign minister, Sergei Lavrov, to abandon his planned visit to Serbia.
Lavrov, the Kremlin's top diplomat, had been due to travel on Monday but his trip was scrapped after countries near Serbia—Bulgaria, North Macedonia and Montenegro—closed their airspace to Lavrov's aircraft, blocking him from visiting.
Serbia, an EU candidate country that relies on Russian oil and gas, has refused to impose sanctions on Russia over President Vladimir Putin's invasion of Ukraine, which began on February 24 and prompted an EU-wide airspace ban on Russian planes.
Russian Foreign Ministry spokesperson Maria Zakharova described the move as "another closed channel of communication."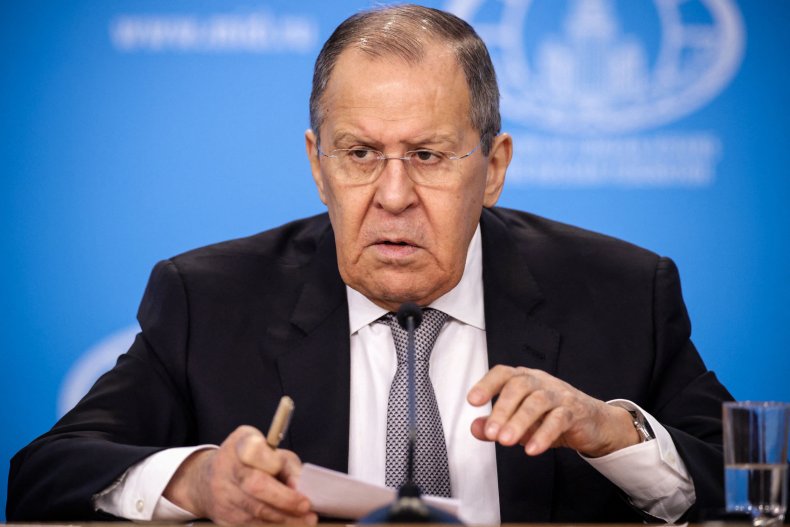 "Just today, an hour ago, the countries surrounding Serbia closed the communication channel, banning the overflight of Sergei Lavrov's plane, which was traveling to Serbia," Zakharova told Italy's La7. "The Russian delegation was supposed to arrive in Belgrade for negotiations."
Zakharova accused the European Union of seeking to isolate Russia, as well, according to Russian news outlet Sputnik.
"There will ultimately be no iron curtains from us, you don't have to worry. The EU is the one that is closing off Russia with a curtain," she said.
"Our diplomacy has yet to master teleportation," a senior foreign ministry source told Russia's state-run Interfax news agency.
Lavrov had been set to hold talks with Serbian President Aleksandar Vučić in Belgrade on Monday. Zakharova said Friday that Lavrov had also been expected to speak with Serbia's minister of foreign affairs, Serbia's speaker of the National Assembly, and the Serbian patriarch during the June 6 to 7 visit.
The Russian foreign ministry's spokesperson added that Lavrov was expected to discuss bilateral political and economic cooperation, the situation in the Balkan region, and current international affairs. It would have marked the first visit by a high-ranking Russian official to Serbia since the Ukraine war began.
Last month, Putin and Vučić agreed that Moscow would continue supplying natural gas to Serbia.
Serbian Prime Minister Ana Brnabić told Serbian media outlet Pink TV regarding Lavrov's canceled trip: "It is really unbelievable that the situation in Europe and in the world is such that the president of one of the countries has to deal with such things as the logistics of the flight of the minister of foreign affairs, on which it depends whether he gets there or not."
Newsweek reached out to Russia's Ministry of Foreign Affairs for additional comment.