Who is Vadim Zimin? Mystery Surrounds Russian Colonel Who Was Found Shot
The discovery of a former Russian security officer found shot in his home is the latest mysterious incident involving officials and businessmen with links to President Vladimir Putin.
Vadim Zimin, 53, is in a coma after his brother found him "in a pool of blood" at his home in Krasnogorsk, near Moscow on Monday, according to the tabloid newspaper Moskovsky Komsomolets, which said that his prognosis at an undisclosed hospital was not optimistic.
He was allegedly found with a gunshot wound to the head next to an Izh 79-9TM pneumatic pistol.
Moskovsky Komsomolets said Zimin faced bribery allegations linked to his senior role at the Central Customs Administration for demanding a cut of deals concluded under a government contract. He denied wrongdoing but was fired from his post and placed under house arrest.
The newspaper said that the day before the incident, Zimin's brother flew from the Republic of Dagestan to the Russian capital to find out about the progress of the case.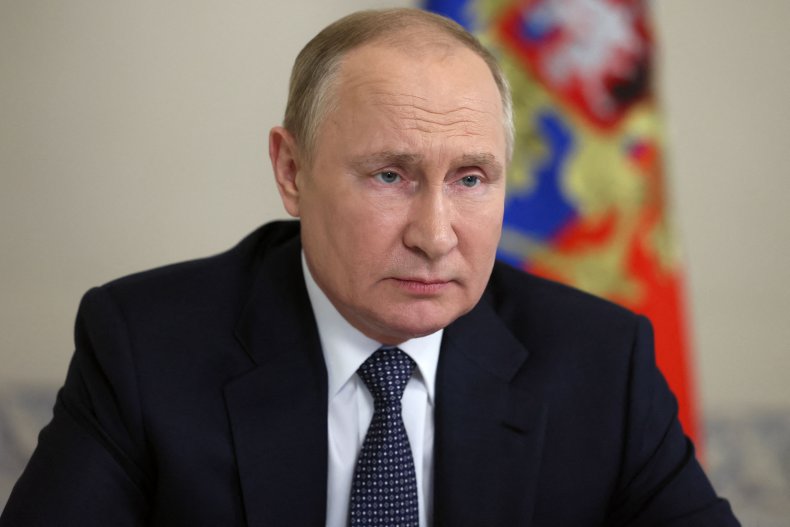 On the day of the alleged shooting, the brother, who was not named in the article dissuaded Zimin after he said he intended to die by suicide. He later found him shot in another room. The paper reported he was depressed because he had lost his job and income.
Zimin had previously been a colonel with Russia's main security agency, the Federal Security Service (FSB), and has been pictured with Putin while carrying the president's nuclear codes briefcase. He was first tasked with carrying the briefcase under President Boris Yeltsin.
Named after a mountain in Russia's Caucasus region, the "Cheget" does not contain a nuclear launch button, but it does transmit launch orders to the central military command of Russia's general staff.
The briefcase is a symbolic threat to the West and was reportedly carried by military guards when Putin attended the funeral of ultra-nationalist Vladimir Zhirinovsky in April at Moscow's Christ the Savior Cathedral.
The Kremlin, which Newsweek has contacted, has not commented on the incident.
Zimin's reported attempted suicide comes amid a spate of unexplained deaths of high-ranking Russian figures since the start of Putin's invasion of Ukraine.
A day after the war started on February 25, the body of a high-ranking official at state energy giant Gazprom, Alexander Tyulyakov, was discovered.
Sergey Protosenya, a gas oligarch, and Vladislav Avayev, a former Kremlin official and Gazprombank vice president were found dead. Meanwhile, the bodies of billionaires Vasily Melnikov and Alexander Subbotin, were discovered on March 24 and May 8, respectively.