Russia's air force has consistently underperformed since Vladimir Putin launched his war against Ukraine in late February, British intelligence said Monday.
In its daily intelligence update, the U.K. Ministry of Defense said Russia's failure to consistently deliver air power is likely one of the most important factors behind the Kremlin's "very limited campaign success" in the conflict, which began more than 100 days ago.
Since the war began on February 24, Russia's air force has operated in a "risk [averse] style," meaning it has rarely penetrated deep behind Ukrainian lines, and has not been able so far to "gain full air superiority," the ministry said.
"Some of the underlying causes of its difficulties echo those of Russian Ground Forces," the update said.
"For years, much of Russia's air combat training has highly likely been heavily scripted and designed to impress senior officials, rather than to develop dynamic initiative amongst air crews," the defense ministry said.
Russia, therefore, has developed "an impressive roster of relatively modern and capable combat jets" within its air force, but has failed to develop the "institutional culture and skill-sets required for its personnel to meet Russia's aspiration of delivering a more Western-style modern air campaign," the British defense ministry said. "This has led to a greater than planned weight of effort falling to ground troops, who are becoming exhausted; and on advanced cruise missiles, stocks of which are likely running low."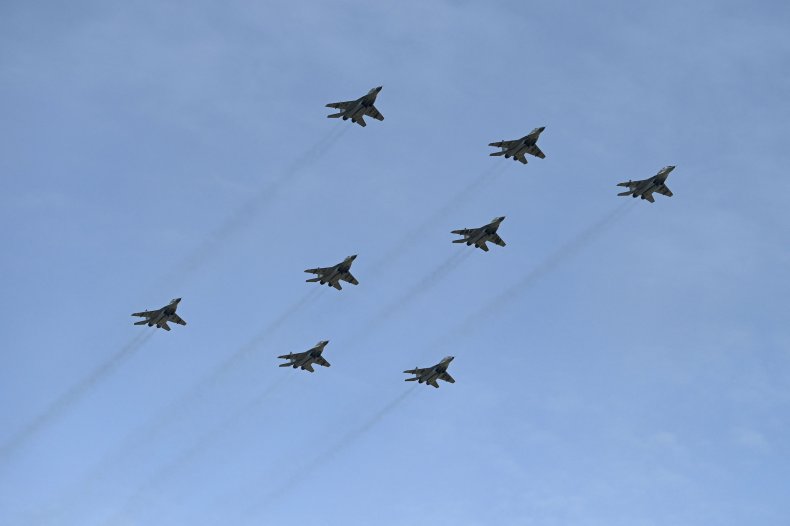 On March 4, more than a week into the conflict, British defense and security think tank RUSI described Russia's air force efforts as "anemic," noting that an anticipated series of large-scale Russian air operations on the first day of the conflict did not materialize.
The U.K. also noted that Russia's ground and tactical air operations have continued to focus on the Donbas in eastern Ukraine this weekend.
Clashes in Ukraine's eastern region intensified through the weekend, as Putin turns his focus on seizing the strategic city of Severodonetsk and its twin city Lysychansk, having failed to capture the capital Kyiv in the early phases of the war.
On Monday, Serhiy Gaidai, the head of the Luhansk Regional Military administration, announced that Putin's troops had captured the town of Metelkine, near Severodonetsk.
"Unfortunately, we do not currently control Metelkine near the regional center," said Gardai. "They are working hard on the Severodonetsk industrial zone and the outskirts of the city."
"The same is true in the Toshkivka and Ustynivka districts," he said, noting that Russian troops gathered a large amount of equipment in the region.
"Fighting is taking place in many villages around Severodonetsk and Lysychansk," Gaidai added.
Russia's state-run news agency TASS also reported that many Ukrainian troops had surrendered in the town.
Newsweek reached out to Russia's Ministry of Foreign Affairs for comment.