The Ukrainian military reported that it killed 39 Russian troops and destroyed multiple weapons systems and vehicles, but that Russia has activated airstrikes after failing to advance in southern Ukraine.
Operational Command South shared the report Thursday in a Facebook post, saying Ukrainian forces attacked Russian arms and equipment in the Kherson administrative district in the southern part of the country. The online post is the latest upbeat news from Ukrainian forces as they have turned their efforts to wresting back southern regions of Ukraine occupied by Russia.
In addition to the slain Russian troops, the command said it destroyed four S-300 missile systems, a radar station, a mortar, and nine armored and military vehicles. The command said it struck two depots of Russian arms and equipment in Kherson and nearby Kakhovka, in addition to air defense systems.
"The situation in the area of our responsibility remains tense, but the defense forces control its development," the command said in the post. "The enemy continues to engage in combat on the occupied border of defense. There are no changes neither in the composition nor in the position."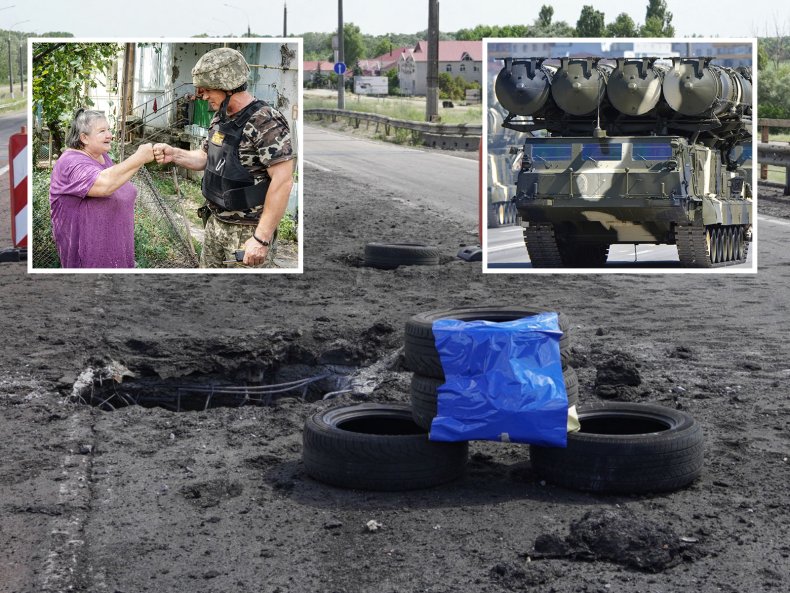 Ukraine's Operational Command South also said in the post that Russian forces activated artillery and airstrikes after being unable to advance on land.
Armed with U.S.-provided HIMARS advanced multiple-rocket launchers, Ukrainian forces have reported successful strikes against Russian military targets in recent days.
The reported gains come as Ukraine is pushing for a significant counteroffensive in the Russian-occupied south, with hopes of turning the war in its favor. They also come as Russian forces have seen an estimated 75,000 of its troops killed or wounded and others reportedly facing serious morale problems.
The Institute for the Study of War, a U.S. think tank, said in research published Wednesday that Russian forces are reportedly preparing to pre-empt Ukraine's counteroffensive near the border of Kherson's administrative district.
Citing Ukrainian intelligence sources, the think tank said Russian forces are transferring equipment through the south. Russia is trying to consolidate administrative control of occupied regions in preparation for a possible annexation.
Russian air forces shot down five rockets in the Donetsk and Kherson regions, Russian Defense Ministry Spokesman Lieutenant-General Igor Konashenkov told the Russian state-run TASS news agency Thursday.
Additionally, Russian air defense systems also beat back a Ukrainian strike on the Antonovka Bridge, which leads to the Kherson region, Kirill Stremousov, a Russian military administrator, told TASS.
Newsweek has reached out to the Russian government for comment.