Russian Anti-Tank Complex, 'Legend 2' Station Destroyed in Attack: Ukraine
Russian communications stations and an ammunition warehouse were destroyed by Ukrainian forces on Thursday, according to Ukrainian officials.
The Operational Command South unit posted on Facebook that Ukrainian forces used "missile and artillery units to fire and destroy the enemy," leading to the destruction of what officials described as complex satellite communication stations known as "Legend 2" in addition to an anti-tank missile complex. It remains unclear what types of weapons or artillery were used in the attack.
An ammunition warehouse was also destroyed in the Blahodatne village of Mykolaiv, preventing Russian troops from replenishing ammunition.
Officials said the amount of Russian casualties remained unknown. Ukrainian officials said they acted in response to the Russians reportedly launching two anti-radar missiles from Su-35 aircraft in the direction of the Bashtansky and Mykolaiv districts, causing no damage or Ukrainian casualties.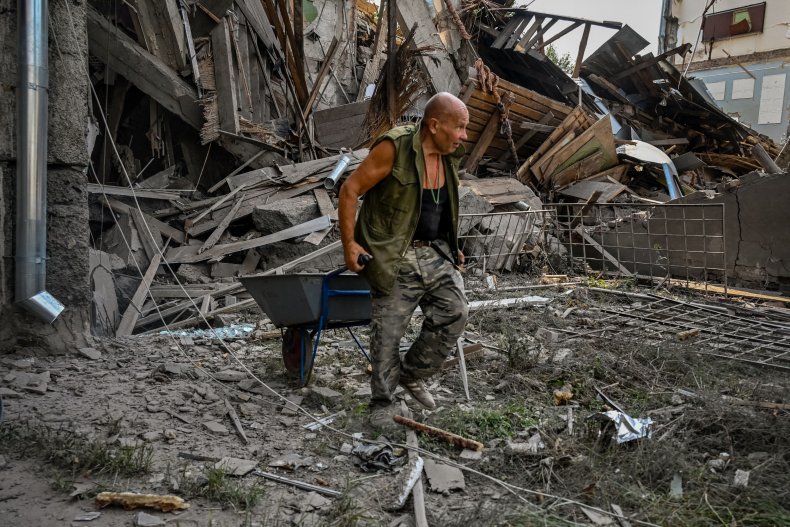 The destruction of the ammunition warehouse in Mykolaiv wasn't the only reported attack on Thursday. A separate Russian ammunition depot in the villages of Timonovo and Solotilocated, about nine miles from the Ukrainian border, according to Reuters, caught fire and residents were forced to evacuate. Nobody was killed in the incident.
Another successful attack on Russian forces was also reported Thursday by Ukraine's Ministry of Internal Affairs on Telegram. Ukrainian guards and fighters of a special unit of the national guard reportedly in position in the Donetsk region discovered "a column of equipment" that included several Russian tanks.
"As a result of quick and accurate work, the fighters managed to knock out two tanks," the post read. "The guardsmen then relayed the information to adjacent units for further destruction of the remaining occupying manpower and equipment."
Fighting continues as the Russian war playbook continues to be modified. In what was a surprising announcement made by Russian news agency TASS due to military changes not often publicly announced, Russian President Vladimir Putin appointed Navy Vice-Admiral Viktor Sokolov in an acting capacity to take over for Navy Chief Igor Osipov, who had been in charge since Russia's invasion began in late February.
Osipov's ousting was reportedly due to being in charge when the Russian naval fleet lost the flagship Moskva in April in the Black Sea, drawing widespread attention months prior to formerly Russian-occupied Snake Island being taken back by Ukraine in July.
Tensions are rising as the threat of nuclear proliferation continues.
British Army Colonel Hamish de Bretton-Gordon on Thursday told GB News that Putin might begin to resort to "unconventional" warfare because his country's war effort is going "very badly." Nuclear threats are becoming more common.
"We've seen the amount of tanks that they've lost, and troops....We know that Putin, in his own mind, probably can't afford to fail in Ukraine because he will be over," de Bretton-Gordon said. "As we hear stories of nuclear power stations and others, and we get threats from the Russian Ministry of Defense and some of its supporters about the nuclear issue, we need to be absolutely on the balls of our feet."
Newsweek reached out to the Ukraine's Ministry of Internal Affairs and the Russian Defense Ministry for comment.