A Russian brigade has been left "in tatters" after the recapture of the Donetsk town of Andriivka, Ukraine's 3rd Separate Assault Brigade said on Friday.
More than three months into Kyiv's counteroffensive to reclaim its occupied territory, Ukraine's military announced the capture of Andriivka, a key village located some 10 kilometers (6 miles) south of Bakhmut, which was once the fiercest fighting spot of the war, and remains the scene of intense clashes.
"In the Bakhmut direction, the enemy does not abandon the attempt to break through the defense of the armed forces of Ukraine in the Bohdanivka area," the general staff of Ukraine's armed forces said on Facebook. "In their turn, the defense forces of Ukraine during the offensive actions had partial success in the area of Klishchiivka. During the assault operations they had success and mastered Andriivka, causing the enemy significant losses in manpower and equipment."
There has been no comment from the Kremlin. Newsweek reached out to Russia's Defense Ministry via email for comment.
Ukraine's 3rd Assault Brigade said its servicemen reclaimed Andriivka after surrounding the Russian garrison in the village during a "lightning operation" that took place over two days. The Russian brigade was left "in tatters," the Ukrainian brigade said in a post on its Telegram channel.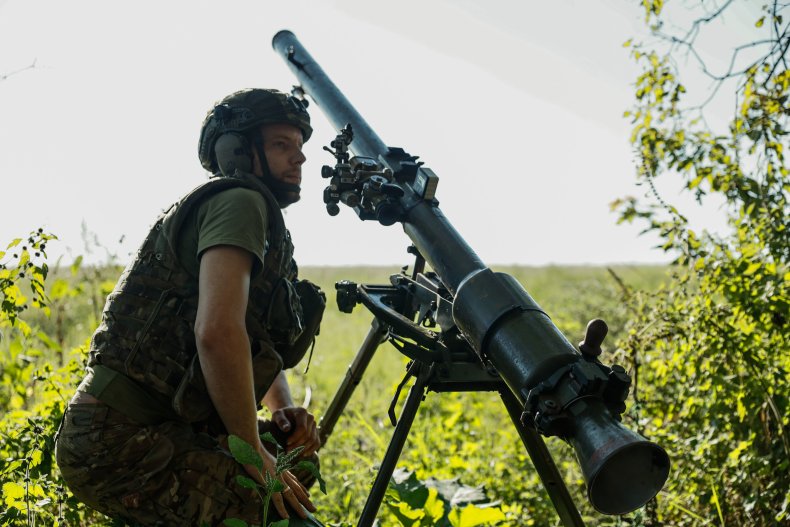 "In two days, the 3rd Assault Brigade eliminated: the chief of enemy brigade intelligence; three combatants; and almost all the infantry of the 72nd brigade, together with officers and a significant amount of equipment," it said. "As of now, the fighting continues, our units continue to consolidate in new positions."
Andriivka's recapture is "key to success in all further directions," the brigade said, adding: "We pay a high price for the results of these battles. And the blood of each of our fighters will be repaid only with blood."
A day earlier, Ukraine Deputy Defense Minister Hanna Maliar said Kyiv's forces had captured the village. The 3rd Assault Brigade brigade initially contested that statement.
The recapture of Andriivka comes weeks after Ukrainian forces reclaimed Robotyne, a key village on Ukraine's southern Zaporizhzhia front. Geolocated footage dated September 5 shows Kyiv's forces have advanced south of Robotyne and along Russian defensive lines in the area.
Yevgeny Balitsky, the head of the Moscow-installed administration in the partially occupied Zaporizhzhia region, said during a broadcast of Russian state TV show Solovyov Live that the Russian Army pulled out of the area for tactical reasons.
"The Russian Army abandoned—tactically abandoned—this settlement because staying on a bare surface when there is no way to completely dig in...doesn't generally make sense. Therefore the Russian army retreated to the hills," Russian news outlet RBC quoted Balitsky as saying.
Do you have a tip on a world news story that Newsweek should be covering? Do you have a question about the Russia-Ukraine war? Let us know via worldnews@newsweek.com.