Ukraine has captured the Donetsk town of Andriivka, Kyiv said on Thursday, as Ukrainian fighters plug away with the counteroffensive effort that has largely focused on the southern front lines.
Ukrainian fighters have reclaimed control of Andriivka, around six miles to the southwest of the decimated city of Bakhmut, Ukraine's deputy defense minister, Hanna Maliar, said in a statement.
Also on Thursday, Russia said its forces had repelled eight attacks from Ukrainian assault groups around Andriivka and the nearby town of Klishchiivka. Newsweek has reached out to Moscow's Defense Ministry for comment via email.
Ukraine's grinding counteroffensive, now well into its fourth month, had channeled a significant amount of Kyiv's resources into breaking through Russia's well-fortified defenses in the annexed Zaporizhzhia region. Earlier this month, Ukraine said it was now between the first and second lines of defenses around the town of Robotyne, south of the Ukrainian-held city of Orikhiv.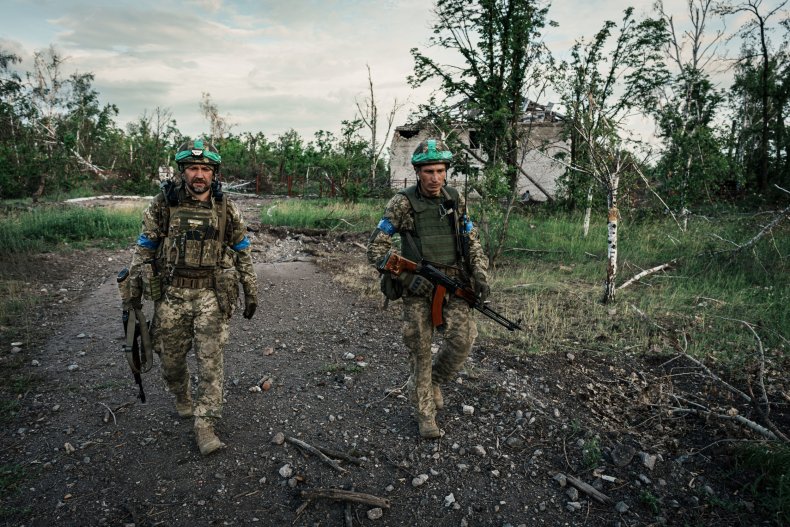 But Ukraine has continued fighting in the eastern Donetsk region, and reports and analysis around Andriivka had painted an uncertain picture of the fighting in the town in the last few days. Influential Russian military bloggers presented "conflicting reports" about Andriivka, the U.S. think tank, the Institute for the Study of War (ISW), said in its latest update.
On Monday, Maliar said Ukraine's military had reclaimed two square kilometers (0.8 square miles) of territory around Bakhmut in the previous week.
In a statement from Ukraine's General Staff on Thursday, Ukraine said its forces had "partial success" around Andriivka, the nearby, contested town of Klishchiivka, and Bakhmut, without specifying further than that Russia was suffering "significant losses in manpower and equipment."
Ukrainian forces "are moving forward" around Bakhmut, Maliar said, adding that "on the northern flank, the enemy is trying to recapture lost positions."
Russian forces counterattacked around Bakhmut, "but did not make any confirmed gains," the ISW said on Wednesday, adding the think tank could not confirm whether Ukrainian forces had left positions in Klishchiivka.
Ukraine has also continued with its operations in the south of the country, where it hopes to retake territory down to the Russian-controlled city of Melitopol, and ultimately to the Sea of Azov.
"In the south, we are making good progress," Maliar said on Thursday. Russia said its forces repelled three Ukrainian attacks around the Zaporizhzhia village of Verbove, close to the recently-reclaimed town of Robotyne.
On Wednesday, Russian Defense Minister Sergei Shoigu said Russia's forces were "maintaining active defense on the necessary, essential fronts."
"In some places it's harder, in others simpler," he added, according to Reuters.
Update 09/14/2023, 11:15 a.m. ET: This article was updated with additional information.