Ukraine's forces have continued to make small advances along two sectors of the front amid its counteroffensive which is in its fourth month.
Ukrainian military officials said on Monday that over the previous week their forces had liberated 0.8 square miles of territory in the Donetsk oblast, in the direction of Bakhmut, and made gains near the towns of Klishchiivka and Andriivka, which lie a few miles southwest of Bakhmut itself.
"They dislodged the enemy from their occupied positions there and secure themselves at the achieved boundaries," Ukrainian Deputy Defense Minister Hanna Maliar wrote in a Telegram post on Monday, according to a translation.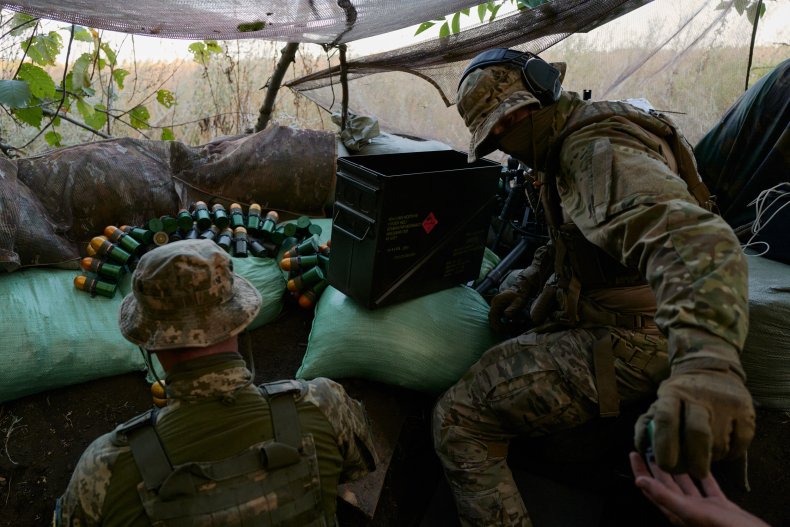 She added that Ukrainian forces have gained 1.8 square miles in the Tavriisk (Zaporizhzhia) operational direction in the southern Zaporizhzhia oblast over the past week and noted gains south of Robotyne, which Kyiv said it had recaptured in August.
Maliar said that Russian forces were "on the defensive" in the Zaporizhzhia and Kherson directions and were continuing to shell Ukrainian positions and civilian targets using Lancet barrage munitions. Newsweek has contacted the Russian Defense Ministry for comment.
Kyiv's counteroffensive to recapture Russian-occupied territory, which started around June 4, has coincided with a spike in drone attacks on targets within Russia including in Moscow, which are believed to have been carried out by Ukraine.
British defense officials said on Tuesday that as a result, Moscow had "recalibrated" its short and medium range air defences around the Russian capital which faces attacks "most days." They said that since the start of this month, Russian SA-22 air defence systems around the capital have been pictured positioned on elevated towers and ramps.
"This is almost certainly to allow the system to detect and engage UAV-type targets," the U.K. Ministry of Defense said in its update, adding that it would also intended to act "as a high-profile reassurance to the public that the authorities have the threat under control."
Meanwhile, the Office of the U.N. High Commissioner for Human Rights (OHCHR) reported that in the first 10 days of September, there have been 292 civilian casualties in Ukraine with 55 killed and 237 injured. Among the dead, was one child, a girl.
OHCHR said that the confirmed total for civilian casualties since the start of the war now stands at 9,614 dead and 17,535 wounded.
It comes as President Vladimir Putin is expected to strike a weapons deal with his North Korean counterpart Kim Jong Un to make up for dwindling ammunition supplies. Kim arrived in Russia on Tuesday and is expected to meet with Putin in Vladivostok where the Russian leader opened the Eastern Economic Forum.