Russian Schoolchildren Display 'Z' Posters in Support of War in Viral Photo
A photo of Russian schoolchildren brandishing Z placards went viral on Tuesday amid fears students are being exposed to propaganda in their classrooms.
BBC Russian journalist Andrei Zakharov tweeted the photograph of the schoolchildren, with a caption in Russian that translated as: "And they kept saying kids are out of politics."
The 10 children are flanked by two women, thought to be their teachers, who are holding Russian flags. The young boy at the front is holding a sign which said in Russian, "We don't give up on our people."
The viral photo came after the Russian education ministry released a propaganda video aimed at children about the Ukrainian war. The video featured 12-year-old singer Sofia Khomenko telling young viewers "we are going to have a lesson about world peace" before claiming some disturbing footage said to be showing the war was actually from another conflict and could be discounted.
The Z symbol – which does not exist in the Cyrillic Russian alphabet – has come to symbolize the war in Ukraine. It's unclear exactly what the Z stands for, with Russian commentators divided about its origins.
Kamil Galeev, a Galina Starovoitova Fellow at the Wilson Center – a non-partisan policy forum in Washington D.C. - wrote on Twitter: "Some interpret Z as Za pobedy (for victory). Others - as Zapad (West)."
The Z has been painted on Russian tanks making their way into the country and on Ukrainian front doors in areas taken by president Vladimir Putin's forces, while Russians at home are spraying it on walls and bus stops, leading to some dubbing it the "new swastika."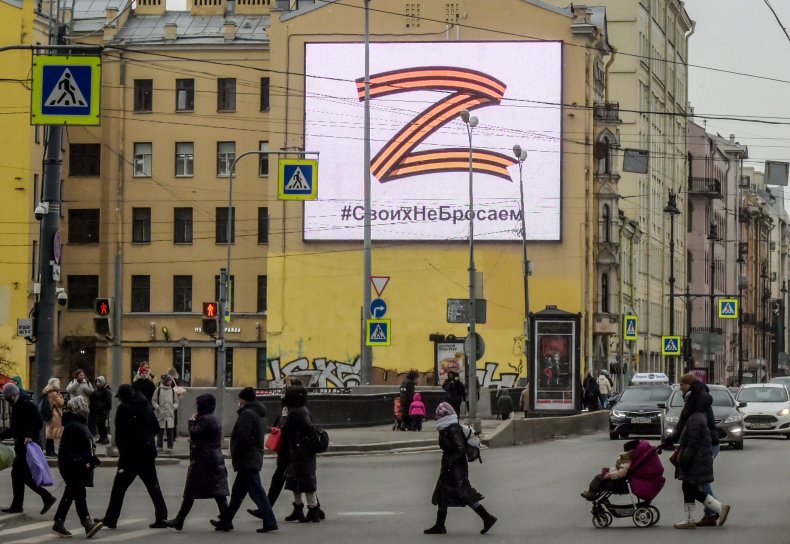 In December 2021, Zakharov said he had been forced to leave Russia for "exile" in Britain due to what he described as unprecedented surveillance on him, according to Reuters.
Russian authorities had branded Zakharov a "foreign agent" in October 2021, along with several other journalists and media outlets, such as investigative group Bellingcat.
The BBC said in a statement at the time: "The BBC strongly rejects the decision by the Russian authorities to designate Andrei Zakharov from our Moscow bureau as a 'foreign agent'."
The broadcaster added BBC Russian had been "a vital source of accurate and impartial news to Russian-speakers for 80 years" and went on to say, "Our priority right now is to support Andrei and to ensure that he and his colleagues are able to continue reporting the country at such an important time."
The photograph of the children with Z placards at school is not the first time the rest of the world has been shocked by its appearance.
Russian gymnast Ivan Kuliak was widely-criticized for wearing the pro-war symbol taped to his leotard as he stood on a podium next to a Ukrainian athlete.
The 20-year-old was reprimanded by the International Gymnastics Federation (FIG) for his "shocking behavior" at a gymnastics World Cup event in Doha, Qatar.
Kuliak – who was unable to wear the Russian flag as it had already been banned by FIG - was standing next to​ Ukrainian gymnast ​Illia Kovtun on the podium. Kovtun won gold and Kuliak took the bronze in the parallel bars on March 5.