Russian Civilians Participating in Ukraine War Will Receive Veteran Status
What follows is NewsGuard's summary and translation of top news stories from Russia's state TV Channel One. NewsGuard presents these stories in the order that they appear on the program.
Civilians will receive veteran status
The corresponding law was signed by (Russian President) Vladimir Putin. Medics, specialists of repair teams (and) military correspondents now will be able to count on all benefits and other forms of support provided to veterans.
Monthly payments for military pensioners have increased by 10 percent since June.
Also, switching to the side of the enemy during the period of hostilities is now treated as treason, according to changes to the article of the Criminal Code, approved by the president. The maximum sentence for such a crime is 20 years in prison.
And today (July 14), the president signed a law to create a movement of children and youth in Russia. The main goal of the organization is to help every child to discover their talents.
Russia is set to update biosecurity laws
The amendments will be presented by a parliamentary commission investigating American bio experiments in Ukraine, as well as by the Kurchatov Institute (a Moscow-based state-run research center, which focuses on nuclear energy).
Irina Yarovaya, deputy chairman of Russia's State Duma and co-chair of the commission to investigate the activities of U.S. biological laboratories in Ukraine, said: "Today we are fully convinced that thanks to the special operation carried out by Russia in defense of the DPR and LPR, we have touched on a very serious problem. The biotechnologies used by the United States in high secrecy are aggressive technologies. And that is why they are implemented by the military department, the Pentagon. Today we have a unique chance, as a country, to take comprehensive measures that would ensure the security of Russia in a strategic sense."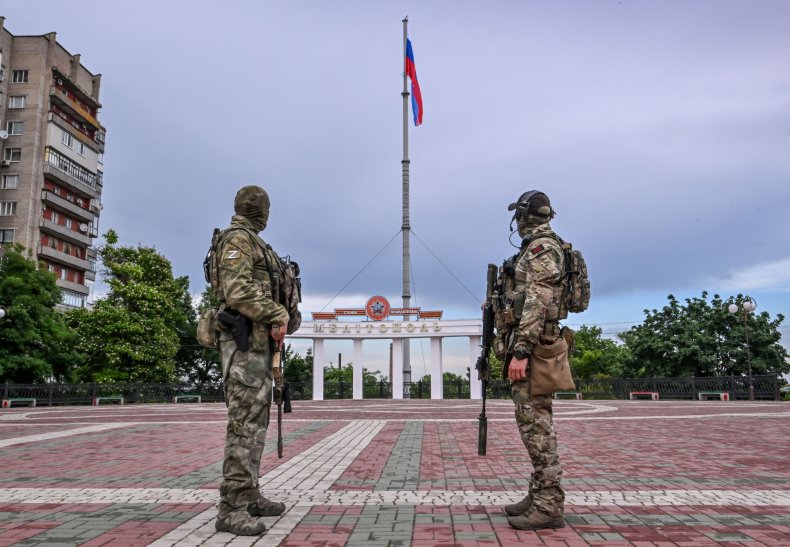 Melitopol residents talk about wait to get Russian passports
Тhe truth about what is happening in the liberated territories is inconvenient for Kyiv, and the mainstream Western media prefers not to take notice. But there are also people who want to see everything for themselves. Foreign journalists are now in Zaporozhye in Melitopol, where there is a new life in a new reality. Journalists have every opportunity to ask residents any questions.
One resident who stands in a queue for submitting a passport application said: "We're all here voluntarily, no one is forcing us."
Another resident said: "This is a hugely happy thing, we're going home, our haven, we've been dreaming about this since 2014."
Larinka Petrovich, a journalist from Bosnian TV channel Alternativna TV, said: "We came here to see what the situation is like, and it doesn't fit with what the Western media is saying."
Ukrainian militants place weapons on schools, residential buildings
Ukrainian formations have placed arms in a barrack and а stronghold in an orphanage in Slavyansk, and are keeping pupils and teachers there. And in Soledar, a school is being used as an ammunition depot. The Russian Defense Ministry said heavy weapons are located nearby. Kyiv is using civilians as human shields and targeting civilian objects, like a bus station in Donetsk. Kyiv is once again using the tactics of terrorists, whose main goal is not just to intimidate, but to spread terror.
Channel One correspondent Anna Germanova said: "The local time and place for the strike was carefully chosen, at the end of the working day at the bus station, when it was especially crowded. Two people died on the spot, including the driver of the minibus. Several more people were injured."
Denis Pishulin, head of the Donetsk People's Republic, said: "It has already been clearly еstablished that American weapons are used. Again, as we see, here, in the district, there was absolutely no military purpose in firing at the bus station. In fact, this is the targeted destruction of the civilian population, i.e. destruction of civilian objects."
Germanova said: "The Ukrainian authorities no longer care about residents in liberated territories. In Melitopol, there was an attack on the house of the head of the Kherson region....Kyiv is ready to cause bloodshed in the cities, to frighten the population and to prevent a referendum on joining Russia."
Russian Defense Ministry visited military groups "South" and "Center"
Defense Minister Sergei Shoigu has set the task of preventing massive strikes by the Kyiv regime on the inhabitants and civilian infrastructure of Donbas. He visited the Russian groupings of troops called "South" and "Center." And he presented the Gold Star medals to Colonel General Alexander Lapin and Major General Esedulla Abachev, whom the president awarded the title Hero of Russia.
He presented new awards to people, including Lieutenant Colonel and Battalion Commander Sergei Salmansky, who attacked along the entire enemy defense line in his area. Fifteen armored vehicles of the enemy and about 150 militants were destroyed.
An award also went to Senior Lieutenant Mikhail Ivannikov, whose competent actions prevented three attacks from the enemy, who, as a result, lost a lot of equipment and manpower.
Germany admits it won't survive winter without Russian gas
The Ukrainian side rejected one of the two applications from Gazprom for the transit of gas to Europe.
Gas transits are only permitted through the territory controlled by Ukraine. Kyiv declared the second route through the Lugansk People's Republic to be force majeure.
From Monday (July 18) until next Thursday, gas will be supplied through Ukraine to those Europeans, those who have accepted the payment scheme for deliveries in rubles. The volume will be 41 million cubic meters per day. At its peak in March, it was 109 million.
Nord Stream, which has been stopped for planned repairs, produced 67 million cubic meters daily even with a 40 percent load. Europe is burning gas in preparation for the winter. Germany's storage facilities are two-thirds full, but Berlin admits that this is not enough to survive the winter without Russia.
The issue of whether or not to turn on the gas in time is a crucial topic in Europe's economic chronicle. So is inflation.
Gabriela Vasha, a resident in Germany said: "Bread costs 2 euros, I can't afford it, same with butter and sausages. Sometimes I come home from the supermarket and cry because there is a lot I can't afford to buy anymore."
When people can't afford their shopping, they take desperate measures, as the British tabloid The Mirror wrote. It published an article about British people using washing-up liquid instead of ordinary shampoo.
(Channel One quotes the article, saying:) "When you have no money it is hard to keep up with the hygiene products, so people are resorting to desperate ­measures. You can buy cheapish washing up liquid for around 50 pence. It's really sad, food banks are giving out washing powder and people are not wanting it because they can't afford the bills. So they are not even washing their clothes."
(Channel One also quotes an article from The Guardian, titled Energy bills: struggling families forced to 'seek refuge in McDonald's, saying:) "People are buying their kids a Happy Meal for a few pounds and keeping them warm inside. Then they wash and brush their teeth in the sinks and watch television for hours on the free wifi."
Demand for Russian agricultural products has increased
As the prime minister noted, last year our exports exceeded $37 billion. The agricultural industry is actively growing. Harvest prospects are good.
Mikhail Mishustin, Russian prime minister, said: "Some groups of foods, grain, sugar, vegetable oil, meat, fish, have sold better than the previously envisaged indicators. And there is progress in a number of other respects. But now it is important that, despite the sanctions, which our agricultural producers are suffering from, the momentum gained does not slow down."
U.S. may begin impeachment proceedings against Joe Biden
Americans are pouring into food banks. The country is in the midst of economic collapse. The possibility of Joe Biden's impeachment is becoming more and more real. Newsweek magazine reports that if the Republicans win a majority in the November midterm congressional elections, the procedure will be launched. There are reasons, which include not only the economy. The president is reminded of the endless scandals associated with his family, not least his son, Hunter Biden, a lover of wild parties with drugs and girls of easy virtue. But the owner of the White House also has major political failures on his record.
(Channel One quotes the Newsweek article, saying:) "House Republicans have already indicated a willingness to launch investigations into a variety of issues, including Biden's son, Hunter Biden, and the U.S. withdrawal from Afghanistan. Those investigations could potentially form a basis for impeachment."
Joe Biden tried to strengthen his position through a Middle East tour, the main point of which was to visit Saudi Arabia. But he failed to convince Riyadh to significantly increase oil production, of course, in the interests of Washington. The kingdom agreed to only 13 million barrels per day, which is only slightly more than it was before, and a drop in the ocean compared to market needs. Crown Prince Mohammed bin Salman, according to the media, said that production capacity is already at a limit.
Foreign weapons ending up on black market in Ukraine
Foreign arms flows in Ukraine are still significant. And the West wants more control over them. Observers are already arriving, as Ukrainian Defense Minister Oleksiy Reznikov confirmed to the British newspaper Financial Times, which said:
"NATO and EU states are pushing for better tracking of weapons supplied to Ukraine in response to fears that criminal groups are smuggling them out of the country and on to Europe's black market. "All these weapons land in southern Poland, get shipped to the border and then are just divided up into vehicles to cross: trucks, vans, sometimes private cars," a Western official said. "And from that moment we go blank on their location and we have no idea where they go, where they are used or even if they stay in the country."
According to (The European Border and Coast Guard Agency) Frontex Chief Executive Lars Gerdes, the illegal trade in weapons will be a problem for the next few decades. According to the German television and radio company ARD, he said: "These smuggled weapons will then possibly be used to supply organized criminals in Europe, or worse, terrorists."
There are stories of anti-tank Javelins being put up for sale on the dark corners of the internet, or when machine guns, grenades and cartridges in Ukraine are being sent by mail, and that's not all.
Analyzing the events in Ukraine, the West is gradually curtailing assistance. Corruption was mentioned today. If people see that Ukrainian oligarchs are buying yachts with American money, it will undermine the whole idea of supporting the country, the Washington Times wrote. The U.S. has started to talk about how it has already spent more on Ukraine than on Afghanistan in two decades of military presence there.
And according to Bloomberg, the EU, against the backdrop of well-known economic problems, will send Kyiv 1 billion euros, not 9 billion. This is down to disagreements within Europe. Germany was in favor of issuing a payment that Ukraine does not have to return. And the European Commission was in favor of a loan, although there can be no illusions about Ukraine giving it back. At the end of last year, Ukraine's external debt approached half of its GDP.
Ex-Trump adviser on U.S. involvement in overthrowing foreign powers
A former national security adviser to Donald Trump, John Bolton, spoke on CNN about his direct participation in organizing color revolutions. As expected, this caused a flurry of indignation. But the former adviser made it clear: the interests of other states mean very little. The main thing is that Washington is happy.
(Channel One quotes Bolton, saying:) "I think there are a lot of snowflakes out there that don't understand what you need to do to protect the United States....I won't go into details. I wrote about Venezuela in my book....I think that every president who is not ready to do everything possible to protect the interests of the American people needs to have some counseling...."
Dmitry Polyanskiy, our deputy permanent representative to the U.N., said this is a confession of gross violations of the U.N. Charter, and the world should not put up with such a situation. Earlier, our Foreign Ministry said that Bolton's words should prompt an international investigation.
Coup d'état is a weapon that the U.S. has been using for decades, the Chinese newspaper Global Times wrote. According to journalists, Washington is now left to reap the bitter fruits of the so-called democracy that the White House planted abroad. The article described Bolton's statements as shameless and the position of the American elite as selfish.