Russian Colonel Reportedly Killed in Ukraine Helicopter Crash
A Russian colonel was killed in Ukraine last week after being fired upon, according to reports in the U.K. media.
Both British publications The Mirror and The Daily Star have said that Russian Lieutenant-Colonel Sergey Gundorov, 51, was killed over Volnovakha in the Donbas region.
Both publications make reference to a video that has begun circulating on social media that claims to be the moment Gundorov was shot down and killed.
Newsweek has not been able to independently verify his death or the video.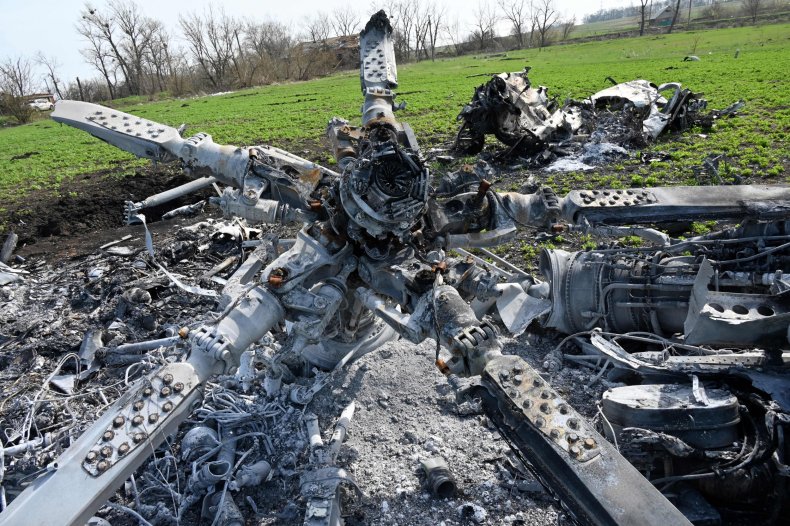 This would add another tally to the number of colonels that Russian President Vladimir Putin has lost since the war in Ukraine began.
Last week, British publication The Evening Standard, said that Putin had lost 53 colonels in the conflict.
A page on Russia's VKontakte (VK) social media platform has regularly noted the deaths of soldiers with accuracy throughout the conflict and on June 18 dedicated a post to Gundorov.
"Guard Lieutenant Colonel, Pilot 1st Class Sergey Valentinovich Gundorov died in the sky near Volnovakha on 06/16/2022," the post said according to a Google translation.
"Bright eternal memory to the hero who left on his last flight. Pilots don't die, they fly into the sky."
VK is the Russian equivalent of Facebook. Its CEO, Vladimir Sergeevich Kiriyenko, was included on the EU's sanctions list, because, in part he "supports Vladimir Putin's aim for greater control over the internet."
A video allegedly showing Gundorov's helicopter being shot down has also been viewed over 200,000 times on Twitter. It was posted by a page called Blue Sauron which has focused on providing coverage of the conflict.
The video shows a helicopter being hit by a missile and crashing into a field. Flames and black smoke can be seen rising after the helicopter crash-lands.
Newsweek has contacted the Russian Ministry of Foreign Affairs and the Ukrainian Ministry of Defense for comment.
Putin's ongoing conflict with Ukraine could spell the end for the Russian leader, according to exiled Russian billionaire Mikhail Khodorkovsky.
During an interview with the Financial Times on Saturday, Khodorkovsky said Putin has started a journey that could lead to his "demise."
"If he wins now in Ukraine, he will, because of domestic problems, start a war with NATO. And eventually he will lose that war," he said. "Had it not been for so many casualties, I would have said that I'm actually quite happy, because he has embarked on a route that is going to lead to his demise. But this specific victory in Ukraine depends entirely on the West,"
The exiled oligarch also said that he disagreed with former U.S. Secretary of State Henry Kissinger, who said in May that Ukraine should accept giving up part of its territory in order to reach a peace deal with Russia.