Putin's War in Ukraine Will Lead to His 'Demise': Exiled Oligarch
Exiled Russian billionaire Mikhail Khodorkovsky said Saturday that Russian President Vladimir Putin "has embarked on a route that is going to lead to his demise" when it comes to his invasion of Ukraine.
"If he wins now in Ukraine, he will, because of domestic problems, start a war with NATO. And eventually he will lose that war," the billionaire said in an interview with the Financial Times.
"Had it not been for so many casualties, I would have said that I'm actually quite happy, because he has embarked on a route that is going to lead to his demise. But this specific victory in Ukraine depends entirely on the West," Khodorovsky added.
The exiled oligarch also said that he disagreed with former U.S. Secretary of State Henry Kissinger, who said last month that Ukraine should accept giving up part of its territory in order to reach a peace deal with Russia.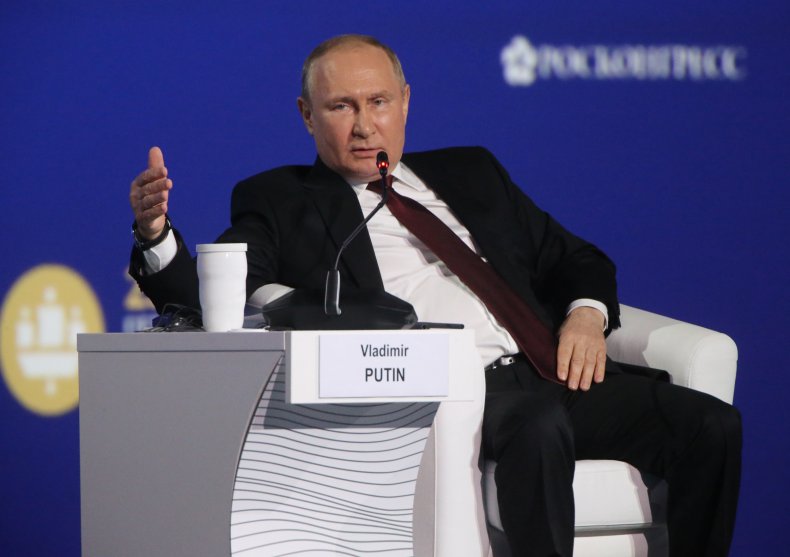 "[Kissinger] doesn't realise that you don't find agreement with a gangster when you're talking from a position of weakness. He doesn't realise that, for Putin, a war is just a normal way of getting his electoral ratings up. He has started wars four times," Khodorovsky told the Financial Times.
Khodorkovsky was Russia's richest man in 2003, but was sentenced to nine years in prison in 2005 for fraud and tax evasion, in a proceeding he believes was politically motivated. He now resides in London.
In an interview with CNN in April, the billionaire said Putin became "literally insane" when his invasion of the Eastern European country in late February wasn't met with a positive reaction from Ukrainians.
"At first, what he wanted was to change the power in Kyiv, put in his puppet, and was expecting that this would be met with flowers thrown in the streets by Ukrainian people," Khodorkovsky said. "When this did not happen, he went crazy. The fact that the people in Kharkiv did not meet him with flowers, it not only just angered him, I really think it drove him literally insane."
The exiled oligarch has also said in March that he believes Putin's defeat is inevitable as long as the West continues to back Ukraine.
Last month, the Russian government added Khodorkovsky and chess champion Gary Kasparov to the country's list of "foreign agents" because both men are outspoken critics of Putin. Reuters reported at the time that the Russian Justice Ministry said on its website that Kasparov and Khodorkovsky were receiving funding from Ukraine.
Newsweek has reached out to the Russian Foreign Ministry for comment.