Putin 'Went Crazy' When Not 'Met With Flowers' in Ukraine: Exiled Oligarch
Exiled Russian billionaire Mikhail Khodorkovsky said in an interview with CNN on Sunday that Russian President Vladimir Putin became "literally insane" when his invasion of Ukraine wasn't met with a friendly reception from its citizens.
Khodorkovsky's comments come as experts have said Putin is changing his military strategy to avoid losing the war in Ukraine.
"So Putin is now facing obstacles in Ukraine," CNN host Fareed Zakaria noted. "Given what you know of his mentality, what is he going to do? Is he going to turn Ukraine into Chechnya? Destroy it? Is he going to back away? What do you think his options are?"
"For him, the situation today is very complicated. At first, what he wanted was to change the power in Kyiv, put in his puppet, and was expecting that this would be met with flowers thrown in the streets by Ukrainian people," Khodorkovsky responded. "When this did not happen, he went crazy. The fact that the people in Kharkiv did not meet him with flowers, it not only just angered him, I really think it drove him literally insane. That's when he started bombing Kharkiv and Kyiv."
The exiled billionaire has previously said he believes that Putin's defeat is inevitable as long as the West supports Ukraine. Khodorkovsky was Russia's richest man in 2003, but was sentenced to nine years in prison in 2005 for fraud and tax evasion. Though Putin pardoned him and he was released in 2013, he has said he believes his imprisonment was politically motivated, and now resides in London.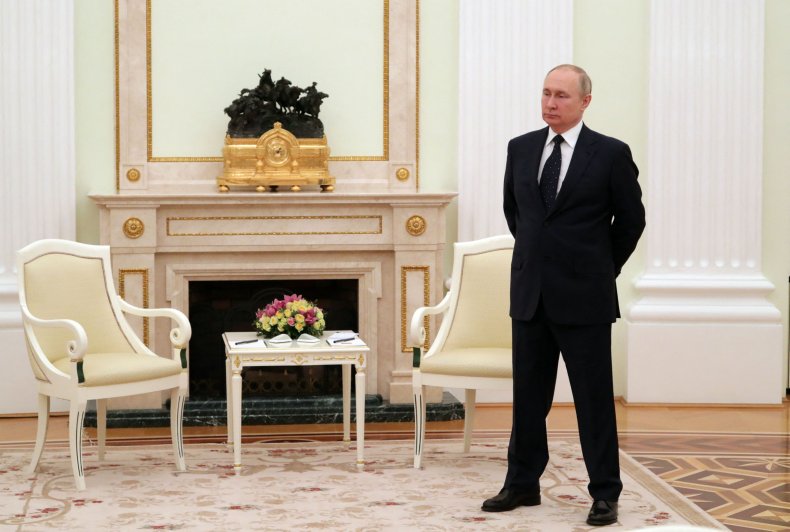 During his interview, which was translated from Russian, Khodorkovsky added that he believes Putin has "three ways out" of the war. The first way, he said, is "to continue pressuring Ukraine and probably losing troops in this process."
Khodorkovsky noted that Putin could also "use weapons of mass destruction in the hope that this would force the Ukrainians to retreat," with the third option being to "start actual negotiations."
"When Mr. Biden, when NATO officials say, in one voice, that...'if you use WMDs you will get an appropriate response from NATO' that actually gives Putin only one choice: to sit down for real at the negotiating table," he concluded.
Newsweek attempted to reach Putin's office for comment, but did not receive a response before publication on Sunday afternoon.
A former Russian energy official, Vladimir Milov, said in an interview with CNN on Saturday that the Russian president has been "deliberately cutting himself off from undesired information" amid the ongoing war.
"So Putin lives right now in sort of a self-inflicted bubble," Milov said. "It's sort of a two-way street: It's not that there are bad advisors who are not informing him, he deliberately built a system where he punished people for bad news and he really only heard what he wanted to here."