Russian Colonel Killed in Ukraine as Putin Scrambles to Reorganize Forces
Despite the Kremlin's recent advances, another Russian colonel has reportedly died in Ukraine, furthering the death toll among the military's highest-ranking officials.
Lieutenant Colonel Zaur Dimayev, the deputy commander of the 4th battalion of the Akhmat Kadyrov special forces regiment, was killed in the Donbas region of Ukraine—where the center of the fighting has moved to—by an artillery barrage on Tuesday, according to the Baza Telegram channel.
Dimayev, an ally of Chechen leader Ramzan Kadyrov, was reportedly riding in a military SUV when the vehicle was hit by a shell that killed Dimayev and the driver. Baza Telegram reported that two Chechen police officers also died in the attack.
Dimayev's death is the latest among Russia's high-ranking commanders, who have been forced onto the frontlines due to what is believed to be poor organization, and comes a day after Russian President Vladimir Putin fired six of his senior military leaders.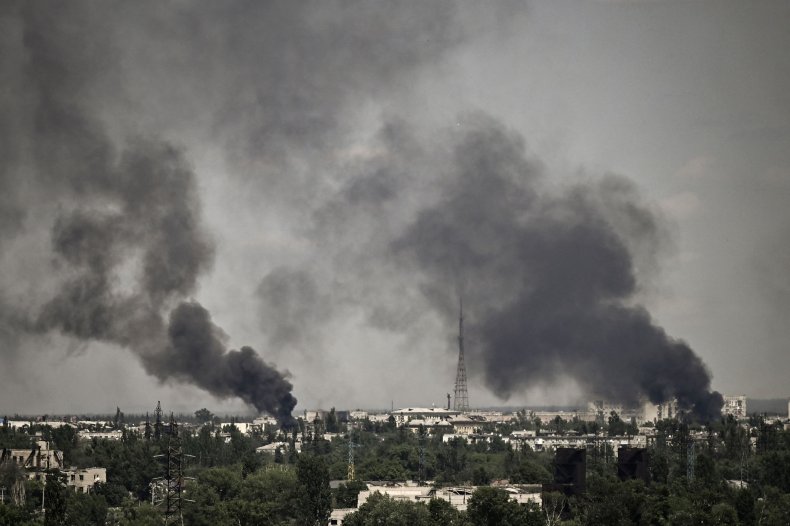 According to a report from Moscow-based RBK Group, Putin issued a decree on Monday announcing the firing of five generals at the Russian Ministry of the Internal Affairs and one police colonel.
As Russia's invasion of Ukraine reaches its 100th day this Friday, Putin has ramped up military efforts in a battle that has not been the swift victory he expected.
Despite fighting for more than three months, Russia has failed to capture the capital of Kyiv and at least 49 Russian colonels have died in battle, the Daily Mail reported, although no official tally has been released by Russia or Ukraine.
Last week, Moscow confirmed that one of Russia's top paratroopers, Lieutenant Colonel Alexander Dosyagayev, was killed in Bucha.
Dosyagayev's battalion was recognized as Russia's most elite and was judged as the winner of the Winged Infantry category at last year's military festival Army of Russia.
The fighting in Donbas has recently pushed Ukrainian troops to retreat, but Serhiy Haidai, the governor of the war-torn Luhansk region in eastern Ukraine, recently told Newsweek that his troops have a plan for "a strategic withdrawal."
"The fighting has indeed intensified significantly in recent days because the Russian army threw a lot of forces and equipment in order to capture the entire Luhansk region," Haidai said.
"The fighting will continue, our military will not be surrounded, the supply of ammunition will continue, and they will be able to hold their positions and attack the Russian forces from above," he added.
Haidai confirmed that as of Tuesday, Russian forces controlled about 70 percent of Severodonetsk. A victory in the city would grant Moscow almost full control of one of Ukraine's two most easternmost provinces—a key war goal.
Newsweek reached out to the Russian Foreign Ministry for comment.