Russian Commander Allegedly Killed as Tank Convoy Ambushed in Drone Footage
A Russian commander has allegedly been killed after a tank convoy was ambushed in Brovary, northeast of Kyiv, on Thursday.
Bellingcat, an independent international collective of researchers, investigators and citizen journalists, posted drone footage of the attack and claimed it had confirmed the footage was filmed in Brovary.
The video footage, shot from the drone, shows the moment a convoy of Russian tanks was hit by Ukrainian shells and the convoy's initial response to the attack.
The video is also overlaid with audio of what appears to be a Russian officer speaking to his superiors about the ambush. This is thought to have been intercepted by Ukrainian forces, according to reports.
They said: "A lot of casualties, ambushed. The commander of the column was killed. Attacked by a drone," according to a Newsweek translation.
The video shows shells landing amid a tight-knit bunch of about two dozen Russian tanks in a residential area and then the tanks milling about in confusion as they try to get out of range. Russian forces are closing in on Kyiv as the invasion enters its third week.
The video so far has over 250,000 views.
"This video of a Russian military column coming under attack and retreating was geolocated to 50.587111, 30.837889 by @MrWolfih and confirmed by Bellingcat. Filmed in Brovary, northeast of Kyiv," the caption reads.
Rob Lee, a senior fellow at the Philadelphia-based Foreign Policy Research Institute think tank, commenting on the drone footage on Twitter, said: "According to the audio, the regimental commander was killed. It appears it was a mix of Ukrainian artillery and tank strikes on the column."
"Very poor tactics displayed by this Russian armored force so close to Kyiv. They're well within range of Ukrainian artillery in Kyiv, they're on an obvious avenue of approach, and they still decided to bunch up like this, leaving them more vulnerable to indirect fire," Lee noted.
The Guardian and Sky News report that the commander that was killed in the attack was Colonel Andrei Zakharov. These reports credit this information to Ukrainian media or Ukrainian forces. However, the identity and death of a tank commander has not been publicly confirmed by Russia.
Newsweek has contacted Ukraine's and Russia's Ministry of Foreign Affairs for comment.
Russia has been rocked by multiple deaths of its leading military figures as it has campaigned across Ukraine.
Newsweek has compiled a list of commanders that have been killed in the conflict, according to Ukraine. Newsweek has not been able to independently verify these claims.
This list includes Major General Vitaly Gerasimov, first deputy commander of the 41st Army, who on Monday Ukraine's defense intelligence agency said had been killed.
Andrei Sukhovetsky, deputy commander of the 41st Combined Arms Army, had his death confirmed by Putin during a broadcasted speech on March 2.
Lieutenant Colonel Dmitry Safronov, commander of the 61st Separate Marine, and Lieutenant Colonel Denis Glebov, deputy commander of the 11th Separate Airborne Assault Brigade, were confirmed dead on Monday in a statement by Ukraine's Ministry of Defense.
The death of Guards Colonel Konstantin Zizevsky was confirmed on Saturday in an Instagram post by Mikhail Minenkov, the mayor of the Russian city Nevinnomyssk.
Despite Ukraine's forces having some success in holding back the invading Russian forces, Ukrainian President Volodymyr Zelensky has repeatedly asked for talks with Russian President Vladimir Putin in order to end the conflict.
Since the invasion began, he has also called on international leaders to condemn the Russian invasion and support Ukraine's fight against them.
Most recently, he told German newspaper Bild that "compromises can be made" and again called for talks with Putin.
"This is the only way we can get out of this situation," Zelensky said, according to a translation.
"We can talk about the details yet. We haven't had direct contact between the Presidents yet. Only after the direct talks between the two presidents can we end this war."
Follow our live blog for updates on the Russia-Ukraine conflict.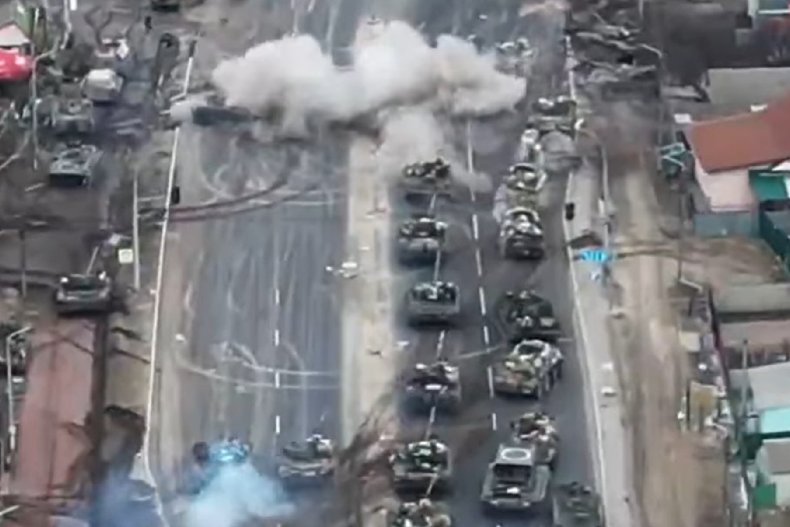 Update 03/10/22, 10:46 a.m. ET: This article was updated with additional information