A Jehovah's Witness in Russia has been sentenced to six years in prison, after he was charged with being the leader of an "extremist" group.
The Christian denomination has been banned in Russia since 2017 and classified as an "extremist" organization on par with the militant Islamic State (ISIS). Numerous Jehovah's Witnesses, of which there are an estimated 175,000 in Russia, have faced arrest, criminal charges and home detention as a result.
Sergei Klimov, who was sentenced in the Siberian city of Tomsk on Tuesday, was first arrested in early June of last year, Jarrod Lopes, a communication representative for the World Headquarters of Jehovah's Witnesses in New York explained to Newsweek. About 30 members—including an 83-year-old adherent— were detained by special forces agents and questioned in the raid.
During Klimov's trial, he admitted to being a Jehovah's Witness, Radio Free Europe reported. However, he asserted that he was not a leader of the community. His lawyer has said that they plan to appeal the verdict.
The believer "undermined the foundations of the constitutional order and security of the state," the court's ruling said, according to The Moscow Times. If his conviction stands, Klimov is to be sent to a penal colony to serve out his sentence. He will also be barred from posting to the internet and participating in educational activities for five years.
"The court ordered he [Klimov] be placed in pretrial detention for two months [before he was convicted on Tuesday]," Lopes explained. "His term was extended seven times, thus he has been in detention already for a year and five months, before he was finally convicted and sentenced to six years in prison."
As of Tuesday, 46 Jehovah's Witnesses remain detained in Russia, while 23 are under house arrest and 11 have been convicted on charges related to their religious beliefs. In total, 284 members are under investigation, according to statistics sent to Newsweek by the denomination's world headquarters.
"The conviction of Sergey Klimov comes as no surprise in the present climate of raids, detentions, and arrests of Jehovah's Witnesses in Russia," Paul Gillies, international spokesman for Jehovah's Witnesses, said in a statement to Newsweek. "Numerous international bodies and human rights specialists have condemned Russia's ongoing persecution of Jehovah's Witnesses"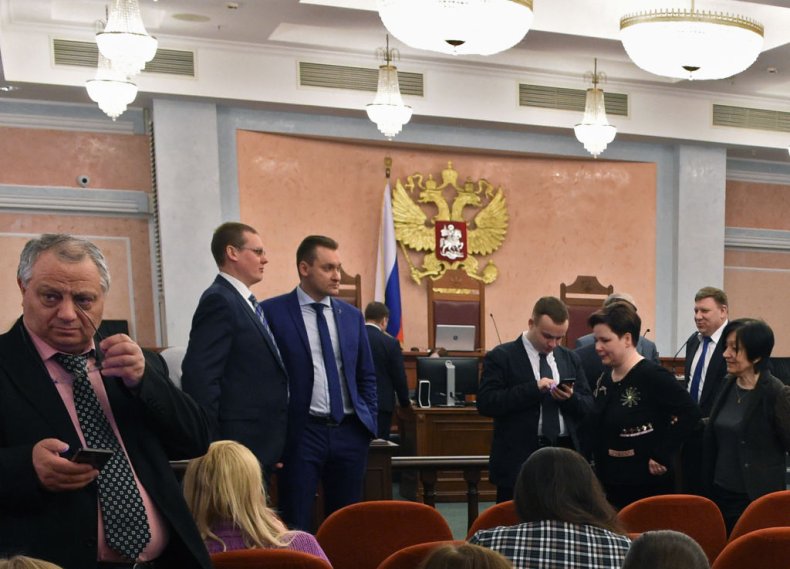 Tony Perkins, chair of the U.S. Commission on International Religious Freedom, criticized Russia's persecution of Jehovah's Witnesses, saying the government is "afraid of religious freedom."
Klimov's "situation clearly illustrates Russia's contempt for international standards of religious freedom. Russia's ongoing persecution of the Jehovah's Witnesses makes a mockery of the international covenants on human rights that Russia is a willing participant in," he told Newsweek in a statement.
Earlier this year, Newsweek reported that multiple Jehovah's Witnesses had been tortured using suffocation, electric shocks and beatings. Church officials said at the time that members were interrogated and asked to give details about other believers and the locations of their meetings. A spokesperson for the Khanty-Mansi region of Russia, where the torture allegedly took place, claimed the reports were false.
Russian President Vladmir Putin in December expressed personal confusion as to why the Jehovah's Witnesses were being targeted in his country. "Jehovah's Witnesses are Christians too. I don't quite understand why they are persecuted," Putin said at the time. "So this should be looked into. This must be done." Despite his comment, however, believers have continued to face arrest, detentions and convictions.