A fire has broken out on the territory of a Russian factory that manufactures equipment for the Russian Army, according to state media reports.
Seven people have been rescued from a burning building and firefighters are still searching for the source of the blaze at the Yaroslavl Motor Plant, in Yaroslavl, Russia, which describes itself on its website as one of Russia's largest enterprises producing multi-purpose diesel engines, clutches, gearboxes and spare parts.
The Russian Emergencies Ministry was quoted by state-run news agency TASS as saying that fire departments were alerted to the blaze at 1.30 p.m. local time. Photos circulating on social media show plumes of thick black smoke rising into the sky.
According to local media reports, there was an explosion prior to the fire.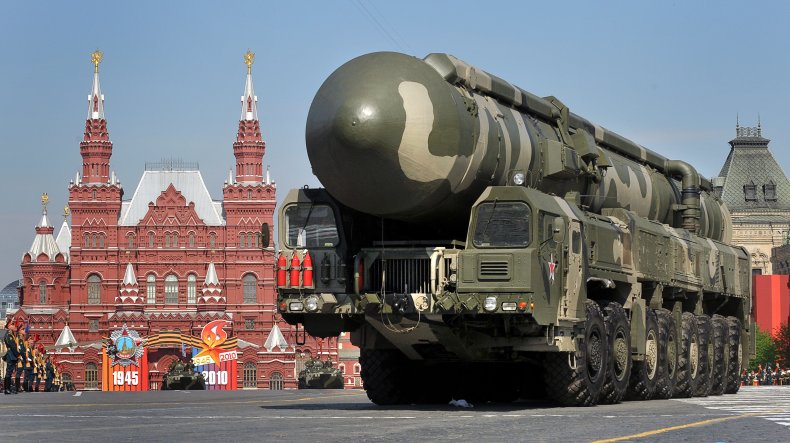 "Seven people were rescued from the burning building by firefighters, another 218 were evacuated by the administration of the facility. The fire is currently contained," the ministry said.
The Yaroslavl Motor Plant says on its website that more than 300 models of vehicles and special-purpose products in Russia and Belarus are equipped with the engines it manufactures.
Russian blogger and analyst Anatoly Nesmiyan said on his Telegram channel that "something quite serious is on fire" at the factory, though did not elaborate on what that could be. Nesmiyan described the factory as one of the largest manufacturers of engines and gearboxes for equipment belonging to the Russian Army, including engines for Topol-M nuclear missile launchers.
According to the Washington-based Center for Strategic and International Studies, the Topol-M is a Russian solid-fueled intercontinental ballistic missile with a range of 11,000 kilometers (6,835 miles).
The incident is the latest in a string of mysterious fires in Russia since President Vladimir Putin invaded Ukraine on February 24, 2022.
On Monday, a Russian anti-Putin partisan movement called Black Bridge claimed responsibility for last week's fire at a building used by Russia's Federal Security Service (FSB) in the southern city of Rostov-on-Don near the Ukraine border.
Black Bridge, one of several partisan movements in Russia, called the FSB "a stronghold of hypocrisy, violence and injustice" in a Telegram post about the March 16 blast and blaze.
The fire at the Yaroslavl Motor Plant will likely serve as a blow to Putin, who is pushing to ramp up missile production this year. Russia's Defense Ministry said in a statement Tuesday that Defense Minister Sergei Shoigu has ordered the doubling of production of precision-guided weapons.
Newsweek reached out to Russia's defense ministry by email for comment.
Do you have a tip on a world news story that Newsweek should be covering? Do you have a question about the Russia-Ukraine war? Let us know via worldnews@newsweek.com.
Update 03/23/23, 9:45 a.m. ET: This article was updated with additional information.