Russian Forces 'Under-Manned' as Ukraine Begins Counteroffensive: U.K.
Russian forces are likely "under-manned" in Kherson, the U.K. Ministry of Defense has said, as Ukraine on Monday said it had started its counteroffensive in the southern region of the country that was taken by Moscow in the early days of the war.
Ukraine has been carrying out strikes on bridges in the region, key supply lines for the Russian army from the occupied Crimean Peninsula to southern Ukraine. Ukrainian officials said Monday that they have been using the U.S.-supplied HIMARS weapons to carry out successful strikes. Ukrainian President Volodymyr Zelensky has also vowed to take back Russian-held Crimea and Kherson. The Black Sea peninsula has been occupied by Russia since it illegally annexed the region in 2014.
Kyiv on Monday said its forces had "broken through" Russian defenses, while the latter's military said it had successfully repelled an offensive by Ukrainian troops, who suffered "heavy losses." Newsweek has not been able to independently verify these claims.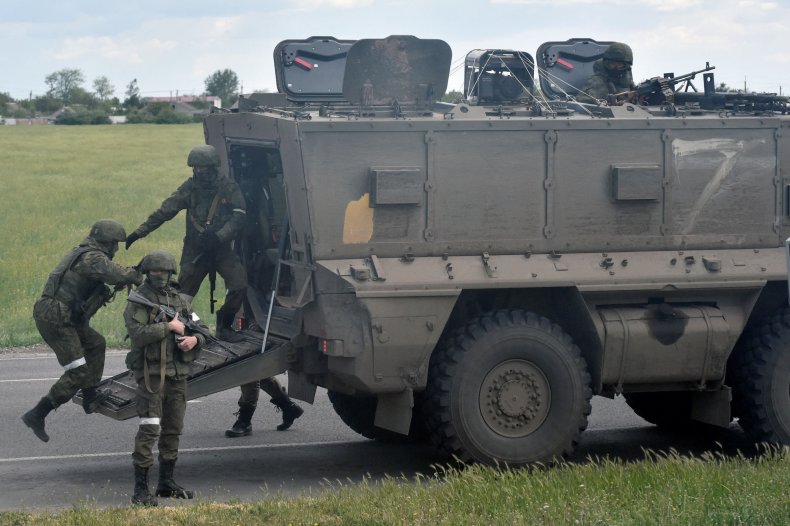 In its daily intelligence update on Tuesday, the British Ministry of Defense said that from early on Monday, several brigades of the Ukrainian Armed Forces increased artillery in front-line sectors across southern parts of the country.
"Ukrainian long-range precision strikes continue to disrupt Russian resupply. It is not yet possible to confirm the extent of Ukrainian advances," the ministry said.
"However, since the start of August, Russia has made significant efforts to reinforce its force on the western bank of the Dnipro [Dnieper] River around Kherson. The Southern Military District's (SMD) 49th Combined Arms Army has highly likely been augmented with components of the Eastern Military District's (EMD) 35th Combined Arms Army," it added, saying it represented "a significant reorganisation" of Russian forces in Ukraine.
"Most of the units around Kherson are likely under-manned and are reliant upon fragile supply lines by ferry and pontoon bridges across the Dnipro.
"There is a realistic possibility that Russia has moved to rationalise the several, semi-independent, operational commands which contributed to its poor performance early in the invasion."
The ministry added that the cohesion of the new Russian military structure in Kherson would be crucial to how well the army defends in the south of Ukraine.
Kherson has become a flashpoint of the fighting in Ukraine, a strategic area for both sides. It is the only provincial capital in Ukraine under Russian control and is located where the Dnieper River meets the Black Sea, where many military supplies get transported from Crimea to Russians on the front line of the war.
There has also been heavy fighting in the eastern Donbas region, where Russian President Vladimir Putin has recognized the republics of Donetsk and Luhansk as "independent" from Ukraine.
Newsweek has contacted military analysts for comment on the counteroffensive, as well as the Russian and Ukrainian foreign ministries.