Russian Inaction 'Helping' Ukraine's 'Brilliant' Maneuver: Retired General
Russia is failing to stop a Ukrainian counteroffensive by doing "very little" to counter their efforts, retired U.S. Army General Mark Hertling said on Friday.
Russian President Vladimir Putin launched the invasion of Ukraine on February 24, hoping for a quick victory against his Eastern European neighbor. However, Ukraine's stronger-than-expected defense—bolstered by military aid from its allies—and struggles within Russia's own military prevented Moscow from achieving any of its major goals throughout the conflict. In recent weeks, Ukraine began counteroffensive efforts to take back areas Russia won in the early weeks of the conflict.
One of Ukraine's latest counteroffensive efforts is focused on the area around Kharkiv, Ukraine's second largest city, which was home to more than 1.4 million people before the war.
On Friday, Ukrainian troops began centering in on Izyum, a city south of Kharkiv where more than 45,000 people lived prior to the invasion. The city was taken by Russia in late March and has been a key Russian stronghold despite struggles elsewhere in Ukraine.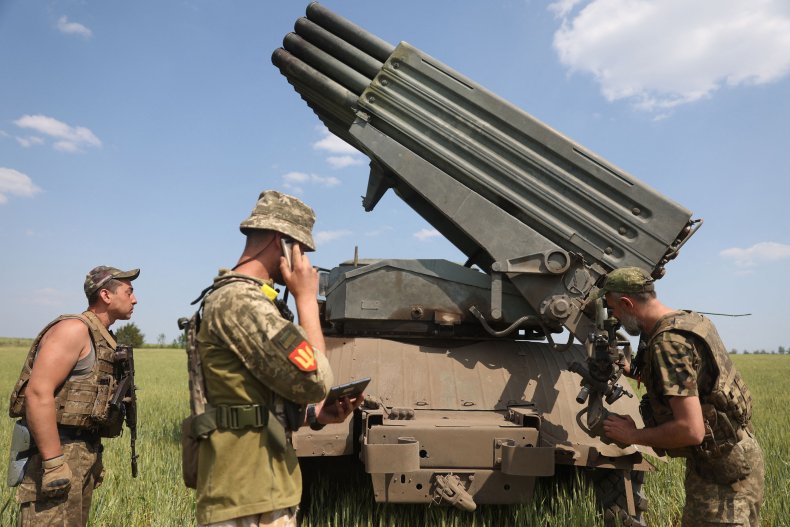 Hertling, who served as the commanding general of the U.S. Army Europe and the Seventh Army from March 2011 to November 2012, wrote on Twitter that Russia's failure to counter Ukraine's advances is essentially helping them take back their territory.
"Make no mistake, UA is executing a brilliant maneuver focused on terrain objectives to "bag" Russians," he tweeted on Friday. "But the Russians are helping them...by doing very little to counter."
A map, originally posted by European news outlet Visegrád 24 and shared by Hertling, showed how Ukraine essentially planned to cut Izyum off from the rest of the territory claimed by Russia.
By Saturday morning, Russian forces had retreated from Izyum, according to a Telegram post from the Russian-installed First Deputy Minister of Information of the DPR, Danylo Bezsonov.
"Yes, they left Izyum, as well as some other settlements in the Kharkiv area. Of course it's bad. Of course, this is the result of the mistakes of the high command. But there is no need to look for hidden meanings in this. It is not a matter of compromise and not of betrayal. Simply, we fight as best we can. At all levels. Somewhere better, somewhere worse," Bezsonov wrote.
Earlier on Saturday, British defense officials said Russia was taken by surprise by the counteroffensive launched in the eastern Kharkiv region on Tuesday.
In just three days, Ukrainian forces advanced 30 miles into territory previously held by Russian forces. Ukrainian President Volodymyr Zelensky said Friday that Ukraine "liberated and took control of 30 settlements" before taking Izyum.
Ukraine is also conducting another counteroffensive on Kherson, the south Ukrainian city that became the first major city to fall to Russia at the start of the war.
Newsweek reached out to the Russian Ministry of Defense for comment.