Russian Su-25 Jet Shot Down by Paratroopers, Ukrainian Brigade Says
A Ukrainian brigade has said it shot down a Russian combat aircraft in the Donetsk region.
The 25th Separate Sichesal Airborne Brigade said its paratroopers had destroyed the Sukhoi-25 fighter using Igla MANPADS, referring to the short range man-portable air-defense system.
"Another enemy Su-25 is finished," the brigade, which is an airborne formation of the Ukrainian Air Assault Forces, posted on its Facebook page on Saturday which was reported by Ukrainian media.
"We don't stop, glory to Ukraine," the post said, prompting messages from Facebook users praising the strike, such as "honor and glory to our defenders," and "glory to our heroes, our boys!!! They are strength and might!"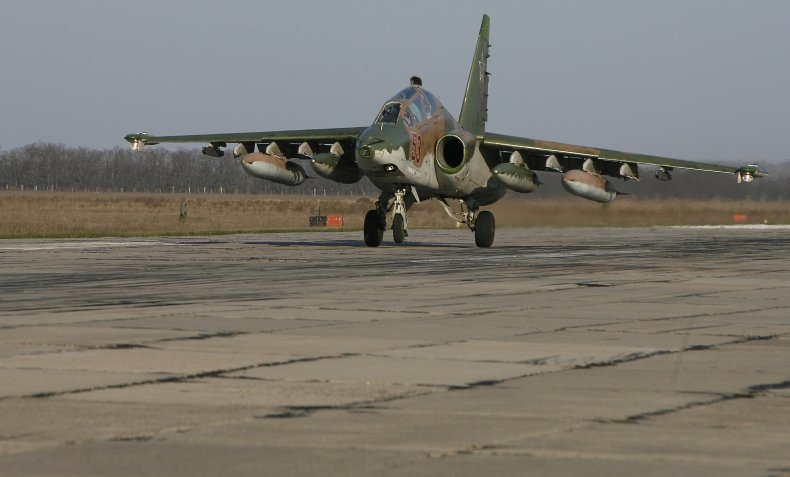 The reported downed aircraft was not mentioned in Saturday's update by the General Staff of the Ukrainian Armed Forces, which Newsweek has contacted for comment.
In its latest figures, which have not been independently verified, Ukraine's armed forces said on Saturday that since the start of the Russian invasion, it had successfully targeted 222 aircraft.
They also said 170 Russian troops had been killed over the previous day, bringing the death toll of Vladimir Putin's soldiers to 40,670, although this is much higher than western estimates. Moscow has not updated its official tally of dead servicemen since its March 25 figure of 1,351.
A translation of Ukraine's update also said that Russia had suffered its biggest losses in the Donetsk region and that Ukrainian pilots along with its anti-aircraft missile forces "continue to control the airspace, forcing the enemy to refuse to approach our borders."
It comes as Kyiv continues to push for the U.S. and its Western allies to supply it with combat jets and the training to fly them. Ukraine's forces are benefitting from U.S-supplied M142 High Mobility Artillery Rocket Systems, or HIMARS.
The U.S. is also helping Ukraine keep its Soviet-era MiG and Sukhoi jets in the air while a decision on equipping Kyiv with western planes is pending, a U.S. military official told a Pentagon briefing on Friday.
Meanwhile, the mayor of the southern city of Mykolaiv, Oleksandr Sienkevych said on his Telegram channel that one person had been killed and six wounded when Russian rockets hit two residential districts overnight. The city neighbors the Kherson region where Ukrainian troops are seeking to retake in a counter-offensive.
In Ukraine's second city of Kharkiv, rockets from an S-300 surface-to-air system destroyed part of an educational facility early Saturday, according to local authorities.
Newsweek has contacted Russia's Defense Ministry for comment.