Russian Killed in Explosion at Bomb-Making Factory
A woman was killed while working at a bomb-making factory in Russia on Thursday.
The explosion occurred while employees were working at Chapaevsk Mechanical Plant in Chapaevsk near Samara, Russia. The plant produces detonators and explosives.
According to an article by independent Russian news site Meduza, an explosive detonated on the factory line where detonator caps are equipped in one of the factory's workshops. According to Russian Telegram channel Ostorozhno Novosti, which translates to Caution News, the detonator caps are used to initiate the detonation of a bomb. The explosion killed a 46-year-old woman and hospitalized three other people with craniocerebral injuries and burns.
The Telegram post identified the three injured people as a 20-year-old controller, a 40-year-old presswoman, and a 58-year-old locksmith.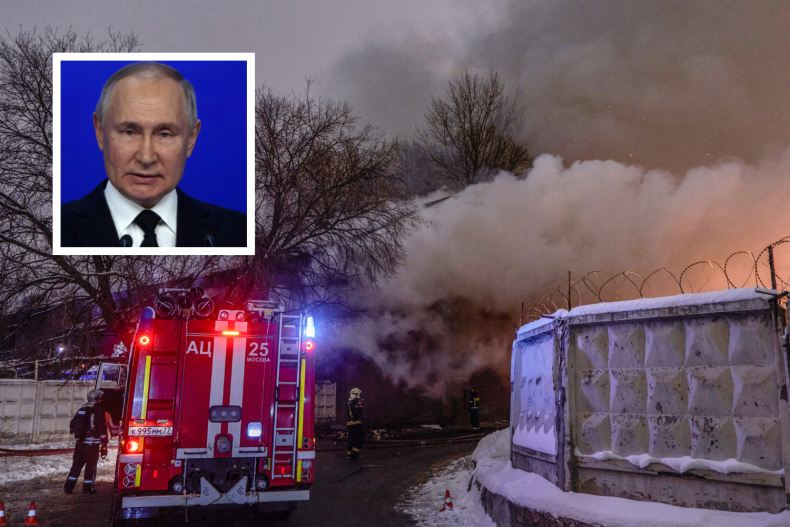 An investigation is being conducted. Ostorozhno Novosti reported that preliminary investigations show the explosion was caused by a "violation of safety precautions".
Chapaevsk formerly was identified as the center of Russia's defense industry, specializing in explosives, according to Britannica, but now, the area mostly produces nitrogen and ammonia synthesis.
It is not known if there was any damage to the factory from the explosion. TASS, a Russian news agency, reported on the explosion on Friday and said there was no fire during the explosion.
The explosion comes just days after a large fire broke out at a car service center in Moscow near a Russian military industrial complex. Since the start of the war in Ukraine last February, there have been several unexplained fires in Russia, as well as an unexplained explosion at a Russian ammunition plant last year.
The fire in Moscow was close to the Research Institute of Precision Instruments, which is where Russia develops radio control channels for naval and aviation jet weapons.
Newsweek previously reported that unexplained fires have been reported in buildings, oil and ammunition depots, warehouses, and other places in Russia since the start of the war. Russia continues to investigate the blazes, but many remain unexplained.
It isn't clear if the fires are connected, and no one has taken responsibility for them. This past May, economist Anders Aslund tweeted that many of the fires and explosions occurred at "strategic objects in Russia in the borderlands to Ukraine".
However, some people have speculated that Ukraine is behind the attacks, although the country hasn't claimed responsibility for the fires. Others suggest that Russians are sabotaging the key sites in an act of civil war.
Samara, the oblast where Thursday's explosion occurred, is hundreds of miles from the Ukrainian border.
Newsweek reached out to Russian President Vladimir Putin's press office for comment.