A member of Russia's parliament has called on Russian President Vladimir Putin to attack the United Kingdom, a move that would very likely trigger an international war.
Andrey Gurulyov, a Russian parliament (Duma) member and former military commander, made the statement during an appearance on the state television channel Russia-1, 19 months after the start of Russia's invasion of Ukraine, which prompted a worldwide response, primarily in support of Ukraine.
The lawmaker was discussing recent claims made by Putin that British intelligence was behind an attempted sabotage plot on a Russian atomic facility. Speaking at the Eastern Economic Forum in Vladivostok on Tuesday, Putin said—without offering evidence—that the U.K. instructed Ukrainian saboteurs on how to damage the facility. The Russian leader also warned British Prime Minister Rishi Sunak that such moves could result in a response.
Gurulyov went a step further by saying Russia should attack the U.K. with missiles and called Sunak "a target." Since NATO stipulates that an attack on a member country is an attack on all members, a Russian strike on the U.K. could be considered grounds for an all-out war with NATO.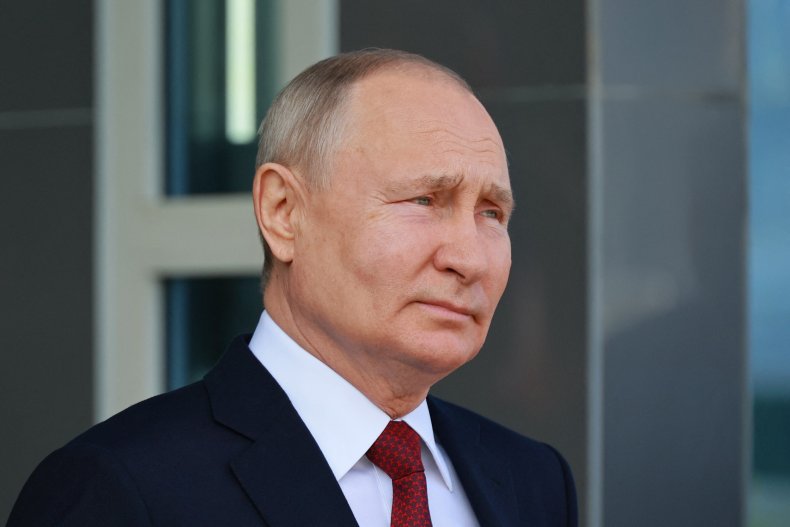 Francis Scarr from BBC Monitoring posted a clip of Gurulyov's appearance on Russia-1, where the lawmaker was participating in a discussion with fellow guests and host Vladimir Solovyov, a well-known Kremlin propagandist.
"They've become insolent," Gurulyov said of the U.K., per Scarr's translation. "What difference does it make to us whether Sunak knows what his intelligence services are up to or not? They're British intelligence services at the end of the day. And when we talk about the fact today that the British are trying to destroy our nuclear reactor, our response should be completely clear!
"Why should we hit nuclear energy sites in Ukraine? We're going to have to live there. We've got Sunak," he continued. "Why do we need Sunak or Britain if he's trying to put our Kursk or Novovoronezh nuclear power stations into disrepair?"
Newsweek reached out to the Russian Ministry of Foreign Affairs via email for comment.
The parliament member then warned attacks on Russian nuclear sites could result in a "second Chernobyl."
"Our president has always said that if a fight is inevitable, you have to hit first," Gurulyov said, according to Scarr. "I don't think there's a target in the U.K. which our armed forces couldn't handle...What, do we not have targets there?"
Gurulyov continued by naming potential targets in the United Kingdom that Putin's military could hit with a strike, such as submarines, naval bases and nuclear sites.
"Sunak too! He's also a target!" Gurulyov said. "Given that he's trying to cause a nuclear disaster here. Why are we busy being shy?"