Russian Leaders Flee City, Abandon Troops, Amid Counter-Attack: Ukraine
Russian commanders have fled the city of Kherson in southern Ukraine, according to Ukrainian officials.
Ukrainian forces using U.S.-supplied High Mobility Artillery Rocket Systems, or HIMARS, have targeted key strategic bridges in recent weeks as part of a counteroffensive to reclaim the Russian-occupied Kherson region. They caused significant damage after striking the last working bridge over the Dnipro river into the city of Kherson, the Ukrainian army's Operational Command South announced on Saturday.
Some Russian command staff has now begun leaving the city and moving to the river's right bank, as a result, said Nataliya Gumenyuk, a spokesperson for the Ukrainian military's southern command.
"There are recorded facts that after our strikes on the command posts of the occupying forces...their command staff very quickly moves in the direction 'beyond the bridge'—that is, to the left bank, so as not to be cut off in ways to move to a safer territory," Gumenyuk said at a news briefing, according to Meduza, an independent Russian news outlet.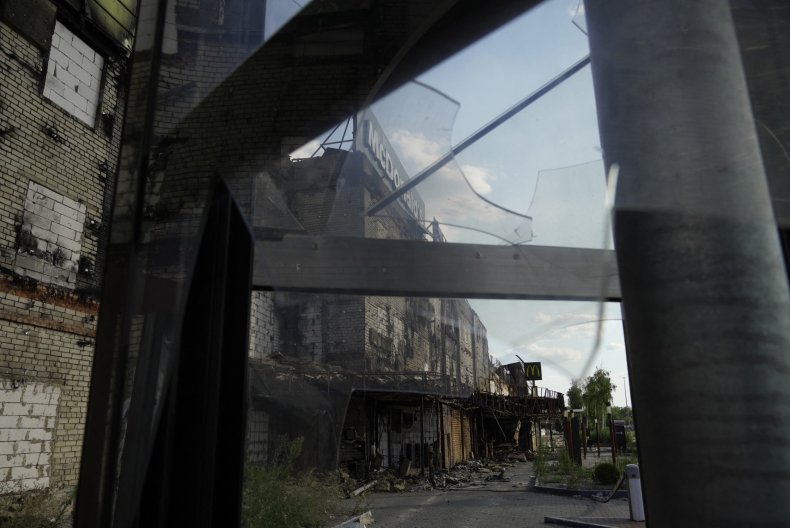 Newsweek reached out to the Russian and Ukrainian defense ministries for comment.
A number of Ukrainian officials in the Kherson region have spoken of Russian commanders leaving the city in recent days.
Russian forces "don't have any logistical route that is safe and that would satisfy their military needs precisely in terms of providing for the military group located near Kherson," Yuri Sobolevsky, the first deputy head of the Kherson regional council, said on Ukrainian television on Sunday. "Most of them have already left Kherson."
Vitaliy Kim, the governor of the Mykolaiv region, said commanders had abandoned Russian troops in the city. "Not really, but a little sorry for the stupid orcs who were abandoned on the right bank of the Dnipro," he wrote on Telegram on Saturday. "The entire management team is moving beyond the Dnipro."
The British Ministry of Defence said Saturday that damage to bridges across the river means that "ground resupply for the several thousand Russian troops on the west bank is almost certainly reliant on just two pontoon ferry crossing points."
The ministry added that Russian forces had managed to make only "superficial repairs" to the Antonivsky bridge, which was rendered unusable after a rocket strike in July.
"Even if Russia manages to make significant repairs to the bridges, they will remain a key vulnerability," the update said. "With their supply chain constrained, the size of any stockpiles Russia has managed to establish on the west bank is likely to be a key factor in the force's endurance."