Russians 'Live in Fear,' Says Blacklisted Singer Who Fled to U.S. Over War
Ilya Prusikin felt pride when his band Little Big was selected to represent Russia at the 2020 Eurovision Song Contest. Two years on from the competition celebrating European unity, his feeling towards his home country is of despair.
His band's song "Generation Cancellation" released last month has a video that goes for the jugular in portraying a Russian population brainwashed by state television propaganda, and a discourse in which even the words "war" and "invasion" are banned.
Sung in English with a conclusion that refers to the chance that the war might take a nuclear turn, Prusikin, 37, said the song had a bruising message for a younger audience less likely to buy into the Soviet Union nostalgia peddled on state-run TV channels.
Pruiskin and bandmate Sonya Tayurskaya fled Russia in March, since reaching the U.S. They hope Little Big's other members will join them soon.
"The main message is that we live in fear," he told Newsweek from Los Angeles. "We don't know what to expect right now. At this point, even an atomic war seems a possibility," he said. "we would not be surprised if that happens."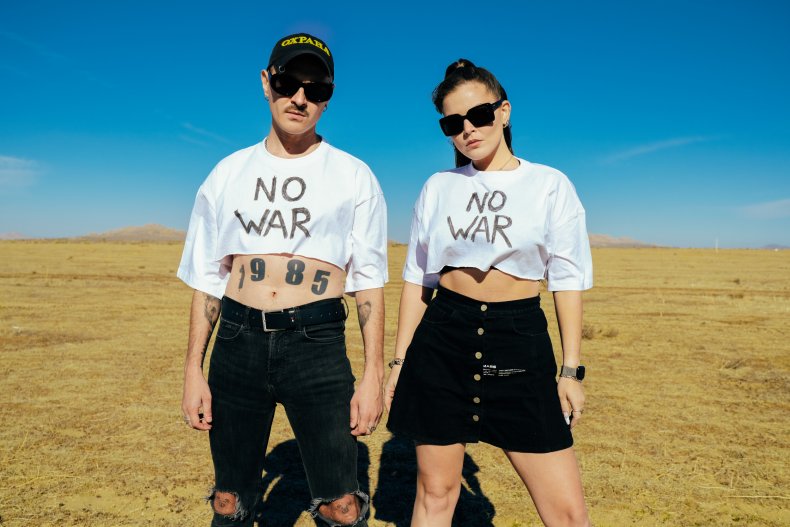 As soon as Vladimir Putin invaded Ukraine on February 24, the band posted an anti-war message on Instagram and were immediately put under pressure from the authorities who urged them to take the post down. The decision to decamp to the U.S. was therefore made very quickly and they left the country on March 2 to go to the Californian city, via Dubai.
The band has paid a price for their stance and has faced criticism within mainstream Russia media and suggestions that their citizenship should be revoked. Prusikin wants to live in his country that he loves and be with his family and friends, but being blacklisted from playing shows in Russia is coming to terms with being persona non grata in his homeland.
However, he said he was not in any position to give any advice to Russians who want to oppose the war like his band has. "Even I don't know what I'm doing and if my actions are the right ones."
"Generation Cancellation" has so far been viewed more than 6.7 million times. "Since we released the song, our listeners have been grateful for our message," Prusikin said. "We try at least to give some hope, you know, at least show them our support. We think that this is important."
The band will release another track due out this Fall called "Refugee" about the plight of those fleeing Ukraine which at the latest estimate, numbered around 14 million people. "We share their pain and this is another song we really need to release," he said.
These songs' political themes mark a shift away from some of their other lighthearted material, said to play on stereotypes about Russia. The song "Skibidi" has been viewed more than 619 million views and inspired the "Skibidi" challenge, an online dance craze in which fans uploaded videos of themselves attempting the music video's signature dance.
Founded in Saint Petersburg in 2013, Little Big is a four-piece which has released four albums and with more than 7 million YouTube followers, their videos are watched by vast audiences, racking up more than two billion views.
The group was selected to represent Russia at the Eurovision song contest where they were due to play "Uno", before it was canceled due to the COVID pandemic. "It was a huge surprise. because we are a punk band," Prusikin said, "we never expected to end up at Eurovision."
But that seems like a distant memory. Four months into his exile, Prusikin said he has gone through a roller coaster of emotions. Not optimistic either about his country, or the prospect of the war ending, when asked to sum up his feelings now, he replied, "hopelessness and despair."