Russian Media Mocks Zelensky 'Begging' for Jets: 'Wings Were Clipped'
Ukrainian President Volodymyr Zelensky's multistep tour of Europe this week underscored deepening European Union and British backing for Kyiv, even if the Ukrainian leader didn't take home the concrete commitments on fighter jets he wanted.
Zelensky was given a rapturous reception in the U.K., France and Belgium in his first visits to Europe since the full-scale Russian invasion of his country began almost a year ago.
In multiple addresses, Zelensky urged Ukraine's Western partners not to flinch as Moscow launches its latest offensive, but instead to respond by providing all the weapons Kyiv needs.
Russia's most popular news sites covered Zelensky's visits in detail, focusing on the continued hesitation of European nations to send fighter jets to Ukraine, the frosty reception Zelensky received from Hungarian Prime Minister Viktor Orban, and highlighting other potential cracks in the West's unified front against Moscow's latest round of aggression.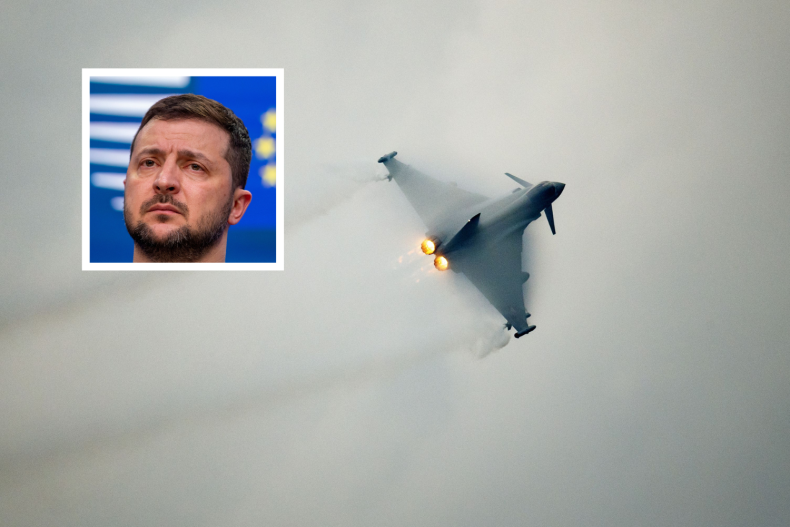 RIA Novosti led with the news that Zelensky—who it termed "the Ghost of Kyiv" in reference to the mythical fighter pilot who was said to have downed several Russian warplanes in the opening days of the invasion—failed in his "main purpose," which was "to beg the West for combat planes."
"Zelensky's wings were clipped," RIA Novosti declared.
Izvestia also wrote that the Ukrainian president "did not get fighters from the EU." However, the website added it appears likely that European partners will eventually come round on military aircraft, as they did on artillery, main battle tanks, and numerous other weapons. "They are confident that deliveries will still take place," Izvestia wrote of officials in Kyiv.
Other outlets focused on the cold reception Zelensky received from Orban, who was the only EU leader not to applaud the Ukrainian president upon his arrival at the European Council in Brussels.
"The Hungarian prime minister refused to applaud Zelensky in Brussels," wrote Gazeta, detailing the long-running dispute between Budapest and Kyiv over the language rights of ethnic Hungarians living in Ukrainian Transcarpathia.
The outlet also wrote about the public spat between Zelensky and Orban that has developed over the past year. It was prompted by the latter's repeated blocking of EU action against Russia and in support of Ukraine.
Lenta led on the refusal of Orban and Austrian Chancellor Karl Nehammer to provide more weapons to Ukraine, as reported by the Hungarian Nepszava newspaper.
Lenta also noted recent remarks by the deputy head of Zelensky's office, Igor Zhovkva, warning that Kyiv is facing an acute ammunition shortage amid heavy fighting in the east and south of the country.
Komsomolskaya Pravda, meanwhile, framed Zelensky as desperate and Ukraine as struggling to hold back Russian forces. "The more they lose, the more eloquent Zelensky," the summary of the president's European tour read.
The article included a long list of supposed—but unconfirmed—Ukrainian losses in recent days, adding: "Meanwhile, their leader was speaking at Buckingham Palace about democratic values," claiming the juxtaposition indicated Zelensky's "cognitive dissonance."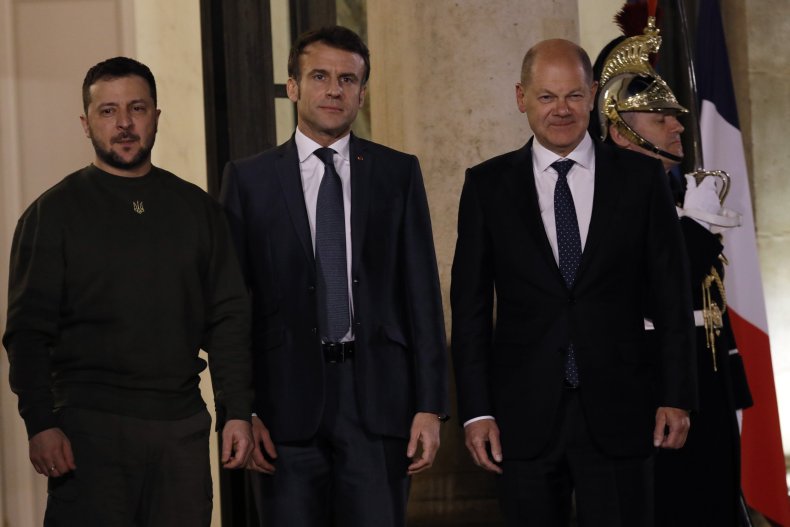 Zelensky's visit came as Russian forces began a long-foreshadowed offensive, which is expected to focus on capturing the entirety of the partially occupied Ukrainian regions of Luhansk and Donetsk.
A year on from the full-scale invasion, there is no end in sight to the fighting. President Vladimir Putin badly needs a significant victory, after failing to break Ukraine or sufficiently divide its Western backers.
Russia's economy is struggling under the West's unprecedented sanctions, with Moscow enjoying limited international support of its own. Western tanks and other new weapons will soon begin arriving in Ukraine, where Kyiv hopes they will serve in the vanguard of spring counter-offensives to liberate more occupied territory.