Ukrainian troops along the southern and eastern fronts have for months been bracing for an expected Russian spring offensive, which Moscow hopes will put its forces back on the front foot after a year of major retreats, incremental advances, and heavy losses.
Now, an uptick in fighting on both the southern and eastern fronts may herald the arrival of the long-feared Russian push.
"Russia is preparing for the rematch," President Volodymyr Zelensky said at the start of February, while being interviewed on Fox News. "I believe that it has already started or not fully. We will see that in the nearest weeks."
Increased Russian casualties and equipment losses as reported by Ukraine—which are estimates and unconfirmed—indicates an increased tempo of fighting over the past week. Ukrainian officials have reported the defeat of large Russian attacks around the southern front line city of Vuhledar.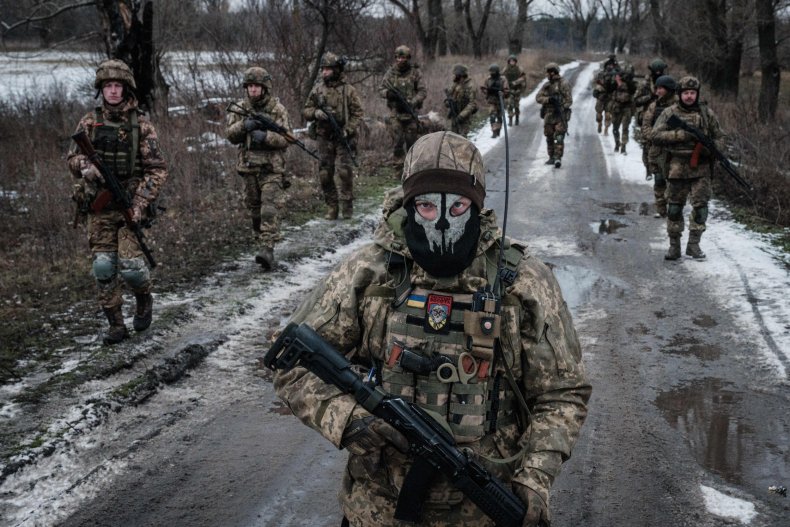 Elsewhere, the governor of Luhansk oblast, Sergiy Haidai, warned that a large concentration of Russian attacks troops is attacking near the city of Kreminna, where for months Ukrainian troops have been edging forwards.
Meanwhile, months of intense fighting around the Donetsk city of Bakhmut shows no sign of abating, with Russian units reportedly edging around the flanks of the Ukrainian defenders there.
The Push Has Already Begun
A Wednesday assessment by the Institute for the Study of War said the Russian push has now begun in Luhansk.
"The commitment of significant elements of at least three major Russian divisions to offensive operations in this sector indicates the Russian offensive has begun," it said. "Even if Ukrainian forces are so far preventing Russian forces from securing significant gains."
Gustav Gressel, a senior policy fellow at the European Council on Foreign Relations, told Newsweek he believes "the offensive is starting slowly."
Gressel said a gradual increase in intensity and scale of Russian attacks is more likely that a sudden concentrated push, given Moscow's need to reinforce and refit units badly mauled by almost one year of combat in Ukraine.
A chronic lack of officers and other well-trained soldiers, Gressel said, will constrain the coming offensive.
"It will slowly grow, grow, grow, and then have culmination point," Gressel said. "What we see in deployments are basically that they are along the existing axes of operations ... they will continue to strengthen them and to reinforce them, and it will basically get nastier for the Ukrainians every day."
Some believe the hammer is yet to fall.
Andriy Zagorodnyuk, Ukraine's former minister of defense, told Newsweek on Wednesday: "I don't think it has begun. It can almost any moment but not yet." As to when the assault might come, Zagorodnyuk said it could happen "any time, but most likely by end of the month."
No D-Day
Mark Voyger, a former special adviser for Russian and Eurasian affairs to then-commander of U.S. Army Europe General Ben Hodges, told Newsweek that the uptick in fighting might indicate "probing actions aimed at positioning the Russians in such a way that, when the order to advance en masse comes, they would have better awareness of Ukrainian defensive positions and their weaknesses."
Voyger—now a non-resident senior fellow at Center for European Analysis and professor at American University of Kyiv—also said Russia's offensive might be a slower affair.
"There may not be a 'D-Day' with a massive offensive to be officially launched on the Russian side," he said, recalling a past assertion of Valeri Gerasimov—the chief Russia's General Staff and current commander of the invasion—that in the 21st century, "wars are no longer declared, and when they begin, they do not follow the usual pattern."
"Maybe the Russians are now trying to trickle their forces into the battlespace in a decentralized fashion until they saturate the front line with sufficient numbers of cannon fodder, then suddenly launch wave after wave along a larger section of Ukraine's defensive perimeter," Voyger said.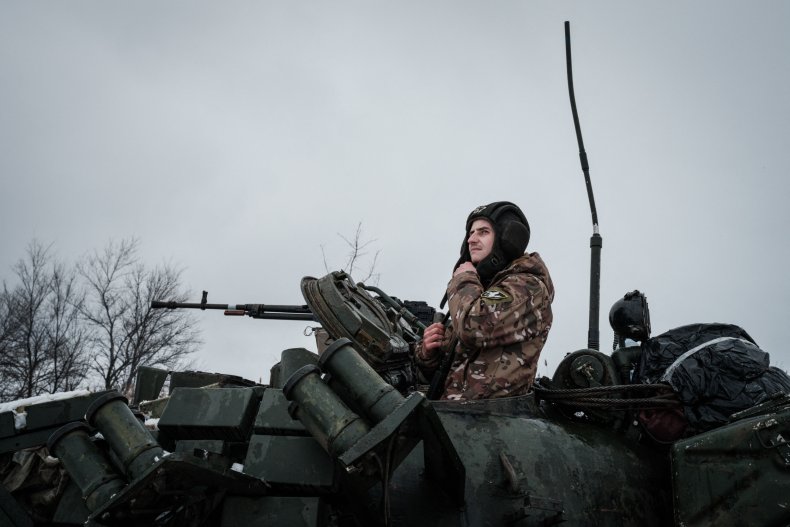 Ukrainian defenders have mastered Western-supplied artillery systems, with front line and deep strikes supported by reconnaissance drones and partisan groups.
Russian forces have been forced to move supply hubs deeper into Russian territory to escape devastating HIMARS strikes.
"They know that larger formations can and will be easily spotted by allied intelligence, and can be broken down and disrupted by long-range artillery strikes," Voyger said.
"Maybe the Russians have determined that these trickling of forces applying constant pressure on the Ukrainian defenses can avail them better than massive waves of attacks by larger better structured formations."
But this approach, Voyger said, is "totally counterintuitive, as military logic dictates otherwise. Namely, that any advancing force would have to have enough critical mass applied in a fairly narrow sector of the front in order to punch through and force it to collapse."
Seizing Donbas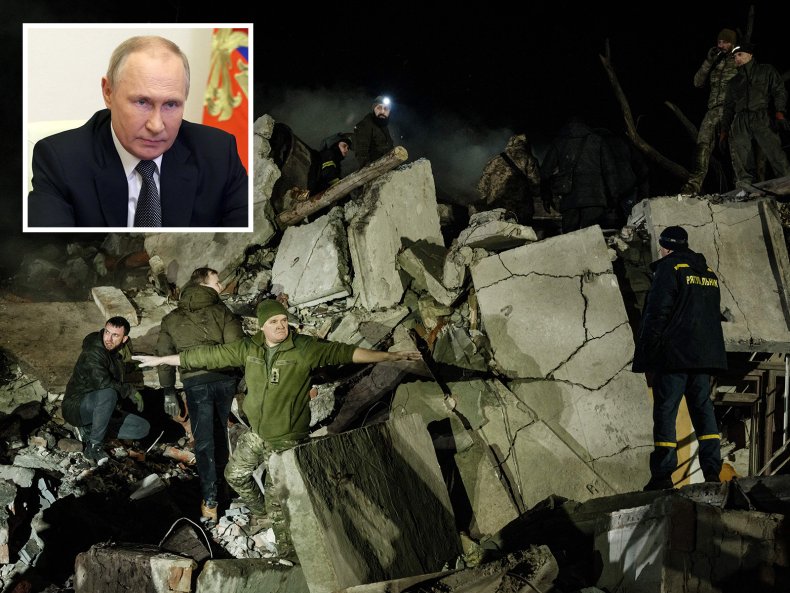 Moscow is prioritizing the full capture of Donetsk and Luhansk oblasts in the coming offensive, and experts generally do not believe the Kremlin has the military capacity to achieve much more.
Ukrainian units will be hoping to absorb the assaults the best they can at the highest possible cost for the attackers, before launching counter-offensives later in the spring against depleted Russian formations.
Donetsk, Gressel said, "is the primary objective," adding that "I also see that they are trying to advance in Luhansk Oblast. And there's a lot of troop movements going on in the northwest; I wouldn't exclude further advances towards Kharkiv in a second phase. But for now, their center of gravity is Donetsk Oblast."
Russia troops along the southern Zaporizhzhia front and far to the north in Belarus may conduct diversionary operations or limited attacks to sap Ukrainian strength and obfuscate intentions.
There are believed to be some 9,000 Russian soldiers in Belarus, while recent days have already seen fresh Russian offensives south of Zaporizhzhia city and around Vuhledar.
"It's trickier for the Russians to really advance [in the south] because there are fewer roads and fewer railroads, so the Ukrainians have an easier time guessing where their reserves and logistical hubs are, and it's easier for them to find and attack them," Gressel said.
Attacks on the southern front have typically been "isolated and small," he added, "but nevertheless, they're picking up steam. I would think that this will increase over the coming weeks and months and just get nastier and nastier."
"Bakhmut also started off with this isolated company, and then battalion-sized individual attacks, and then gained steam. So that's not something unusual."