Video Shows Ukrainian Drone Demolish Russian Vehicle in Dive-Bomb
A video shared by Ukrainian officials appears to show Russian military vehicles being destroyed by a drone strike.
The clip was first shared on Facebook on Tuesday morning by the official account of the Ukrainian Border Guard Service. Though the footage is blurry, the incident it captures can still be made out. A white aerial craft can be seen diving into frame, followed by an explosion on the ground, where a cluster of people and vehicles, claimed to be Russian, was situated in an unspecified neighborhood.
"The kamikaze drone successfully 'worked out' against the occupiers in the south," the post stated, as translated by Google software. "Thanks to the work of the border air reconnaissance, it was possible to detect a concentration of enemy manpower and armored vehicles. The kamikaze drone and artillery hit the specified targets, inflicting significant losses on the enemy."
The drone video was not the only recent update shared by Ukrainian officials. Also on Tuesday morning, the General Staff of Ukraine's Armed Forces reported on Facebook that Russian forces lost 25 tanks over the past two days, including 14 on Monday morning, along with footage of targeted tanks spewing smoke and fire. That brought the total number of Russian tanks destroyed since the invasion began last February 24 to 3,245, the General Staff claimed.
The General Staff's report also claimed that Monday was the deadliest day for Russian forces since the invasion, with 1,030 troops allegedly killed. That brought Ukraine's estimate of total enemy casualties to 133,190.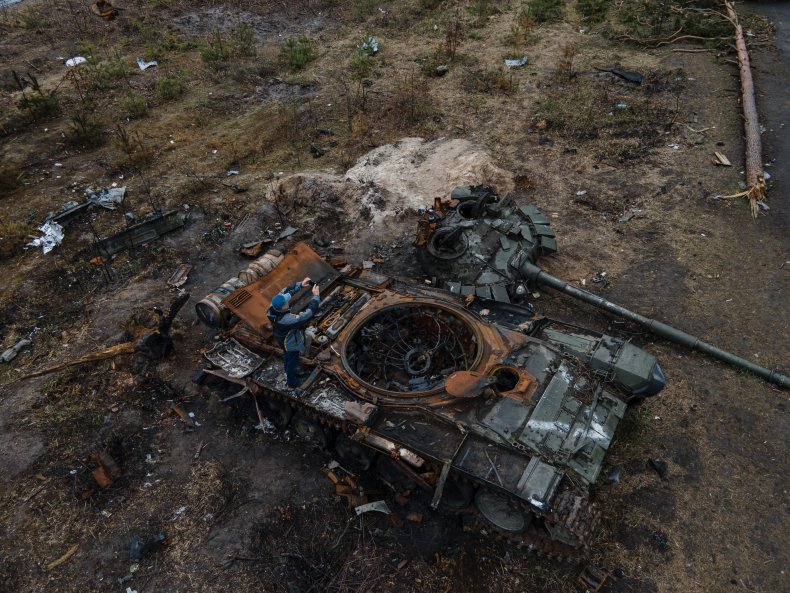 The estimates from Kyiv could not be independently verified by Newsweek. Ukraine's figures have consistently trend higher than those from Western nations observing the conflict.
Russia has not updated the death toll estimate for its troops since December, when it reached 5,937. It has also claimed to have killed an unspecified but high number of Ukrainian troops.
Ukraine's forces have recently been reinvigorated by major shipments of military hardware, including tanks, from allied nations. The shipments included 31 M1 Abrams tanks from the U.S. and 14 Leopard 2s from Germany. The United Kingdom on Monday praised Ukrainian forces for their quick mastery of the new vehicles.
On Friday, Serbian President Aleksandar Vucic warned that the tanks had only "rallied" Russian forces to fight harder.
"The West's biggest mistake is that they have announced supplies of tanks, especially terrific German-made tanks," Vucic said. "But they have only rallied the Russian nation. It is the West's biggest political mistake because they have united the Russians in the span of one day."
Newsweek reached out to Russian officials for comment.