Russia Loses 25 Tanks in Two Days As Video Shows Deadly Strike: Ukraine
Russian forces have lost 25 tanks in the past two days, according to the Ukrainian military.
Writing on Facebook on Tuesday morning, the General Staff of Ukraine's Armed Forces attached a video of what appears to be Russian tanks being targeted by Ukrainian weapons systems, with the footage showing smoke and fire. The operational update then said 1,900 Russian soldiers had been killed in the past two days.
In a further update, the General Staff reported Russia's total tank losses since the beginning of its full-scale invasion in 2022 to be 3,245 tanks.
This is an increase of 14 compared with Monday's report by the General Staff. A further Russian 11 tanks had been taken out of action the previous day, the General Staff said in its daily update.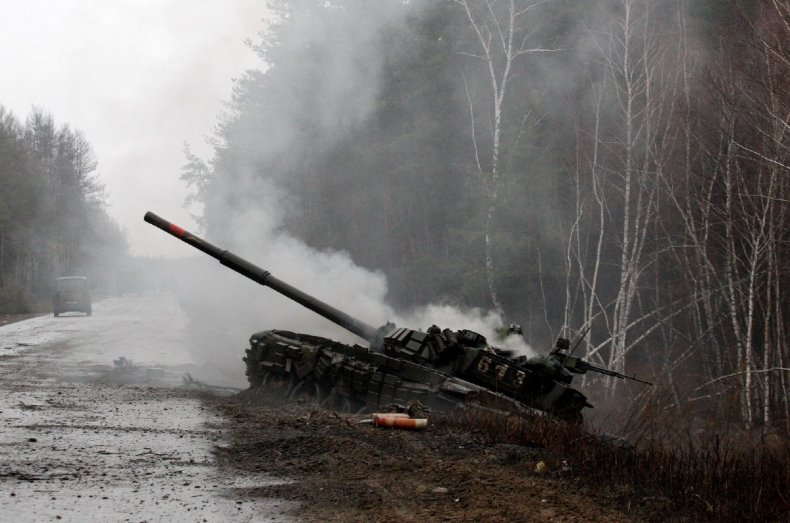 Ukrainian forces have long been capturing Russian weapons and tanks to be used against their original owners in the ongoing war. Back in October, the British defense ministry said that a "large proportion" of Kyiv's military hardware was now made up of captured Russian equipment.
By October 7, Ukraine was believed to have captured at least 440 Russian main battle tanks, plus an additional 650 armored vehicles since February 2022.
"Over half of Ukraine's currently fielded tank fleet potentially consists of captured vehicles," the ministry added.
The government department suggested then that the trend of the Russian military losing its heavy weaponry was likely to continue.
Ukraine's armed forces have used the country's stocks of Soviet-era main battle tanks, and has received deliveries of the likes of T-72s from several countries sympathetic to the Ukrainian cause.
Ukraine's forces had around 900 T-64s, T-72s and T-80s at the beginning of the war, according to The Times in London.
Russia has lost 1,678 tanks since February 2022 as of Tuesday, according to Dutch open intelligence monitoring site, Oryx.
The news of the latest Russian losses comes as several Ukrainian officials warn that Russian forces are preparing to launch a renewed offensive in eastern Ukraine before mid-February.
Luhansk regional governor, Serhiy Haidai, said on Monday that a fresh push from Moscow's forces "can begin any time after February 15." He later reported increased attacks in the eastern Donbas region, adding: "This is not a full-scale offensive, but preparation for it."
On Tuesday, Haidai posted another update, detailing that Russian forces "are preparing to attack—we are preparing to retaliate."
Reports from Ukrainian sources, and analysis posted by Russian "milbloggers," indicates that Russian military commanders may be "in a rush to launch the decisive offensive," the Institute for the Study of War think tank said on Monday.
This is likely designed to get ahead of Western military aid, including M1 Abrams, Leopard 2 and Challenger 2 main battle tanks, arriving in Ukraine, the ISW said.
It may also be an effort to avoid the "muddy spring season" from around April that "hindered Russian mechanized maneuvers in spring 2022," the think tank argued.